White Flight 2.0 | Opinion
During New York City's white flight in the 1970s, my white Jewish middle-class family did the opposite. When most people moved to the comforts of the suburbs, we moved to central Brooklyn from Queens. Crime was rampant, schools had magnet programs and we managed to make a vibrant life for ourselves. A few decades later through gentrification, Brooklyn, as we knew it, dramatically changed. Some say for the better, but was it?
Now with the pandemic allowing many privileged white-collar workers to work from home, once again the whites are fleeing the city. Story after story were written about these people leaving. We read about how they are moving to their second home or trapped in Tahoe. But what about the real New Yorkers? I think in some mysterious way COVID-19 is allowing our city to get back to itself.
Just as the pandemic disproportionately affected those in the lower socioeconomic communities, the return to the workforce will also be imbalanced. With debates still ongoing concerning how best to educate our children next fall, the lifestyle of white-collar workers working from home will continue. Numerous office buildings are either not renewing their leases or opting for rotating days at work. Essential workers will have to continue working with face masks and take risks that others will bypass while working from the comfort of their home. This certainly isn't the most equitable of solutions.
Many New Yorkers chose to live elsewhere during the pandemic but people are planning to come back. Some wonder what will become of New York if the wealthy leave. I see it as a mixed blessing. While we certainly need their financial contributions, many of these ex-pats did little to add to the color or culture of the Big Apple. The heart of New York has always been the working-class people, who give it its unique essence: the artists, immigrants and long-term residents.
"This city is my home and the community I feel most a part of. To me this was a time to circle the wagons and work together with my friends, family and neighbors to stay safe and pull through this, like we've done through everything that has ever hit this city. I see the flight of others as an opportunity for rebalancing, reinventing and improving," said lifelong New Yorker Jamahl Gambler, 52, a project coordinator for AV Integrator.
New York City isn't dead. Not for a minute and the media should stop portraying it as such. In fact, the buyer's market is booming, with many people losing out to bidding wars. This is simply white flight 2.0—a second wave of migration.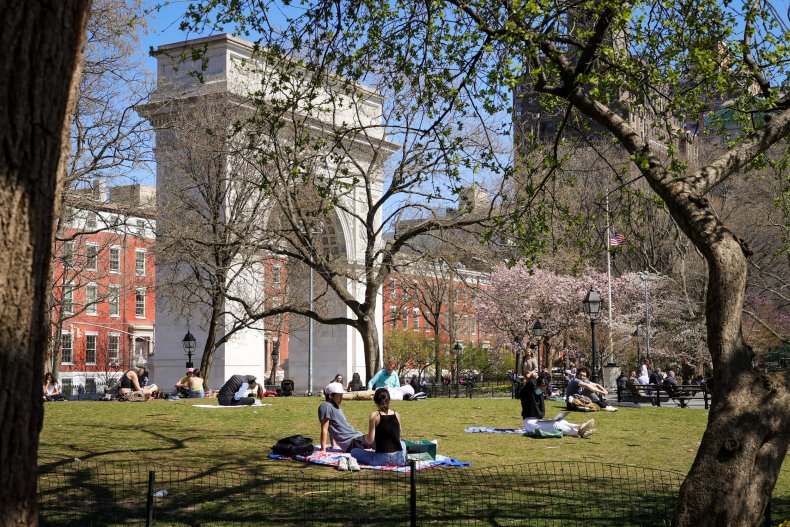 In this movement, there is now a chance for those who could not afford to live here to settle again. Office space is available. Companies like Facebook are buying up square footage. The city should earmark some spaces for minority businesses to flourish. Unused buildings can be converted into affordable housing or art galleries, which currently exists on the Upper West Side. We now have a rare opportunity to examine what needs to be done to help out the people who either chose to stay or didn't have the financial means to leave the city during the pandemic.
"As more and more people are vaccinated, the city will find its rhythm again," said Jodi Kaback, 50, a freelance event manager. She decided to stay in NYC for its vibrant cultural sites, skipping the insanity of moving during a pandemic.
I would love to see coverage of the families who are staying and making it work. Who actually represents the majority of New York City? There are four other boroughs besides Manhattan, all filled with people from diverse backgrounds, many who have been here for generations and have no intention of leaving.
"I think New York has always been like a Phoenix, burning up then coming back in a new magnificent form. The lessons learned during the pandemic will hopefully guide us to planning better ways to address health and hospitalization, transportation, housing, small business, the arts and how we get to appreciate them," Gambler said.
Finding an apartment in New York was once so cutthroat that people would search obituaries just to find a potential vacancy. Now that the wealthy left, let's take those empty buildings and use them to highlight New York City's roots: diversity, culture and some of the most resilient people in the world.
If you are going to go, do get out the way. A real New Yorker is coming through and we have work to do. Don't believe the hype. Sure we're going to miss our favorite restaurants that were forced to close and the specialty stores, but I don't think anyone will miss the finance guys.
Elana Rabinowitz is a freelance writer and ESL teacher. Her writing appeared in The New York Times, The Washington Post and USA Today. Her Twitter is @ElanaRabinowitz.
The views expressed in this article are the writer's own.