White Fox News Anchor Says Ron DeSantis's 'Monkey This Up' Comment Doesn't Sound Racist To Her
A Fox News anchor on Wednesday night defended comments made by Republican gubernatorial nominee Ron DeSantis about his opponent Andrew Gillum that have been described as racially charged.
Martha MacCallum commented in a segment with political analyst Juan Williams that it didn't occur to her that DeSantis's words could be viewed as racist, describing it as "sad" that it was immediately presumed that he was taking a racist shot at his black opponent.
Discussing the gubernatorial race, DeSantis said Florida should not "monkey this up" by electing Gillum—in comments that were slammed by the Democratic leadership as a "racist dog whistle."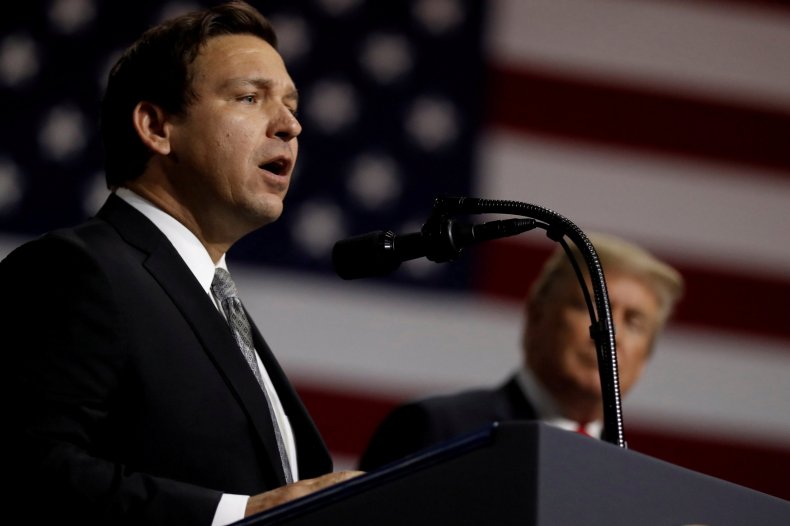 "We've got to work hard to make sure that we continue, Florida, going in a good direction. Let's build off the success of we've had [under] Governor Scott. The last thing we need to do is to monkey this up by trying to embrace a socialist agenda with huge tax increases and bankrupting the state. That is not going to work. That's not gonna be good for Florida," DeSantis said.
However, his comments did not appear racist to Fox News host MacCallum, who said: "it didn't occur to me that way at all," explaining that DeSantis's comment "doesn't sound to me like a racist thing to say."
"He's talking about a reference between 'you don't want to monkey up' the work that he sees as good work by Governor Scott by turning to a socialist plan for the economy in Florida," MacCallum said.
"So what kind of world are we living in where this is how quickly we jump the gun? And then Gillum says, 'We're so divided, how sad that we're divided,' but 'it's not a dog whistle it's a bullhorn.' So instead of saying he doesn't want to be divided, he's using this politically right out of the gate," she said, prompting a clash with guest Williams.
The political analyst said that DeSantis appeared to be echoing the kind of talk from President Donald Trump that saw black people targeted with language that had a racially charged undertone.
"You have to be ahistorical or blind to the racial history of this country and the racial tensions of this moment to somehow say 'oh – why do you guys see race? Why do black people always have a chip on their shoulder?' There is a real reason in this moment, given that DeSantis is—and you heard this from Gillum—he is Trump's guy, that he is echoing this kind of talk," Williams said.
"And you would think, he is a politician, that he wouldn't be using language like monkey around… you start to think… I think they're sending a signal and it may be that they suggest 'hey, I have deniability' but at some point you have to say—you know what I think you're pushing that button for a very specific reason: To excite the worst elements that show up in a Charlottesville. And again, that is where we are in America," he added, prompting MacCallum to comment that it was "really sad to make those assumptions about a phrase like that."