White Gen Z Voters Feel Equally Negatively Toward Both Joe Biden and Donald Trump
White Generation Z voters have nearly an equally negative opinion of Democratic candidate Joe Biden as they do of President Donald Trump, a new poll suggests.
The poll, conducted by Morning Consult from September 18 to 20 among 619 Gen Z voters, showed that 59 percent of white Gen Zers view Trump negatively—nearly the same as the 56 percent who said they have a negative opinion of Biden.
The poll considers Gen Zers to be anyone born after 1996, providing a cohort of people ages 18 to 23 who would've grown up amid a strong economy and the transition from Barack Obama's presidency to Trump. The cohort generally leans Democrat and identifies as liberal, but they still will make up only 4 percent of likely voters in this year's election, according to Morning Consult.
Gen Zers overwhelmingly back Biden over Trump, the poll shows. Among all Gen Z voters polled, 52 percent said they had a favorable opinion of Biden, compared with the 26 percent who had a favorable opinion of Trump.
Views of Trump were most positive among white likely voters in the cohort, but even just 38 percent said they had a favorable sentiment toward the incumbent.
Nonwhite Gen Z voters polled had the least favorable view toward Trump—only 18 percent had a favorable opinion of him, with an overwhelming 77 percent saying they had a negative opinion. Comparatively, 61 percent of nonwhite Gen Z voters had a favorable opinion of Biden, with 30 percent saying they had a negative opinion of him.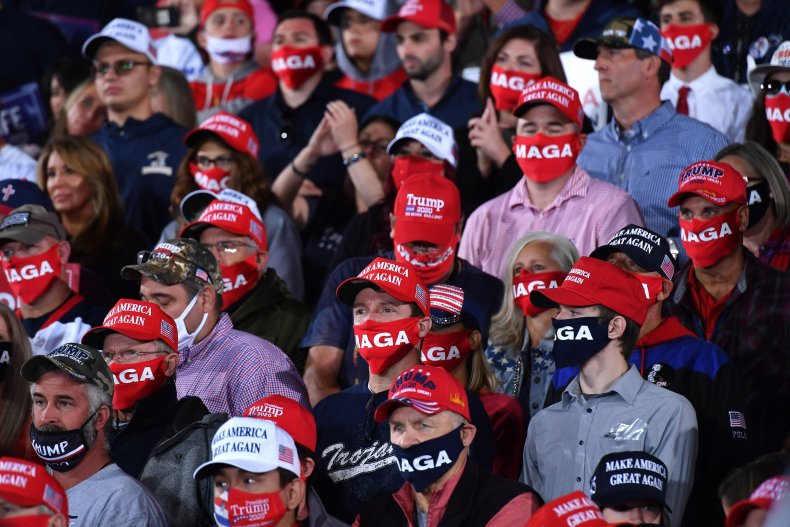 Biden continues to lead Trump in national polls, with website FiveThirtyEight showing Biden with an average lead of 7.4 percentage points over Trump. A YouGov poll released Wednesday showed that among 1,282 registered voters, 44 percent said they would vote for Biden and 38 percent chose Trump.
When it came to Gen Zers actually casting their vote, Biden again led Trump in this category. Sixty-five percent of Gen Z voters said they'd mark their ballot for the Democratic candidate, compared with the 27 percent who chose Trump. Four percent said they would vote for neither candidate, and 4 percent were undecided.
With just 40 days until the November 3 election, Biden's biggest lead against Trump was among voters in this generation. The only age group that showed Trump beating Biden was among pre-boomers, which constituted voters born before 1946. Of these, 54 percent said they would vote for Trump and 41 percent chose Biden.
The poll also asked voters about which key issues they would prioritize in the upcoming elections. The economy served as the top issue among both Gen Zers and everyone else surveyed, with 30 percent of the youngest cohort choosing the economy over other issues such as health care, abortion and equal pay, security or education.