Khaled Omar Harah, Syrian 'Miracle Baby' Rescuer, Killed in Aleppo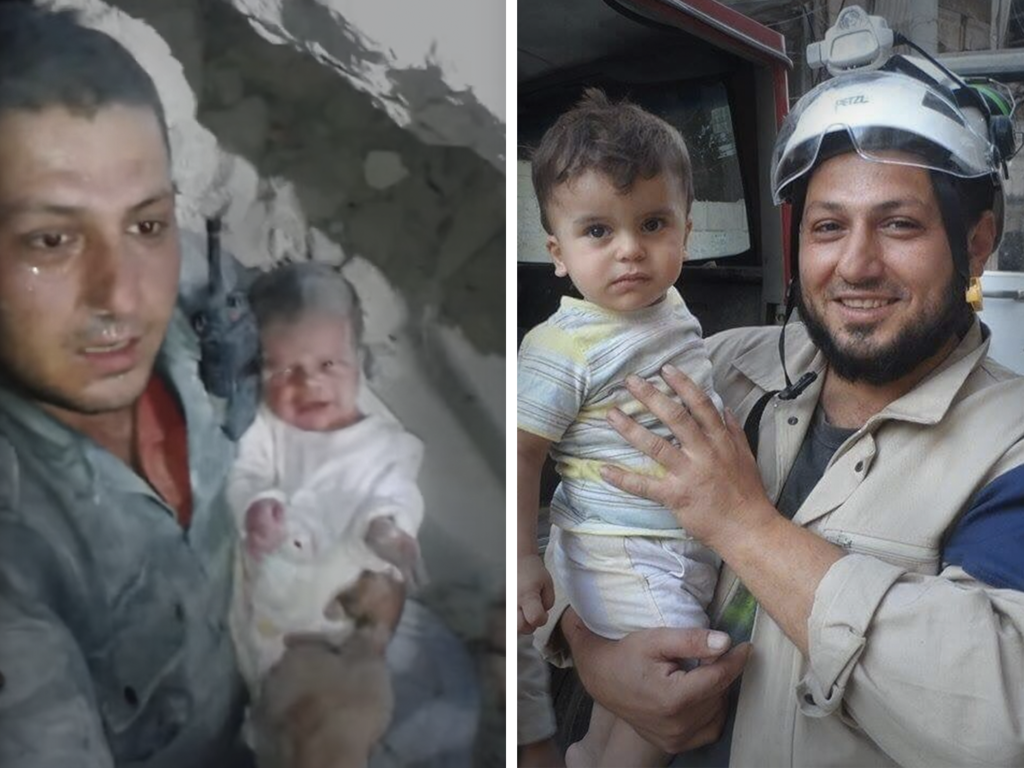 Khaled Omar Harah, one of the longest-serving members of the Syrian Civil Defense, a group of rescuers also known as the White Helmets, was killed in Aleppo, Syria, on Thursday during fighting in the city.
Harah was featured in a viral video released by the White Helmets in 2014 that shows him pulling a small baby from the rubble of a building in Syria. The baby, Mahmoud, "is just one of the countless lives Khaled saved," the Syria Campaign, an advocacy group, said in a Facebook post. The video of Mahmoud's rescue has been watched more than 900,000 times.
On the day the video was filmed, Harah had already been digging for nine hours and spent another 13 hours working to save Mahmoud, according to the Syria Campaign.
The details of Harah's death remain unclear. There are around 3,000 active volunteer rescuers with the White Helmets, and 132 have been killed, the majority of them in double-tap airstrikes, according to the Syria Campaign.
Before he became a volunteer rescuer and joined the White Helmets in 2014, Harah was a painter and decorator in Syria. He is survived by his wife and two young daughters under the age of 12.
James Le Mesurier, the director of Mayday Rescue, the organization that supports the White Helmets, said Harah was "an ordinary man…who made the choice that his contribution to the Syrian crisis would be to risk his life to save others."
"There are literally dozens of images of him carrying women, children, old men, the dead, the wounded from buildings in Aleppo over the past two years," Le Mesurier said in a statement emailed to Newsweek. "He was one of just under three thousand White Helmets who have the same experiences, and is a symbol of the humanity, dedication, bravery and commitment of these extraordinary volunteers."
Aleppo has been constantly rocked by airstrikes and alleged chemical attacks in the past several weeks, plunging its residents further into hell. There have been three reported chemical attacks against Syrian civilians in the past two weeks, according to international human rights group Amnesty International. The latest chemical attack, which involved the suspected use of chlorine, "would amount to a war crime if confirmed," Amnesty International said in a statement on Thursday. Around 60 people, including 40 children, were injured in the attack on Wednesday, according to Amnesty.
Also on Wednesday, 29 physicians who remain in Aleppo sent a letter to U.S. President Barack Obama calling for a no-fly zone in the rebel-held east of the city to protect around a quarter of a million civilians from airstrikes. The letter follows reports that 2 million people in Aleppo don't have access to running water.