White House Advises Americans Leave Ukraine Now, Has No Plans for Military Evacuation
The White House said there are currently no plans for a military evacuation of Americans in Ukraine but is advising U.S. citizens to leave the country amid threats of an invasion from Russia.
"We are conveying very clearly now that now is the time to leave," press secretary Jen Psaki told reporters Monday, "and that there are means to do that. Of course, there's commercial airlines, you can depart over land, there's obviously the embassy there to provide assistance."
Psaki added, "There is not an intention or a plan for any military evacuation."
The White House also said there's "no precedent" for such action beyond what was seen in Afghanistan this past summer as the U.S. withdrew troops from the region as the Taliban took control of the government. More than 122,000 Americans and allies were evacuated from Afghanistan in the effort, during which 13 U.S. service members and dozens Afghan citizens were killed by an ISIS suicide bomber.
The U.S. Embassy in Kyiv has already ordered diplomats' family members out of the country—a move Ukrainian foreign ministry spokesman Oleg Nikolenko said was "premature" and a display of excessive caution." Essential personnel will stay at the embassy and it will continue to operate "uninterrupted," according to the U.S. State Department.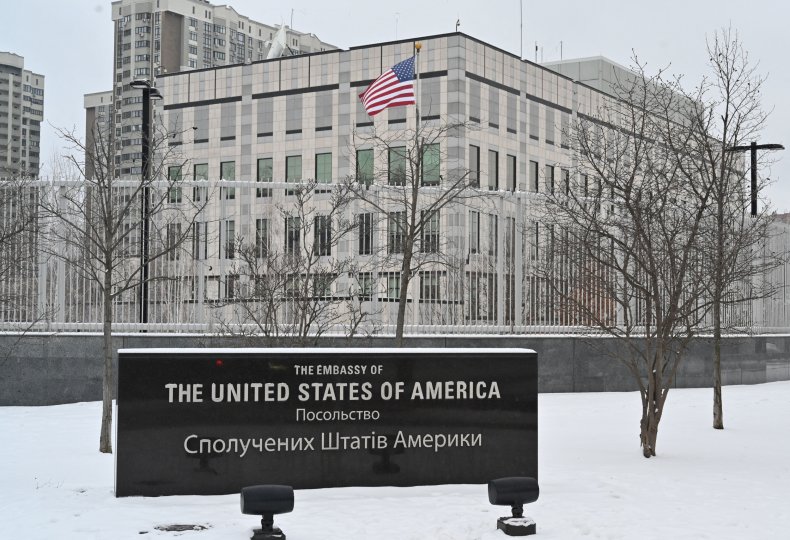 The State Department has also already warned Americans not to travel to Ukraine or Russia, citing potential conflict.
Russia has amassed more than 100,000 troops at its border with Ukraine. President Joe Biden has predicted that Vladimir Putin will move forces into the Eastern European nation but said the Russian leader will be held accountable if he decides to invade.
"If they actually do what they're capable of doing with the forces amassed on the border, it is going to be a disaster for Russia if they further invade Ukraine," Biden warned during a press conference last week, "and that our allies and partners are ready to impose severe costs and significant harm on Russia and the Russian economy."
Biden is scheduled to hold a video call on Monday with several European leaders on the Russian military buildup and potential responses to an invasion.
Psaki told reporters during the briefing that the administration and U.S. allies are "refining plans for all scenarios."
"We've never ruled out the option of providing additional assistance in advance of an invasion," Psaki said when asked if Biden has made a final decision on whether to deploy troops to Eastern Europe. "Those discussions have been ongoing with our partners and eastern flank countries."
Update 01/24/22, 3:15 p.m. ET: This story was updated with more information and background.