White House Aide Orders Reporters Out of Cabinet Meeting After Donald Trump Asked If He Will Testify in Impeachment Inquiry
A White House aide told reporters to leave a press conference as President Donald Trump was asked whether or not he would testify in front of the House impeachment inquiry.
The stylist and makeup artist Katie Price shouted at media invited to question Trump ahead of a Cabinet meeting to make their way out after the president spoke about the impeachment inquiry, Nancy Pelosi and reports on his health.
But Price was ignored several times by journalists who kept throwing questions at the commander-in-chief, including an NBC News reporter who was asked to "go" when she asked the president if he would provide testimony to lawmakers, a Fox Carolina clip published by Mediaite shows.
The testy end to the pre-Cabinet press conference came during the third day of public impeachment hearings, which saw National Security Council staffer Lt. Col. Alexander Vindman and Mike Pence aide Jennifer Williams appear among four inquiry witnesses.
Lt. Col. Vindman's testimony picked up a lot attention as the veteran told lawmakers what he heard in the now-infamous July phone call between President Trump and his Ukrainian counterpart Volodymyr Zelenskiy was "improper."
During the press meeting ahead of Cabinet, President Trump discussed the impeachment inquiry, Lt. Col Vindman's testimony yesterday, and his weekend trip to hospital for what Trump's doctor called a "routine" check-up.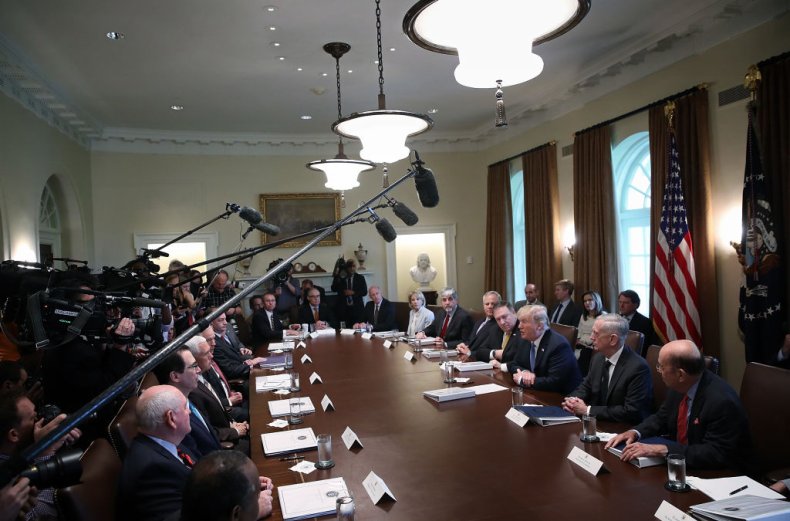 After taking a series of questions from reporters, Trump said thank you and motioned to the door. When the journalists carried on fielding questions, as would be expected, Price stepped in.
"Press we're finished!" shouted Price. "Press we're done let's go! Make your way out."
When NBC News chief White House correspondent Hallie Jackson asked Trump whether he would testify, Price turned to the reporter and said: "Hallie let's go."
"Where am I going to go Katie?" Jackson is heard responding in the Fox Carolina clip.
A reporter managed to squeeze in another question about China that was duly answered, despite Price asking media to leave.
The White House press pack tried to ask further questions but again the staffer shouted at them to leave so the cabinet meeting could continue.
"Press we're finished let's go! Make your way out, we're finished," she said.
Before the Q&A session ahead of the latest Cabinet meeting was shut down, Trump also attacked the press coverage of his recent hospital visit, saying journalists were "sick" and led First Lady Melania Trump to become worried that he had suffered a heart attack.
"The press really in this country is dangerous," Trump said. "We don't have freedom of the press in this country. We have the opposite. We have a very corrupt media."
When the president made an unannounced visit to the Walter Reed National Military Medical Center in Maryland on Saturday, The Hill opinion contributor reported sources telling him that Trump had checked into the hospital over "chest discomfort."
This poll, provided by Statista, shows that many Americans have already made up their minds about President Donald Trump's impeachment.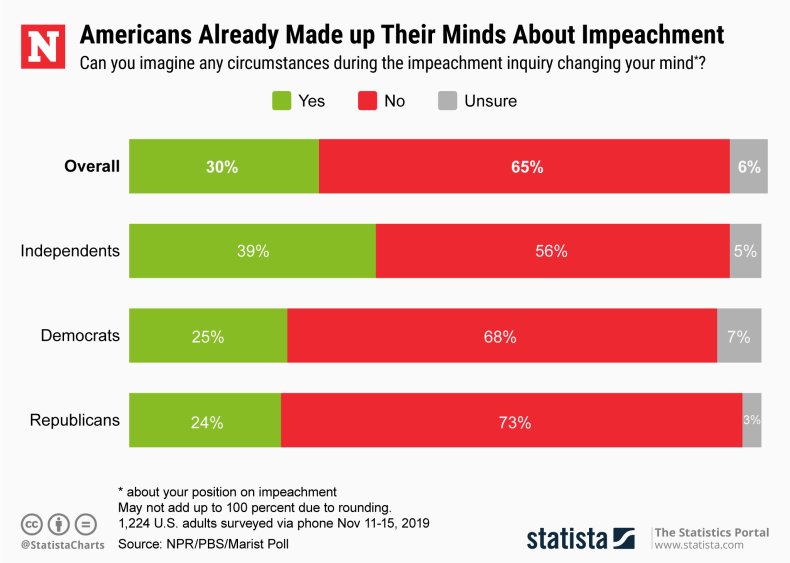 But such reporting was dismissed by the president's physician Sean Conley in a statement released Monday.
"Despite some of the speculation, the President has not had any chest pain, nor was he evaluated or treated for any urgent or acute issues," Conley said. "Specifically he did not undergo any specialized cardiac or neurologic evaluations."
White House press secretary Stephanie Grisham also described any questioning of information her office distributed about Donald Trump's health was acting in a "wholly irresponsible and dangerous" way earlier this week.