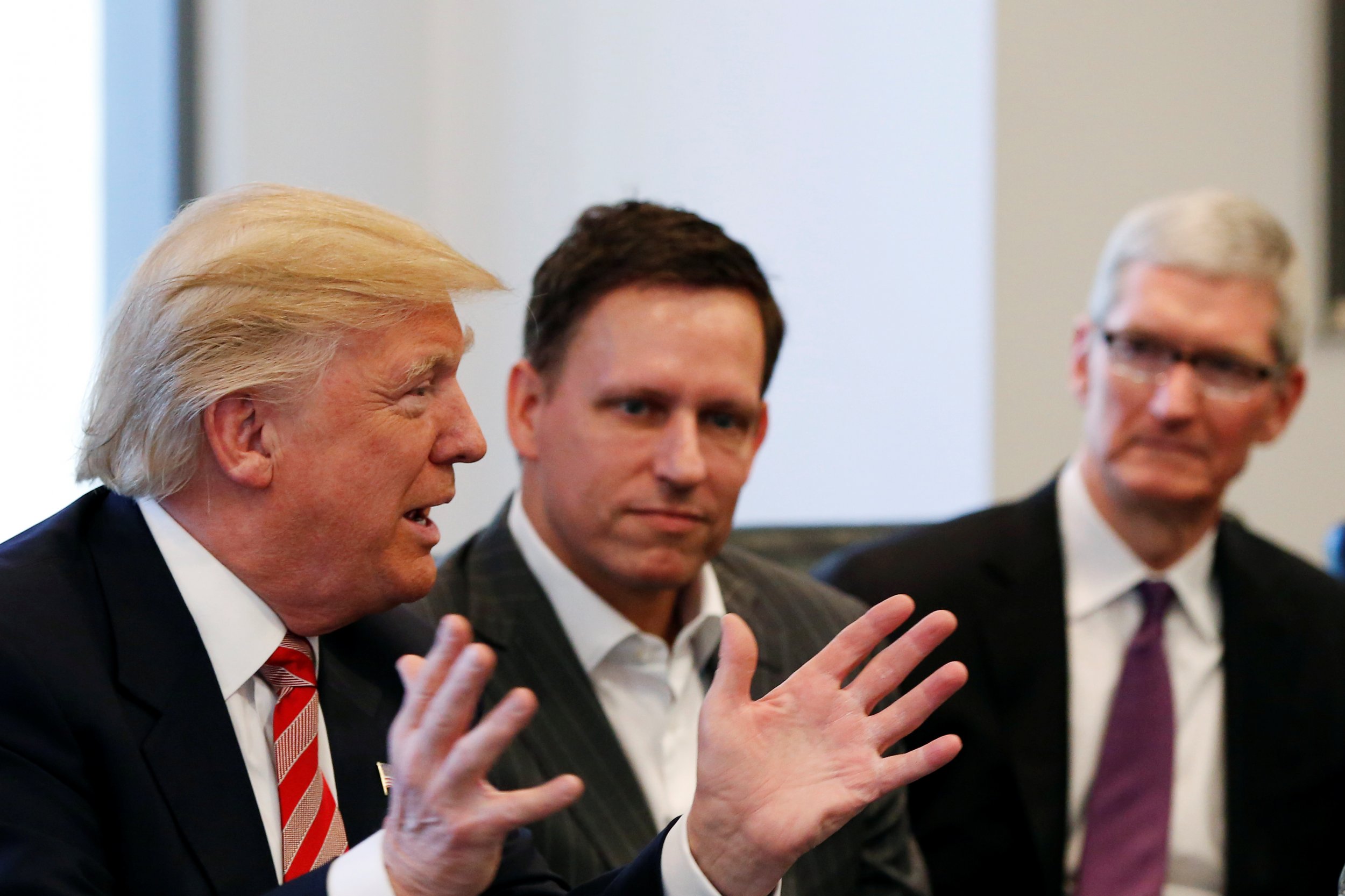 Technology industry leaders are gathering at the White House on Monday for the first meeting of the American Technology Council. But the technology industry is divided about the president, and rank-and-file employees have called on their CEOs to boycott the meeting.
The council, which President Donald Trump set up through an executive order in April, consists of Trump, Vice President Mike Pence, Secretary of Defense Jim Mattis, Director of National Intelligence Dan Coats and other officials. Its purpose is to develop a federal technology strategy and improve how the government uses technology. Apple CEO Tim Cook, Amazon CEO Jeff Bezos, Microsoft CEO Satya Nadella, Alphabet Chairman Eric Schmidt, IBM CEO Ginni Rometty and Facebook investor and board member Peter Thiel are among those expected to attend the gathering on Monday.
Related: Trump meets with Facebook, Google, Amazon chiefs
Last December, Trump met with tech leaders during his presidential transition. Among those who attended were Bezos, Cook, Schmidt, Sheryl Sandberg of Facebook and Elon Musk, CEO of Tesla and SpaceX. Trump met separately with Microsoft co-founder Bill Gates, and he named Musk and Uber CEO and co-founder Travis Kalanick to the President's Strategic and Policy Forum. Even those with whom Trump had sparred, such as Bezos, expressed enthusiasm about working with the new president.
But that December meeting rankled some employees, a few of whom publicly resigned. And many of those tech giants have since pushed back against Trump. Days into the new administration, Sandberg criticized the president for reinstating a policy that prohibits U.S. nongovernmental organizations abroad from providing or counseling on abortions. Days later, Bezos, Sandberg, Nadella, Cook and Musk criticized the first version of an executive order suspending the United States refugee resettlement program and temporarily halting travel from certain Muslim-majority countries.
Kalanick left the Strategic and Policy Forum after coming under fire for Uber's apparent effort to break a strike of taxi workers who were demonstrating against the order. (He has since taken a leave of absence from Uber.) Apple, Facebook, Google, Microsoft and other companies filed an amicus brief in a case challenging the order.
In February, Google and Facebook condemned the Trump administration's decision to revoke guidance that had said students could use the public school bathroom matching their chosen gender identity. And in June, Musk left the Strategic and Policy Forum over Trump's decision to withdraw the U.S. from the Paris climate accord.
Others in tech have been even more active in their resistance to Trump and his policies. The organization Tech Solidarity has met in several cities and calls on tech employees to pressure their executives to oppose the president. That group created the "Never again" pledge that thousands of employees have signed, promising to refuse to help build a database of people based on religion.
Before the White House event on Monday, Tech Solidarity told employees to email their bosses and demand they boycott the gathering. "Do you think Trump will interpret the heads of our industry showing up on command as anything but a tacit agreement to play by his rules?" the call to boycott said.
Tyler Breisacher, a software engineer at Google, posted his letter online. "I'm writing to urge you to skip the meeting with Trump and his administration," he wrote. "Google has a chance to send a strong, clear message to Trump that his behavior thus far puts him well outside the bounds of what's acceptable for a U.S. president, by skipping this meeting."
In another pledge, more than a hundred industry people vowed to protect the civil liberties of colleagues. Other techies have banded together to help progressives running for office. More than 300 startups and investors signed an open letter opposing Trump's travel orders.
"I've never seen anything shake the place like his victory," tech journalist Farhad Manjoo wrote in The New York Times Magazine in April, referring to Trump. "In the span of a few months, the Valley has been transformed from a politically disengaged company town into a center of anti-Trump resistance and fear."
Others, though, consider the election a sign that Silicon Valley must change and better serve Trump supporters, and not double down and resist. They point to figures showing that New York, California and Massachusetts (all states that Hillary Clinton won in the 2016 election) received almost 80 percent of venture capital funding in 2015, while the states that Trump won received less than 11 percent. "It's not just that they feel left behind," Steve Case, chairman and CEO of investment company Revolution and a co-founder of AOL, told Newsweek in January. "They actually have been left behind."
"What the tech community—and by the tech community, I mean primarily Boston, New York, San Francisco—is realizing now," venture capitalist Ross Baird told Newsweek in January, is that "the social and political consequences of ignoring people everywhere are higher than they thought."
Tech leaders on that side of the spectrum have tried to reach out to people in red states. In March, J.D. Vance, the author of Hillbilly Elegy, joined Revolution to help fund entrepreneurs in areas outside of tech hubs. Sam Altman, president of startup seed funder Y Combinator, embarked on a mission to talk to 100 Trump voters around the country. Facebook's Mark Zuckerberg plans to make stops this year in every state he has not yet visited to learn how "people are living, working and thinking about the future." (Some tech writers have suggested the tour means he's considering a run for president.)
It remains to be seen which perspective prevails at the White House on Monday.