White House: Another Lockdown Would Harm More Than Help, as COVID Cases Spike
President Donald Trump is not entertaining the idea of another national lockdown as coronavirus cases continue to spike across the county, despite recommendations from some health and economic experts.
"An extended lock-down would fail to target resources for the highest-risk populations while inflicting economic pain, long-lasting damage on society and public health as a whole," Trump told reporters Tuesday.
His comments came just hours after White House Press Secretary Kayleigh McEnany came out with a similar message, citing increases in drug overdoses, suicides and delayed medical care for other ailments that lead to deaths when the nation's under quarantine.
"The President is not considering a national lockdown," McEnany told reporters. "What he is encouraging is mitigation efforts like wearing a mask, which is patriotic, like social distancing and engaging in these really commonsense, safe measures to safely reopen and avoid the health consequences of a lockdown."
Coronavirus cases have been on the rise in several states that started to loosen restrictions put into place as the pandemic began to spread earlier this year.
According to the nonprofit Kaiser Family Foundation, at least 36 states are currently designated COVID-19 hotspots. California, Florida and Texas have seen the sharpest increases in cases in recent weeks. At least 156,000 people have died of COVID-19 in the United States since it began to spread across the states earlier this year.
Trump has defended his administration's handling of the pandemic, even as the nation's rates and mortality have outpaced other developed countries.
"One is too much—one death because it should have never happened to us. It could have been stopped very easily by China," Trump told reporters Tuesday—a day after an interview aired on HBO that showed him responding to the number of deaths by saying "It is what it is."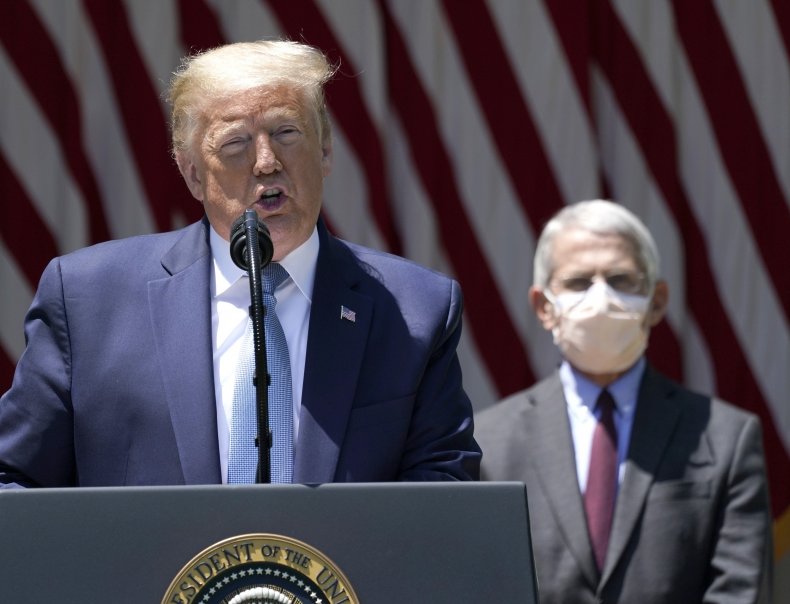 During an appearance on CBS's Face the Nation this weekend, Minneapolis Federal Reserve Bank president Neel Kashkari suggested the best way for the U.S. to get the virus under control and ensure a robust economy moving forward would be to go back under a lockdown to stop the rapid spread.
"I hate to even suggest it—people will be frustrated by it—but if we were to lock down hard for a month or six weeks, we could get the case count down so that our testing and our contact tracing was actually enough to control it the way that it's happening in the Northeast right now," Kashkari said.
A nationwide poll released this week from NPR and Ipsos found 59 percent of respondents would support the federal government issuing a two-week mandatory stay-at-home order to try to quell the pandemic's spread. About a third said they opposed such a proposal.
Meanwhile, a group of more than 150 health care professionals have released an open letter urging the Trump administration to place a second temporary pause on economy and start over to slow the accelerating spread of COVID-19.
"Hit the reset button," the health experts wrote in their letter. "Of all the nations in the world, we've had the most deaths from COVID-19. At the same time, we're in the midst of "reopening our economy," exposing more and more people to coronavirus and watching numbers of cases—and deaths—skyrocket."