The protests outside the White House began when President Donald Trump met with Russian President Vladimir Putin in Helsinki.
The historic one-on-one meeting was on July 16, but the demonstrations have continued for the past three weeks. Protesters were first inspired to line up on the streets outside the Great Lawn after Trump's comments that he believed Putin over U.S. intelligence agencies like the FBI and the CIA. In a press conference after their closed-door meeting, Trump told reporters he didn't see "any reason why it would be" Russia, and that Putin was "extremely strong and powerful in his denial."
Trump has since backtracked on that statement several times, telling the media he meant to say he didn't see why it "wouldn't," instead of "would," be Russia behind the interference.
Even after the outrage within Trump's own political party in the days after the Russia meeting died down, protesters remain outside the White House, determined to hold the president accountable for his controversial dealings with Putin and Russia. People participating in the nightly event can be seen holding signs that accuse Trump of being a traitor and of being treasonous.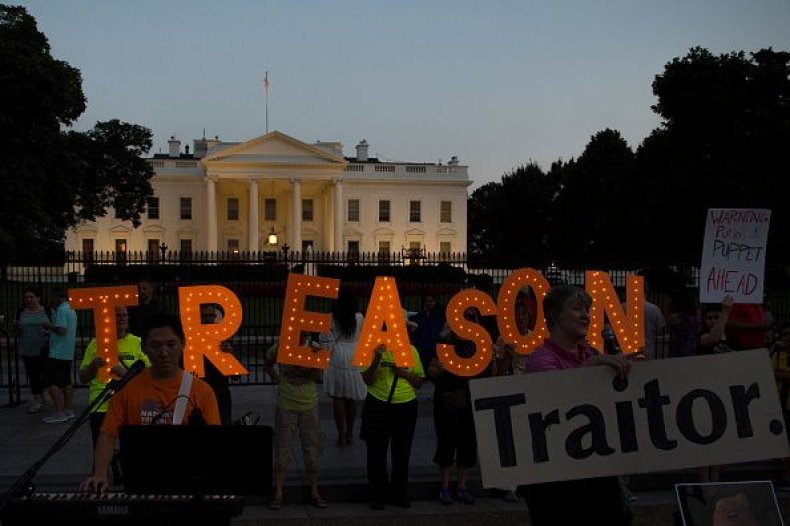 Online, those supporting the protests coined the social media hashtag #KremlinAnnex, and recent posts show that the group has no intention of stopping anytime soon.
Rosie O'Donnell is reportedly coming to the protest site on August 6 to speak to demonstrators. According to one tweet, she will be bringing Broadway stars with her. O'Donnell confirmed the news in a tweet of her own, urging people to join her "and broadways best singers as we join the kremlin annex protest #protestTRUMP."
Plans also have been made for Robert Mueller's birthday, on August 7. Former Hillary Clinton adviser and protest organizer Adam Parkhomenko tweeted that the group will have bagpipes on hand to wish Mueller a happy birthday and "make lots of noise."
#KremlinAnnex has raised thousands of dollars through its donations page. According to Parkhomenko, as of July 23, activists had contributed more than $100,000 toward the protests.
On the donation website, Parkhomenko wrote that the protests will not stop "until Donald Trump is gone. Please chip in and help us keep the protests going and growing."
The White House has not made any public comment about the nightly protests.