White House Apologizes to Sherrod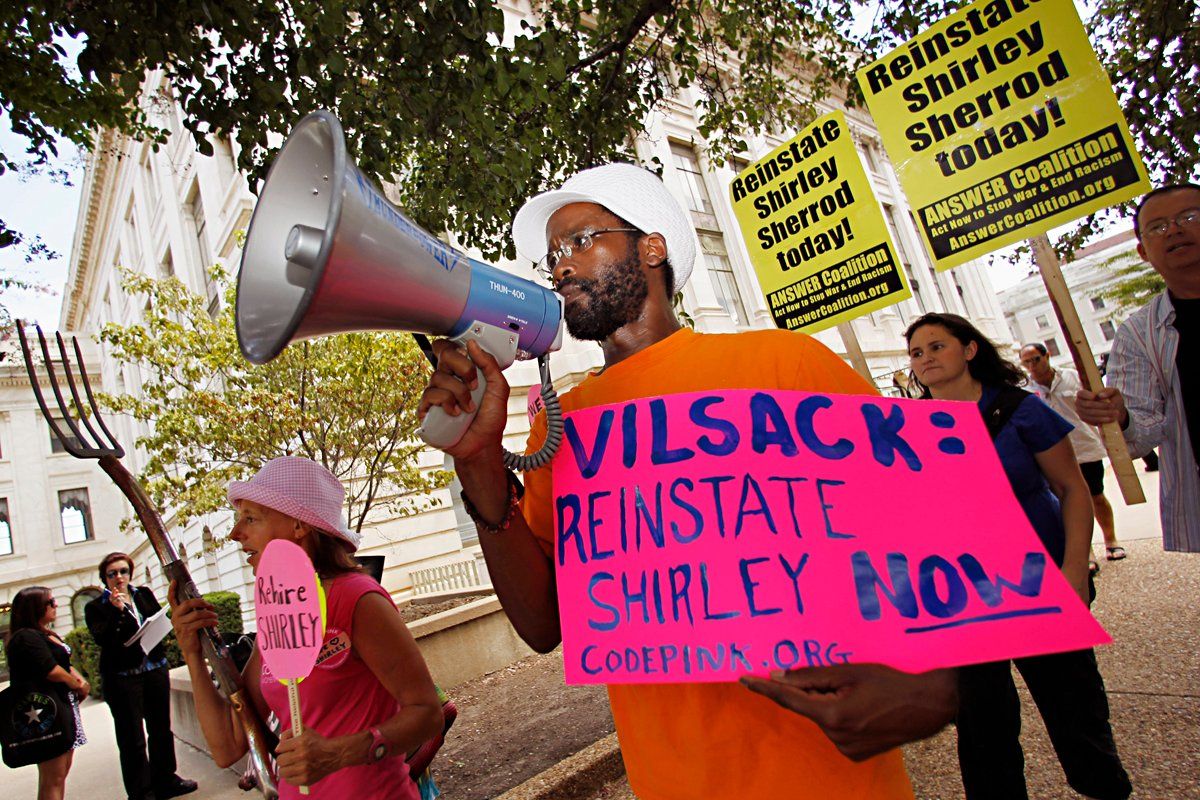 The White House apologized Wednesday to ousted USDA staffer Shirley Sherrod, saying government officials who sought her resignation for comments about race had acted in haste and without all the facts. Agriculture Secretary Tom Vilsack "will apologize for the actions that have taken place in the past 24 to 36 hours," said administration spokesman Robert Gibbs. "I think everybody has to go back . . . and ask themselves, how did we get into this? How did we not ask the right questions? How did you all [in the media] not ask the right questions?"
Sherrod, a black Agriculture Department employee, resigned on Monday after conservative publisher Andrew Breitbart posted a video of her remarks to an NAACP meeting in which she appeared to indicate that she had intentionally not helped a white farmer some years ago. An uproar ensued, and Sherrod was forced to step down. But, as it turned out, the tape edited out pretty much all the relevant context, which actually told the opposite story: one of redemption and racial reconciliation. Breitbart claimed he hadn't seen the full video.
Sherrod accepted the apology, but said she's not sure if she wants her old job back—even if it's offered.
The NAACP, after originally calling for her to be ousted, posted the full video of Sherrod's remarks late Tuesday. The New York Times reported that Vilsack issued a statement early Wednesday morning saying that given the new information, he is willing to conduct a review to "ensure to the American people we are providing services in a fair and equitable manner."
The edited video clip that started the controversy showed Sherrod recalling an incident 24 years ago, when she was working for a nonprofit organization. In the remarks, she said she was upset about the many black farmers losing their land and therefore didn't give a white farmer as much help as she could have. But in the unedited video, Sherrod, speaking about the same farmer, adds:
"Working with him made me see that it's really about those who have versus those who don't. They could be black, they could be white, they could be Hispanic. And it made me realize then that I needed to work to help poor people."
The farmer in question and his wife say Sherrod helped them save their farm.
On Tuesday night, Breitbart appeared on CNN claiming that he released the video of Sherrod not to have her fired, but instead as a response to the NAACP's resolution calling on the Tea Party not to tolerate racism within its ranks. He says the NAACP members who appear in the video show that the organization has a double standard on racism.
"This was not about Shirley Sherrod," Breitbart said. "It's about the NAACP attacking the Tea Party."