White House Bible Study Led by Pastor Who Is Anti-Gay, Anti-Women and Anti-Catholic
Updated | The first Bible study group held for the U.S. Cabinet in at least 100 years is led by a pastor who believes homosexuality is "illegitimate," who doesn't believe women should preach and has described Catholicism as a "false" religion.
Ten members of the Cabinet, including Vice President Mike Pence, Secretary of State Mike Pompeo, and Education Secretary Betsy DeVos, sponsor the study group, which holds meetings lasting between one hour and 90 minutes every Wednesday, according to BBC News. It unfolds at a location in Washington, D.C., that is kept secret for security reasons.
Its leader is Ralph Drollinger, a pastor and president of Capitol Ministries: an organization which aims to "evangelize elected officials and lead them toward maturity in Christ."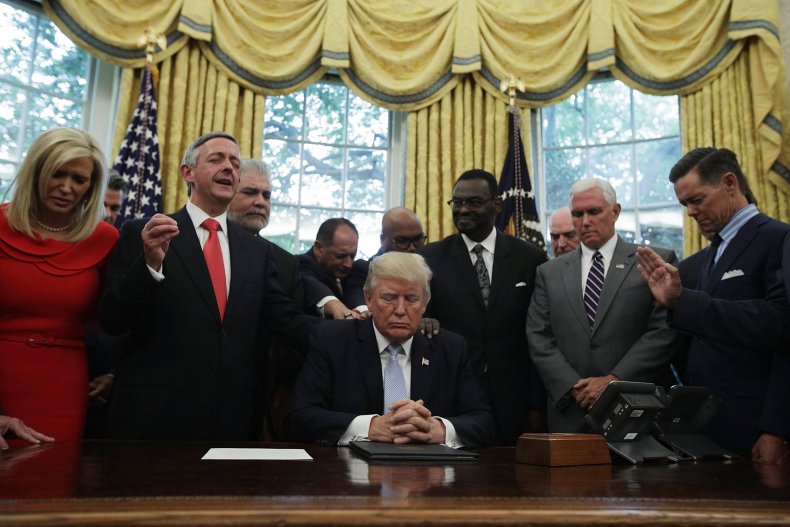 The 63-year-old former pro-basketball player from California founded Capitol Ministries with is wife in 1996, to offer prayer groups, Bible study meetings, and private ministry to politicians. It now operates in 43 state capitols, and over 20 locations outside the U.S.
The outspoken pastor has sparked controversy for his views on women, same-sex relationships and Catholicism.
Arguing that women and men have "different roles," he claimed in the BBC News interview: "There is a prohibition of female leadership in marriage, and female leadership in the church. And those are clear in Scripture… it doesn't mean, in an egalitarian sense, that a woman is of lesser importance."
And earlier this year in a Bible study session released on the Capitol Ministries website, he said: "Homosexuality and same-sex ceremonies are illegitimate in God's eyes. His word is repetitive, perspicuous [clearly expressed], and staid on the subject."
Those comments come after he wrote in a Bible study addressed to the U.S. Capitol in 2013: "Not only is homosexuality and same sex marriage voided by God in His Word, but biology as well castigates homosexuality and same sex marriage: The ultimate outcome is the discontinuation of the species since homosexuals cannot procreate. For sure one cannot be a homosexual and an evolutionist at the same time."
In 2004, Drollinger was criticized for declaring Catholicism "is one of the primary false religions of the world."
As a result, progressive campaigners have objected to Drollinger's regular meetings with high-ranking US politicians, and fear the influence he could have on their political outlook.
Asked whether he tells his students how to vote, Drollinger told BBC News he willI "put the blueprint on the engineer's seat on the train" which will show the "right tracks to the station."
"But I'm not going to tell you what tracks to take. But you've got to be pretty stupid not to follow the blueprint, because it's there," he said.
In a statement, the LGBT advocacy nonprofit the Human Rights Campaign called Drollinger an "extremist."
"People look to their faith as a source of guidance and inspiration—and LGBTQ people and our family and friends are no different," the group said. "Drollinger's influence and involvement in the current administration is not only driving a wedge between faith communities and the LGBTQ community, but it is turning back the clock on progress with the spread of even more divisive rhetoric throughout the highest ranks of government.
Jessica Stern, the executive director of LGBT advocacy non-profit OutRight Action International told Newsweek: "Make no mistake; this is no mere study group. This organization has targeted American government officials, so it has by definition sought to blur the line between church and state.
"Their anti-woman and anti-LGBTIQ views matter because the highest levels of American government are listening to them. Members of the president's Cabinet must immediately withdraw their sponsorship of this organization."
The representatives of the North America region of the International Lesbian Gay Bisexual Trans and Intersex Association (ILGA) told Newsweek: "We have concerns that the Trump administration is willing to accept counsel from individuals who are hostile towards the LGBTQ community.
"There are many faith leaders to whom the administration can receive council who are inclusive and do not discriminate against any community. Many people who identify as LGBTQ are spiritual and religious people, and the fact that the President is surrounded by people who seek religious council from an exclusionary and hateful person is problematic. The President should require his cabinet to open their religious studies to more inclusionary groups and individuals."
The White House and Capitol Ministries did not respond to a request for comment.
This piece has been updated with a comment from ILGA.