White House Brings Citrons to New York Jews for Sukkot Despite Pandemic Restrictions
Members of the Jewish community in New York were able to celebrate a Sukkot holiday tradition this week with the help of the administration of President Donald Trump.
Sukkot, a Jewish celebration of the fall harvest, traditionally marks the 40 years the Jews spent in the desert before receiving the Torah. As part of the festivities, Jewish people use a specific kind of citron, known in Hebrew as an etrog. The etrog, in combination with a lulav—branches from particular trees bound together with a woven palm branch—is waved in six directions. This action symbolizes the omniscience of God.
Because of travel restrictions put in place because of the coronavirus pandemic, it was questioned whether Jewish people in the U.S. would be able to receive the etrogs, which are grown in Italy and harvested under the observation of rabbis. Jewish leaders contacted Assistant to the President and Special Representative for International Negotiations Avi Berkowitz for help. Berkowitz contacted the Italian Embassy and secured delivery of the etrogs.
"We are extremely grateful to the Trump administration for immediately responding to our request for assistance after we learned that etrog importers would not be able to enter Italy due to reciprocal COVID Travel restrictions," Rabbi David Niederman, president of United Jewish Organizations of Williamsburg and North Brooklyn, said in a Wednesday statement to Fox News.
Neiderman added that the efforts by the Trump administration "directly enabled American Jews to utilize the famed and beautiful Italian [etrogs] that have been used by Jews for centuries."
Newsweek reached out to Rabbi Marc Schneier of the Hampton Synagogue in New York for comment.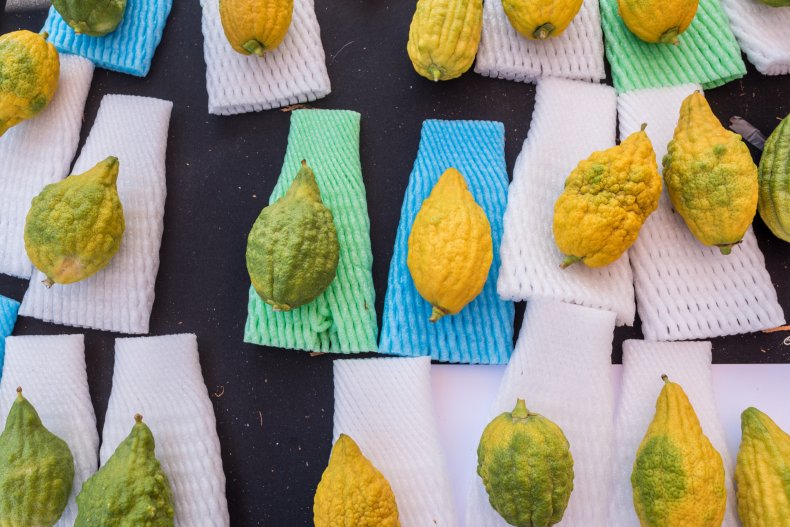 Jewish celebrations have been specifically singled out by New York Governor Andrew Cuomo as being a potential breeding ground for COVID-19. Cuomo imposed strict coronavirus restrictions on some New York City areas that had seen an uptick in positive cases. According to the guidelines in neighborhoods deemed hot spots, only 10 people can attend an indoor prayer gathering at one time. Indoor religious services have a 25-person capacity.
"Orthodox Jewish gatherings often are very, very large and we've seen what one person can do in a group," Cuomo said Monday.
Jewish leaders filed a lawsuit in October claiming that Cuomo's restrictions singled Orthodox Jews out and should not be enforced during Sukkot.
"The targeting of a religious minority on the eve of its holidays is reason enough to reject all of [the] defendant's arguments and allow plaintiffs to celebrate their holidays this weekend as they have for over 2,000 years," the lawsuit read.
Cuomo's legal counsel argued in their own filing that "a mass gathering is not less dangerous simply because it is religious in nature."
U.S. District Court Judge Kiyo Matsumoto agreed with Cuomo and allowed the COVID-19 restrictions to stand throughout the religious holiday. According to Judge Matsumoto's ruling, the suit filed by Jewish leaders did not show that Cuomo's restriction was unconstitutional.