U.K. Relations with U.S.: White House Apologizes to Britain for Spicer Spying Claim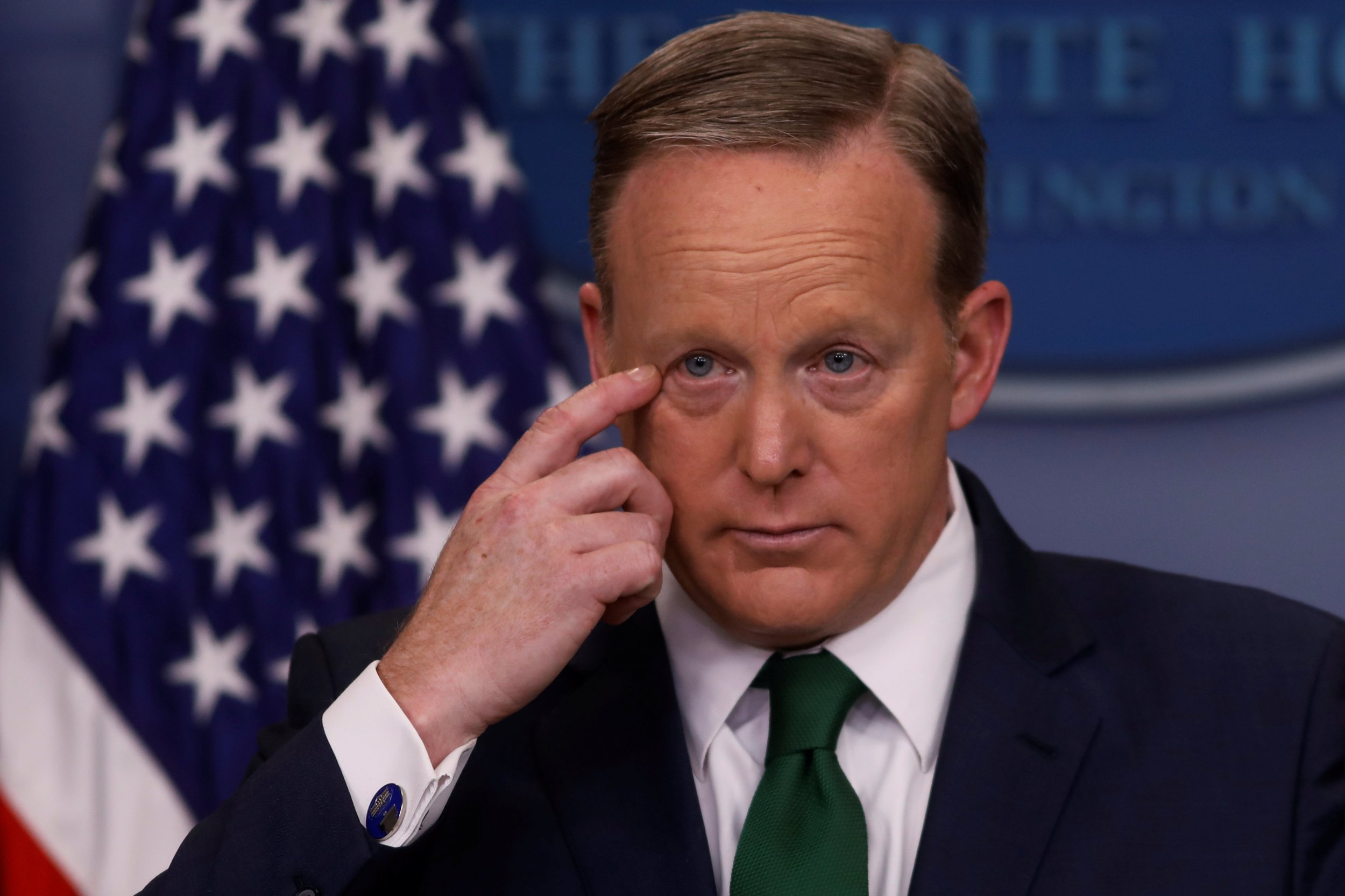 UPDATE: 3:50 p.m. EDT—Sean Spicer denied Friday afternoon that the White House had offered an apology to the British government for his relaying of a Fox News story alleging that GCHQ had spied on President Donald Trump.
In a press conference with German Chancellor Angela Merkel, Trump said that they were simply repeating a Fox News story.
"We said nothing," he said.
Original Story:
The White House issued an apology to the British government Friday, a day after press secretary Sean Spicer publicly repeated a claim from a Fox News report that British intelligence had helped President Barack Obama spy on then-candidate Donald Trump.
National Security Adviser H.R. McMaster spoke with his British counterpart to address the claim that the United Kingdom intelligence agency GCHQ had helped Obama wiretap Trump Tower during the 2016 election campaign. McMaster offered what amounted to an apology and described Spicer's remarks as "unintentional," CNN reported a senior administration official as having said.
Britain's The Telegraph cited intelligence sources in stating that both McMaster and Spicer had offered their apologies.
During a press briefing Thursday, seeking to further explain Trump's claim that Obama wiretapped Trump Tower, Spicer relayed allegations made by Fox News legal analyst Andrew Napolitano.
"Judge Andrew Napolitano made the following statement, quote, 'Three intelligence sources have informed Fox News that President Obama went outside the chain of command [to spy on Trump]. He didn't use the NSA, he didn't use the CIA ... he used GCHQ,'" Spicer told the assembled media.
The claim was met by immediate condemnation on the other side of the Atlantic. A GCHQ spokesman called it "nonsense" and "utterly ridiculous," the BBC reported.
The spokesman for British Prime Minister Theresa May pointed out that GCHQ would not be permitted to spy on Trump as both Britain and the U.S. are members of the Five Eyes Alliance—a joint intelligence cooperation agreement that also includes Australia, Canada and New Zealand. The spokesman said the British government had received a guarantee from its American counterpart that the claim would not be repeated.
"I don't want to get into private conversations but we've made clear to the administration that these claims are ridiculous and they should be ignored," the spokesman told reporters. "We've received assurances that these allegations will not be repeated.
"We have a close special relationship with the White House and that allows us to raise concerns as and when they arise as was true in this case. This shows the administration doesn't give the allegations any credence."
The incident is likely to further complicate a scheduled state visit by Trump to Britain later this year. After it was announced during May's visit to the White House in January, a petition to prevent Trump's trip, which would include a meeting with Queen Elizabeth II, was launched online. It secured almost two million signatures, guaranteeing the issue a debate in parliament.