White House Calls for Alexei Navalny's 'Immediate and Unconditional' Release
White House Press Secretary Jen Psaki said the U.S. government is calling upon Russia to issue the "immediate and unconditional" release of Alexei Navalny, the critic of Russian President Vladimir Putin whose poisoning last year triggered international concern about the suspected use of nerve agents in Russia.
After recovering in Germany from the August poisoning, Navalny returned to Russia last week, where he was taken into custody in Moscow. Law enforcement officials in Russia arrested more than 3,000 protesters over the weekend who were demonstrating on Navalny's behalf, according to the Associated Press.
When a reporter asked Psaki during a Monday news conference about the U.S. response to the protests and Navalny's arrest, she referenced a statement made over the weekend by the U.S. Department of State, which said it "strongly condemns the use of harsh tactics against protesters and journalists" in connection with the protests.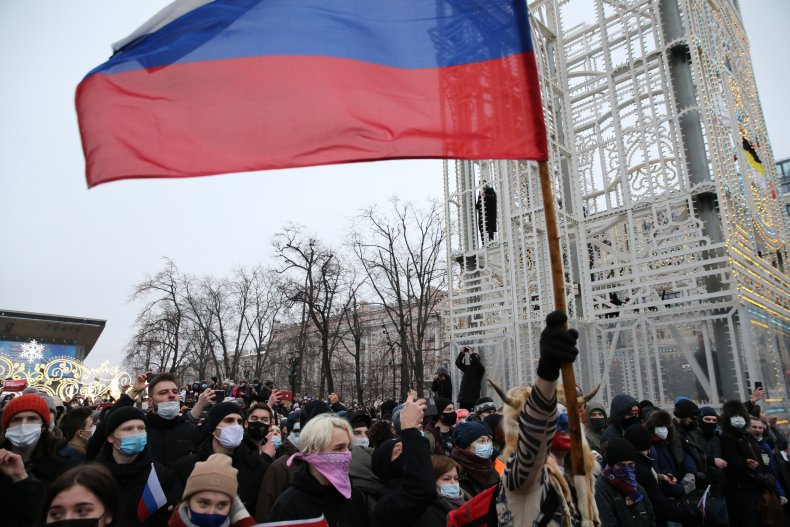 "I'll just reiterate our call from here on Russian authorities to release all those detained for exercising their universal rights and for the immediate and unconditional release of Alexei Navalny," Psaki said.
"We also urge Russia to fully cooperate with the international community's investigation into the poisoning of Alexei Navalny and credibly explain the use of a chemical weapon on its soil," Psaki added.
Navalny, a Russian politician and anti-corruption activist, was a longtime critic of Putin's before he became ill while traveling by air in Russia on August 20. Germany later requested that the Organization for the Prohibition of Chemical Weapons (OPCW) assess a medical sample from Navalny, the results of which OPCW said in October were "a matter of grave concern."
The director-general of the OPCW equated the use of the nerve agent against Navalny with the use of chemical weapons during the organization's annual meeting in November, according to the AP. At that gathering, more than 50 nations signed on to a statement encouraging Russia to be forthcoming about any information it might have related to the attack on Navalny.
Navalny has blamed Russia for the poisoning, but Russian officials—including Putin—have denied their involvement. When asked last month about an investigative report by Bellingcat and The Insider that said "voluminous telecom and travel data" suggested Russia's main intelligence agency was keeping tabs on Navalny for years before he was poisoned, Putin questioned the report's accuracy and said intelligence officials "would have probably finished the job" if they had wanted to terminate Navalny, according to The New York Times.
Last September, then-presidential candidate Joe Biden criticized the Kremlin for its suspected role in Navalny's poisoning. In a September 2 statement, Biden attributed the poisoning directly to Putin and those who work for him.
"This outrageous and brazen attempt on Mr. Navalny's life is just the latest incident in a long history of murder and poisoning of dissidents, investigative journalists, anti-corruption activists, and opposition leaders under the Putin regime," Biden said at the time, adding that he as president would "work with our allies and partners to hold the Putin regime accountable for its crimes."
Newsweek reached out to the Russian embassy in Washington, D.C., for comment but did not receive a response in time for publication.
This story has been updated with additional information and background.