The White House says it cannot guarantee packages will arrive in time for the winter holidays as global supply chain issues persist.
CBS News correspondent Ed O'Keefe asked press secretary Jen Psaki during Wednesday's briefing if the administration can assure Americans that their orders will be delivered on time.
"We are not the Postal Service or UPS or FedEx. We cannot guarantee," Psaki replied. "What we can do is use every lever at the federal government's disposal to reduce delays, to ensure that we are addressing bottlenecks in the system."
Psaki added that the administration is pushing ports to stay open for longer hours and for companies to take additional steps to reduce delays.
Walmart, UPS, FedEx, Samsung, Home Depot and Target are implementing more off-peak and nighttime hours to increase output, Psaki told reporters during the briefing. The administration has also brokered a deal with the Port of Los Angeles to operate around the clock, the second California port to make such a transition.
The two ports handle about 40 percent of the container traffic that enters the United States.
These commitments, the White House said, will move goods faster and "strengthen the resiliency" of supply chains.
The crisis has worsened as economies emerge from the coronavirus pandemic. The global health crisis prompted a global shortage of workers needed to produce and move goods from factories to consumers.
Consumer prices increased in September as food and energy prices rose, the Labor Department reported Wednesday. The surge in consumer prices pushed inflation up 5.4 percent from where it was a year ago, its highest rate shift since 2008.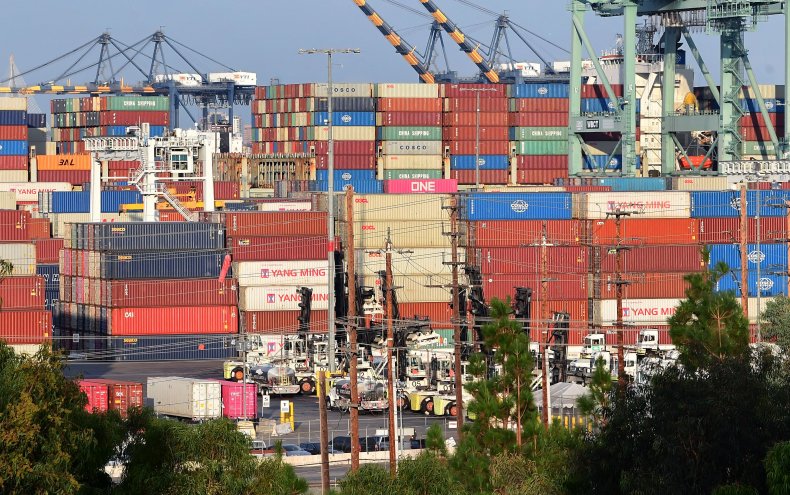 On Wednesday, President Joe Biden met with senior officials, stakeholders and union leaders to discuss problems in the global supply chain.
In a speech following the meeting, Biden said he hopes the deals made with the Ports of Los Angeles and Long Beach are the start of creating a nationwide 24/7 freight transportation system.
"Today's announcement has the potential to be game-changing," the president said.
Biden also pledged federal support to tackle the matter if businesses don't take their own steps to help alleviate supply chain troubles.
"Strengthening our supply chain will continue to be my team's focus. If federal support is needed, I'll direct all appropriate action. If the private sector doesn't step up, we're going to call them out and ask them to act," Biden said.
But the White House said Wednesday it couldn't forecast exactly when the supply chain issues or inflationary pressures will be resolved.
"Look, I can't make a prediction for you that we're going to solve every issue tomorrow and next week. We're not," Psaki said. "We're coming out of an economic crisis caused by a pandemic, but what we are doing is working to use every tool at our disposal to ease the impact on the American people, ease the impact on families, as we look to the holidays, but certainly beyond that."