White House press secretary Kayleigh McEnany said Monday the White House "can't pinpoint" exactly when Americans who are out of work as a result of the coronavirus will begin to receive the expanded unemployment benefits that President Donald Trump introduced in an executive order signed over the weekend.
Trump announced on Saturday that all American workers who lost their jobs because of the pandemic will receive $400 a week on top of state unemployment benefits. He directed the Federal Emergency Management Agency (FEMA) to contribute $300 of that weekly amount, using money available in the Department of Homeland Security's Disaster Relief Fund (DRF), but said state governments must make up the remaining $100.
"We hope to see it quickly and close to immediately," McEnany said about delivery of the expanded benefits during a Monday afternoon news briefing. "I don't have an exact readout for you on time, but a lot of this will depend on states and them applying."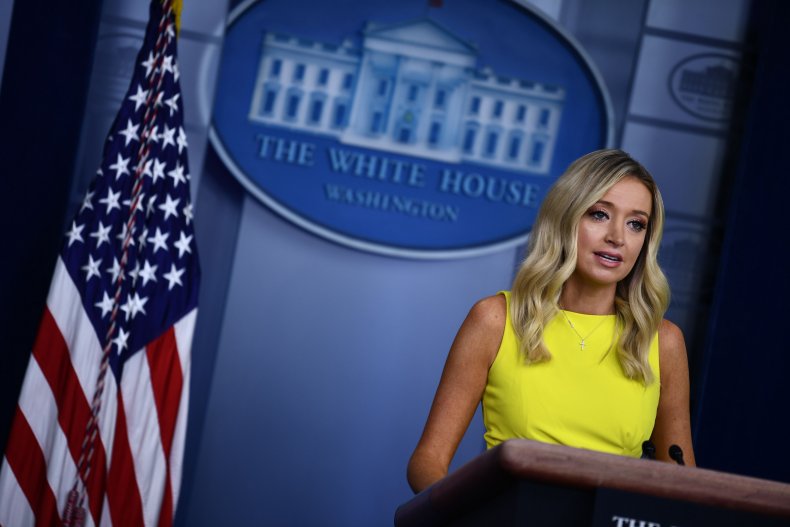 McEnany said the states can contribute their 25 percent of the $400 payments using funds from the Coronavirus Aid, Relief and Economic Security (CARES) Act, which was passed in March, or through their existing unemployment departments' funds.
Asked whether some Americans may encounter delays in receiving the expanded benefits because the federal government was contributing one chunk and states another, McEnany said the White House was working with Democrats to find a solution that would circumvent delays. But she did not offer a specific date for when unemployed workers can expect to begin receiving the federal benefit.
"I can't pinpoint a timeline other than we'll be working around the clock," McEnany said.
The $400 payments will follow the expired unemployment benefits expansion that provided workers who lost their job because of the pandemic an extra $600 a week. That amount was distributed to all eligible workers automatically as part of the CARES Act through the end of July. Congressional Democrats have been negotiating with the White House and Republicans on new legislation to aid American workers and businesses affected by the pandemic but have not agreed upon a deal.
McEnany said any delays that come in the wake of Trump's action rest with House Speaker Nancy Pelosi and Senate Minority Leader Chuck Schumer. "This president stood up for the American worker at a time when Democrats refused to do so," she said.
Trump's executive order memorandum requires all leaders of U.S. states and territories to submit an application to FEMA requesting the release of funds from the DRF to their individual unemployment programs. The leader of each state or territory must agree to pitch in 25 percent of the weekly amount in order for their application to be approved, the memorandum said.
The $400 weekly benefit will apply to all eligible workers starting with the week ending August 1. The memorandum said the benefit will be available either through December 6 or until the DRF's funds have been depleted from the current balance of more than $70 billion to $25 billion.
A FEMA spokesperson told Newsweek the agency contributed $8.8 billion to pandemic relief efforts prior to Trump's memorandum and said the new initiative could be replaced if congressional legislators agree on an economic relief bill.
"FEMA is working closely with the White House and other federal agency partners to develop guidance on the process for states and territories to easily request and receive funds," the spokesperson said. "The states and territories will administer the program and distribute the funds through their regular unemployment insurance system, as a supplemental payment."
This story has been updated with additional information, background and a response from FEMA.