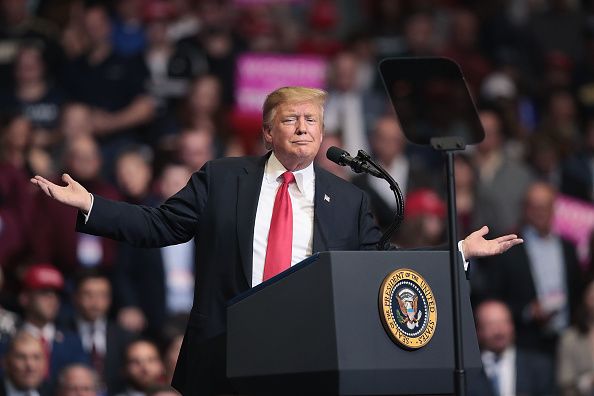 In the last week, President Donald Trump has said he may soon shutter all ports of entry into the United States from Mexico and announced plans to cut hundreds of millions of dollars in aid to a trio of Central American nations that he believes are not doing enough to curb immigration from their countries to America.
Critics of these decisions argue that cutting off the border entirely to all traffic would have an immediate and devastating effect to the U.S. economy and workforce, and that severely paring back aid to the affected countries may only cause more people in Central America to flee to the north.
White House Chief of Staff Mick Mulvaney made the Sunday morning political talk show rounds this week to make the Trump administration's case on both matters.
Appearing on CNN's State of the Union, Mulvaney was asked by host Jake Tapper if the White House was worried about the economic impact that shutting down ports of entry would have, as it would immediately halt the import and export of billions of dollars in legal products.
"Sure, but we're also concerned about the effect on the American economy and the nation as a whole from having more than a hundred thousand people cross illegally this month," responded Mulvaney, without directly answering the question. "If we close the borders, why would we do that? Because we need the people that are working at the legal ports of entry to go patrol — and I'm not making this up — where there's no wall. We were not lying to people when we said that this was an emergency."
He continued, "Congress won't give us any money to fix it. They won't change the law to fix it, so we're going to do the best with what we have and if that means pulling people off the ports of entry to put them out on the border where there's no wall, we will absolutely do that."
Mulvaney briefly touched on the border closing question during an appearance on ABC's This Week, where he told host Jonathan Karl that it would take "Something drastic" for Trump to back off from his plan to close the border.
"We hate to say we told you so, but we told you so," said Mulvaney.
Back on CNN, Tapper moved on to the question of the Trump administration's decision to cut more than half a billion dollars in U.S. aid funding to El Salvador, Honduras and Guatemala — three Central American nations collectively referred to as the "Northern Triangle."
According to the Washington Post, the White House determined that the affected countries were not doing enough with this aid money to keep their own citizens from fleeing toward America.
Tapper noted that people within the State Department had claimed that the funding was beginning to have a positive impace and asked Mulvaney if faking away the aid from these countries will ultimately make the immigration crisis worse?
"There's a lot of good ways to help solve this problem. Congress could do it, but they're not going to. Mexico could help us do it. They need to do a little bit more. Honduras could do more. Nicaragua could do more. El Salvador could do more, and if we're going to give these countries hundreds of millions of dollars, we would like them to do more," said Mulvaney. "We could prevent a lot of what's happening on the southern border by preventing people from moving into Mexico in the first place."
Tapper countered, that the aid money, "makes those countries more stable. This is not according to me. This is according to experts in your own administration."
Mulvaney brushed off those experts as "career staffers" before asking, "If it's working so well, why are the people still coming? Why are these historic numbers — again, a hundred thousand people across the border this month alone. That is a crisis, a humanitarian crisis, a security crisis. I think, at least now, people are starting to realize that we were not exaggerating a couple of months ago when we had this nationwide debate about the wall. I hear what you're saying, that people say it's working, but the proof is in the numbers."
During his appearances, Mulvaney repeatedly pointed to statements made in recent days by former Homeland Security Secretary Jeh Johnson. In interviews, Johnson agreed that the level of apprehensions at the border is significantly higher than he saw during his four years in the position under President Obama.
"So this is a crisis. It's very definitely a crisis," said Johnson. However, he did not appear to agree with the Trump plan to shutter the border or cut off aid to the countries where many of these migrants originate.
"What is driving this and how do you address it?" Johnson asked during a Saturday appearance on MSNBC. "Very clearly, what is driving it now are the continued underlying conditions in Central America, the poverty and the violence there. That is always an overwhelming factor in illegal migration, and there's no level of border security that you can throw at that problem to act as a complete deterrent, as long as the underlying conditions exist."