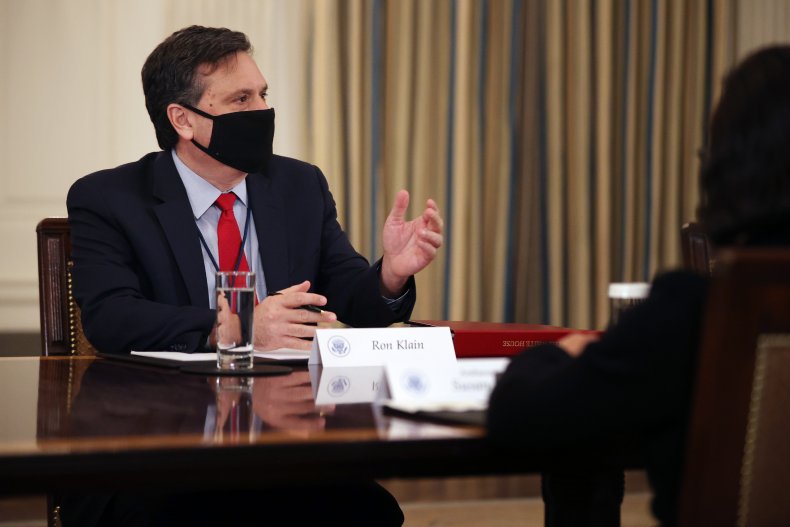 White House Chief of Staff Ron Klain touted historically low 2021 unemployment figures as the country headed into the Thanksgiving holiday, as new jobless claims dropped to 199,000 last week, the lowest number since 1969, according to the Department of Labor.
Although the decrease in new claims could be attributed to both economic recovery from the COVID-19 pandemic and seasonal adjustments due to Thanksgiving, Klain took to Twitter and used overall numbers to favorably compare unemployment under President Joe Biden with the situation in November 2020, when former President Donald Trump was still in office.
"The biggest difference between Thanksgiving 2020 and Thanksgiving 2021: 20 million people on unemployment benefits then vs. 2 million on unemployment today," Klain tweeted.
Klain also shared an optimistic economic forecast from Morgan Stanley and The Wall Street Journal article, noting that the economy was showing "broad-based signs of strengthening," while mockingly pointing out that neither the investment bank nor the newspaper were generally considered left-leaning politically.
Biden, who has been under increasing political pressure over the economy, also touted the unemployment figures in a statement released earlier Wednesday. The president said that he had helmed a "historic jobs recovery," insisting that a 4.6 percent unemployment rate and 5.6 million jobs created since he took office had come "two full years earlier than experts predicted was possible."
"This morning, we received two pieces of economic news, which underscore that our recovery is continuing to progress at a historic pace," Biden said. "Last year, there were 21 million unemployment insurance claims before the Thanksgiving holiday. Today, there were 2.4 million."
"More Americans are getting back to work and more Americans have money in their pockets, thanks to the American Rescue Plan and the vaccination campaign," he added. "Today's data reinforce the historic economic progress we are making and the importance of building on that progress in the weeks ahead."
The president's approval ratings have continued to plummet recently and he remains under pressure on the economy due to a rising inflation rate and high gas prices, with Republicans quick to lay the blame of any unfavorable economic news firmly on his shoulders. Although experts have predicted that gas prices could drop over the coming weeks, decreases have so far been modest.
Biden conceded that his administration has "more work to do before our economy is back to normal," while pointing out that he tapped the U.S. oil reserves on Tuesday in an attempt to accelerate a drop in gas prices and arguing that the recent passage of the bipartisan infrastructure bill could help with supply chain issues that are driving inflation.
Newsweek reached out to the White House for comment.