At White House Christmas, Trump Tells Crowd 'See You in Four Years' If We Can't Stay in Power Next Year
During a White House Christmas party, President Donald Trump reportedly suggested that he would seek to regain the presidency in 2024 if his long-shot bid to hold onto power despite losing the 2020 election to President-elect Joe Biden ultimately fails.
Trump made the remarks during the festive gathering attended by Republican party officials on Tuesday night, according a report from Politico. Although speculation about Trump attempting a comeback by running in 2024 has swirled since Biden's victory became apparent last month, the president had not previously publicly addressed the possibility of another run.
"It's been an amazing four years. We are trying to do another four years. Otherwise, I'll see you in four years," Trump reportedly told the White House audience, who responded with cheers.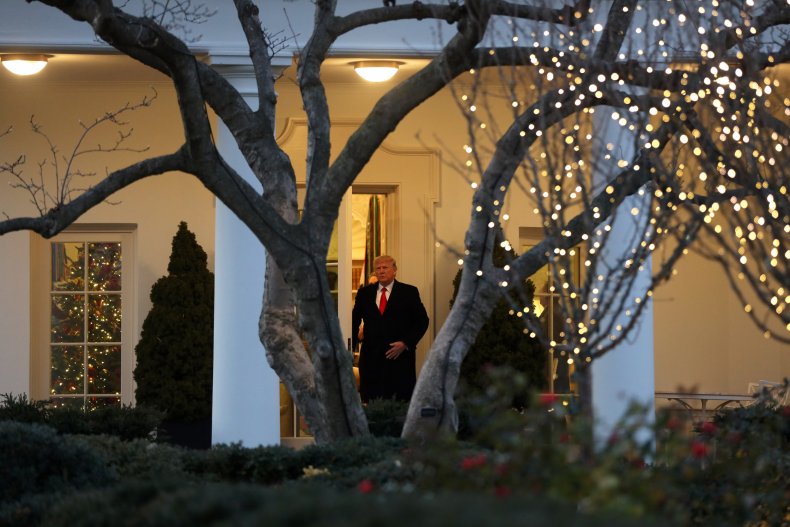 Video of the event was said to show the president repeating unverified allegations about the 2020 election by insisting that it had been "rigged" against him. The president also used the gathering to take credit for the "medical miracle" of COVID-19 vaccines that are expected to be released to the public soon. Many attendees at the event were not wearing face masks and multiple coughs could be heard during the video, according to Politico.
Biden is expected to be inaugurated as president and move into the White House on January 20 following the completion of Trump's single term. A 2024 Trump campaign could potentially begin on the same day, with the president having previously filed official paperwork with the Federal Election Commission for his 2020 candidacy on the day that he was inaugurated in 2017.
During a fiery press conference last week, Trump insisted that he did not "want to talk about 2024 yet" when questioned about the possibility of a non-consecutive second term. The president instead maintained the 2020 election had "a long way to go" and he would eventually win efforts to overturn the election outcome in the courts, despite results being certified in an increasing number of key states and dozens of legal challenges by his campaign and allies quickly failing.
Although Trump did outperform many pre-election polls, Biden won the election by a comfortable margin of more than 4 percent nationally, surpassing 80 million votes, over 6.5 million more votes than Trump. In the all-important Electoral College, where 270 votes determine the winner of the presidency, Biden held a 306 to 232 vote advantage over the president, the same margin that Trump held in his 2016 win over former Secretary of State Hillary Clinton.
Newsweek reached out to the Trump campaign and the White House for comment.