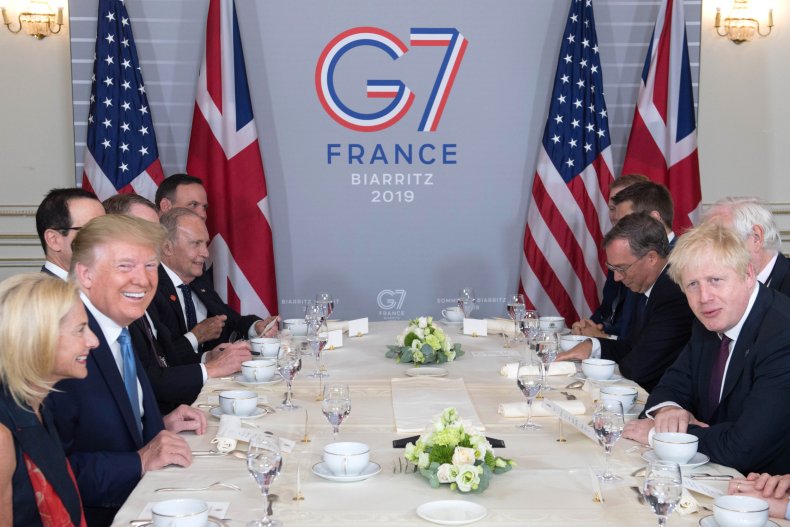 Since arriving in Biarritz for this year's G7 meeting of world leaders, President Donald Trump has been less blusterous than past meetings. So far, the president has dined with French President Emmanuel Macron, answered questions about North Korea, and introduced British Prime Minister Boris Johnson to the press, asking reporters, "Do you know who this is? Does everybody know? He's going to be a fantastic prime minister."
During Trump and Johnson's breakfast meeting together Sunday morning, reporters repeatedly asked the President to clarify his stance on China. "Do you have second thoughts about escalating the war with China?" one reporter asked.
Trump replied tersely, "I have second thoughts about everything."
While the reply may sound to some like a rare glimpse of introspection from the often-blustery Commander in Chief, pundits found the remarks dismissive, with NBC's Willie Geist calling the answer a "kiss-off" on Sunday Today.
Following the breakfast, White House Press Secretary Stephanie Grisham issued a statement attempting to explain the remark, writing: "His answer has been greatly misinterpreted. President Trump responded in the affirmative—because he regrets not raising the tariffs higher."
However, the president's response to the reporter's follow-up question did not fully align out the White House's tough talk.
"Are you going to declare a national emergency on China?" the reporter asked. The president replied: "I have the right to, if I want," and cited alleged intellectual property theft by China, saying, "in many ways, that's an emergency," before striking a more conciliatory tone.
"I have no plan right now. Actually, we're getting along very well with China right now," he said, concluding, "So we'll see what happens. But we are talking to China very seriously."
Economic relations between the United States and China have been fraught since March 2018, when President Trump signed a directive to initiate a World Trade Organization investigation into China's licensing practices and ordered tariffs on Chinese technology and manufacturing imports.
China reciprocated with tariffs on U.S. products in April 2018 and the two countries have alternated between tough talk and conciliatory tones over the past 16 months. The trade dispute escalated to the status of a "trade war" on July 6, 2018 when U.S. Customs and Border Patrol began collecting a 25% tariff on 818 goods arriving from China. China retaliated by imposing the same tariff on 545 U.S. products.
The White House will resume negotiations with China following the end of the G7 summit on August 26.
With the U.S. scheduled to host the next G7 meeting in 2020, President Trump is making a great show of getting along with his fellow world leaders.
Nevertheless, his showing at last year's summit in Canada, where the President pulled out of the traditional joint communiqué and criticized host Prime Minister Justin Trudeau, has not been forgotten.
President Emmanuel Macron has already told reporters there will be no joint communiqué this year, calling it "pointless."