White House Coronavirus Task Force Member Says COVID Cases Show 'No Sign' of Flattening: 'We Are at a Critical, Dangerous Point'
The U.S. is at a "critical, dangerous point" in the coronavirus crisis as new cases skyrocket throughout the country, according to Assistant Secretary for Health Brett Giroir.
"I want to urge everyone that the only way we get out of this, until we have a vaccine, is to absolutely wear a mask when you're in public," Giroir, who is the Trump administration's coronavirus testing coordinator, told MSNBC's Andrea Mitchell. "We know that local or state mask mandates tend to work, and many places have instituted that."
Giroir, who is also a member of the White House's coronavirus task force, urged limits on indoor dining while speaking about the upcoming holiday.
"In most places, we're going to have to limit indoor dining and indoor bars," he said. "That doesn't mean takeout needs to be limited. Many people want their Thanksgiving dinner by takeout—that's fantastic. We're going to have to limit those kinds of things, like they're doing in Europe."
European countries began seeing a second wave of coronavirus infections in September, but now that outbreak shows signs of slowing following lockdowns and strict social restrictions. Most European governments kept schools open, while restaurants and bars temporarily shut down in October to limit the virus's spread. Countries like Germany, Spain and Italy saw stabilization in their number of new cases, while Belgium, France and the Netherlands have seen a decline in the past few days, according to CNBC.
However, coronavirus cases, deaths and hospitalizations are increasing at an alarming rate in the U.S., with more than 161,000 new cases on Tuesday and nearly 77,000 people hospitalized, according to data from Johns Hopkins University. The COVID-19 death toll has reached over 248,000, and the number of deaths has remained above 1,000 per day for the past week.
"This is not crying wolf. This is the worst rate of rise in cases that we've seen in the pandemic in the United States," Giroir said. "Right now, there's no sign of flattening. We all have to be incredibly concerned."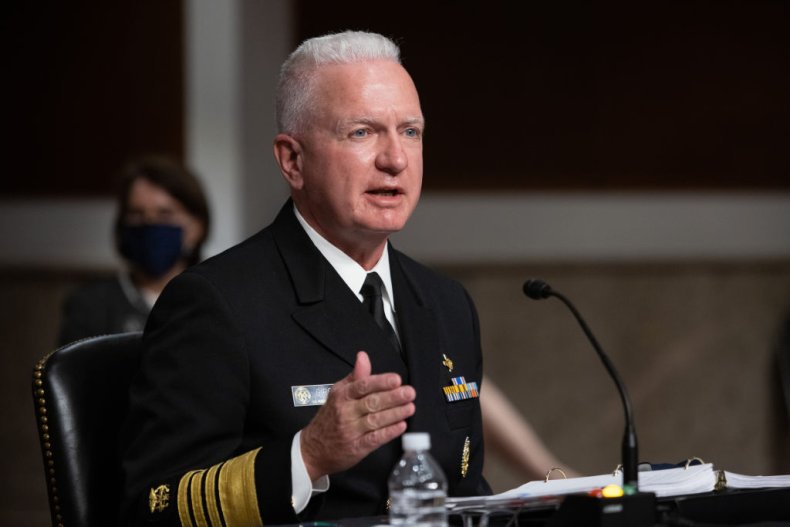 With the U.S. reporting more than 11.3 million total cases of the virus—and adding 1 million new cases in just a week—more states are imposing restrictions as Thanksgiving approaches. On Monday, Iowa became the latest state to issue a mask mandate, joining Utah and North Dakota on the list of Republican-led states that have changed course after months of not issuing mask orders while virus cases surged. As of Tuesday, 36 states have statewide mask mandates in place.
On Tuesday, Ohio Governor Mike DeWine imposed a statewide three-week curfew, while New York Governor Andrew Cuomo ordered a 10 p.m. curfew for most restaurants and bars. California, Delaware, Maryland and Pennsylvania have all tightened their safety restrictions this week, and Pennsylvania requires out-of-state travelers to test negative for the virus before arriving in the state.
Giroir also noted that one negative test may not be sufficient assurance that it's safe to gather during the holidays. Long lines of people waiting to be tested are being seen across the country.
"We absolutely want people who are symptomatic to be tested, people who have been in close contact with anyone who is positive to be tested. In many areas, we are routinely testing all college students within universities because they can be a source of community spread," he said.
"But that negative test today does not mean you're going to be negative tomorrow or the next day, and certainly not by Thanksgiving," Giroir added.