White House Correspondents' Dinner: Five Jokes From the Michelle Wolf Routine That Stunned Washington
Updated | Members of the Trump administration were stony-faced at the 2018 White House Correspondents' Dinner on Saturday night—some even heading for the door—as comedian Michelle Wolf ripped into the president and his key aides in a blistering routine.
Critics say the routine went too far, but defenders said an administration that is among the most controversial in recent history is fair game.
"Tonight's #WHCD was a disgrace," tweeted former White House press secretary Sean Spicer after the show, no stranger to being the butt of a joke.
"Thank you," replied Wolf.
Here are some of the jokes that stunned Washington.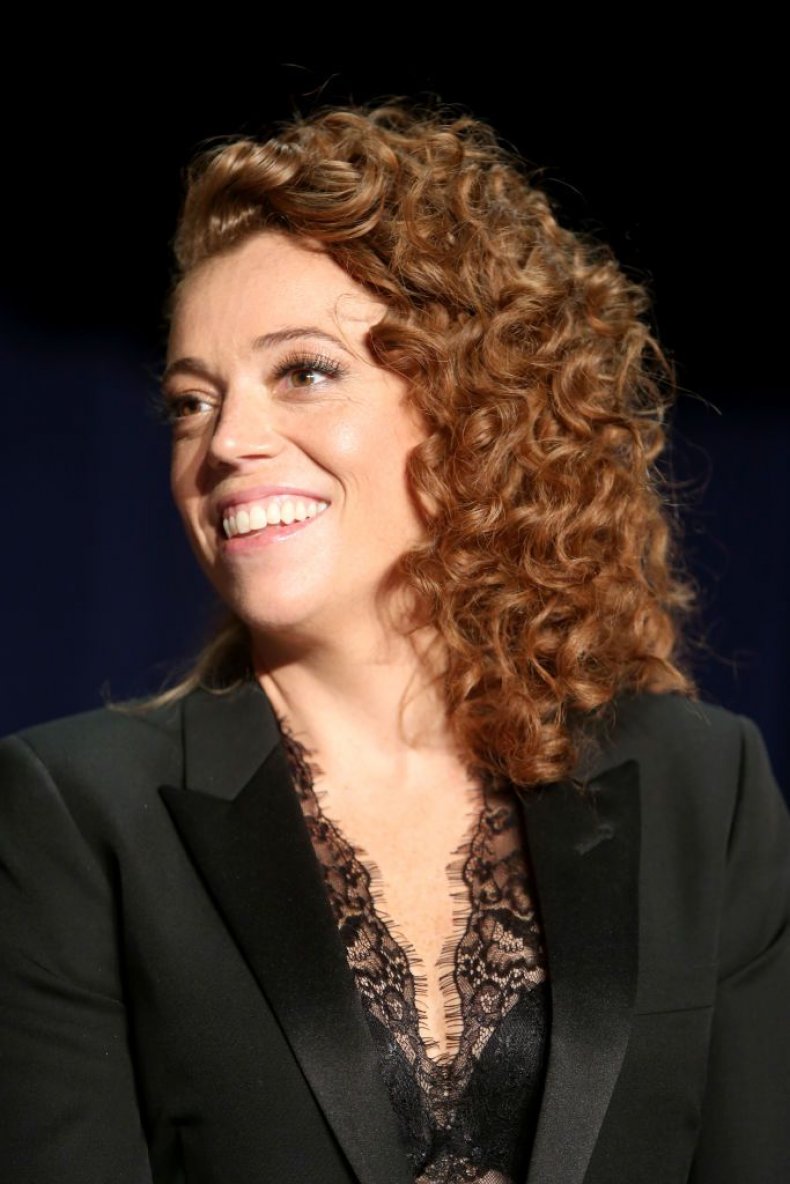 Sarah Sanders
Standing just a few feet away from Sanders, Wolf roasted the White House press secretary.
Comparing her to the character Aunt Lydia out of the dystopian "Handmaid's Tale" and to an "Uncle Tom" for white women, she said "I actually really like Sarah. I think she's very resourceful. But she burns facts and then she uses that ash to create a perfect smokey eye," Wolf joked about Sanders. "Like maybe she's born with it, maybe it's lies. It's probably lies."
"I'm never really sure what to call Sarah Huckabee Sanders. Is it Sarah Sanders, is it Sarah Huckabee Sanders, is it Cousin Huckabee, is it Aunt Huckabee Sanders? What's Uncle Tom but for white women who disappoint other white women? Ah I Know, Aunt Coulter," Wolf quipped, referencing right-wing pundit Ann Coulter.
President Trump
In a series of attacks on the president's sleazy scandals, Wolf also alluded to the infamous Access Hollywood tape in which the president boasted of groping women and mentioned Trump's alleged affair with porn star Stormy Daniels.
"Good evening, here we are at the White House Correspondents' Dinner; like a porn star says when she's about to have sex with Trump, let's get this over with," said Wolf, opening her act.
Noting the president's no-show at the event for the second year in a row, she remarked, "I would drag him here myself, but it turns out that the president of the United States is the one pussy you're not allowed to grab. He said it first. Yeah, he did. You remember? Good."
Ivanka Trump
Wolf turned on the president's eldest daughter over her White House role advocating for women's rights.
"She was supposed to be an advocate for women, but it turns out she's about as helpful to women as an empty box of tampons. She's done nothing to satisfy women. So, I guess, like father like daughter."
As the audience muttered disapproval, Wolf continued: "Oh, you don't think he's good in bed. Come on." She went on: "She does clean up nice, though. Ivanka cleans up nice. She's the diaper genie of the administration. On the outside she looks sleek, but the inside, it's still full of shit."
Kellyanne Conway
White House counselor Kellyanne Conway, who frequently appears on television to defend the administration, was among the audience and did not escape the comedian's attention.
"Man, she has the perfect name for what she does. Conway. It's like if my last name was Michelle tells-jokes-frizzy-hair-small-tits," quipped Wolf.
"You guys have to stop putting Kellyanne on your shows. All she does is lie. If you don't give her a platform, she has nowhere to lie. If a tree falls in the woods, how do we get Kellyanne under that tree? I'm not suggesting she gets hurt. Just stuck. Stuck under a tree."
Abortion
Some of Wolf's most controversial jokes were on the subject of abortion.
Of Vice President Mike Pence, she said "He thinks abortion is murder. Which first of all, don't knock it till you try it. And when you do try it, really knock it, you gotta get that baby out of there. And yeah, sure, you can groan all you want, I know a lot of you are very anti-abortion, you know, unless it's the one you got for your secret mistress."
Correction: This article has been updated to remove a reference to Michelle Wolf as Sarah Wolf.