White House Counsel Cipollone Rails Against 'Fraudulent' Impeachment, Accuses Democrats of Attempting to 'Steal' Two Elections
Speaking before Congress Tuesday, White House counsel Pat Cipollone called the charges against President Donald Trump "fraudulent" and suggested that Democratic members of the House planned to "steal" two elections.
"They're not here to steal one election, they're here to steal two elections. It's buried in the small print of their ridiculous articles of impeachment," Cipollone said.
Cipollone alleged House Democrats are trying to "remove President Trump from the ballot," and called the impeachment trial process an "attack" on "the most sacred rights we have as Americans: the right to choose our president."
On Tuesday, the House impeachment managers who will prosecute Trump's impeachment hearing during the congressional hearing—Representatives Adam Schiff and Zoe Lofgren of California; Jerrold Nadler and Hakeem Jeffries of New York; Val Demings of Florida; Sylvia Garcia of Texas and Jason Crow of Colorado—sent a formal letter to Cipollone which called him a material witness in the ongoing trial. The letter requests Cipollone disclose any first-hand knowledge of the evidence to determine any conflicts of interest.
"In light of your extensive knowledge of these key events, your personal representation of President Trump threatens to undermine the integrity of the pending trial," it concluded.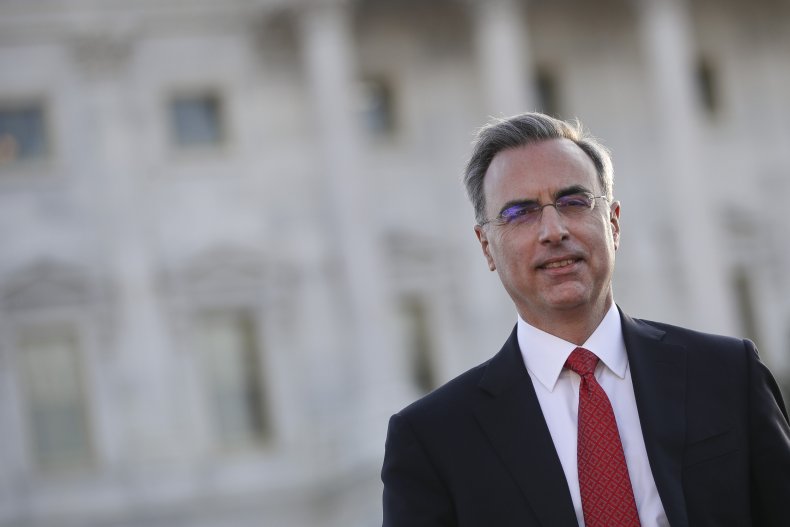 In response to the letter, White House Press Secretary Hogan Gidley called Democrats an "utter joke" in a statement to Fox News on Tuesday.
Gidley subsequently accused Chair of the House Intelligence Committee Adam Schiff of lying about multiple matters related to the Russian inquiry and the whistleblower report.
"If there's anyone who should be disqualified from leading this proceeding it's Mr. Schiff," Gidley's statement concluded.
Cipollone began his legal career as a clerk in the United States Court of Appeals for the Sixth Circuit in 1991, and was an assistant to Attorney General William Barr from 1992 to 1993. He was a partner in the law firm Stein, Mitchell, Cipollone, Beato & Missner before being named White House Counsel in 2018. Before taking the position, Cipollone practiced commercial litigation. President Trump was a former client.
He is also a co-founder of the National Catholic Prayer Breakfast.
Newsweek reached out to the White House, Schiff and Speaker of the House Nancy Pelosi for comment but did not hear back at press time.