Admiral Brett Giroir, a prominent member of the White House's COVID-19 task force, warned that the pandemic has reached a "critical situation" and suggested that bars and restaurants should be closed, and other more stringent measures should be implemented to curb the spread.
About 10 months since the first confirmed case of the novel coronavirus in the U.S., the pandemic is surging—with daily new infections reaching record highs and far exceeding what the country saw in the spring. Meanwhile, hospitalizations have jumped as the number of nationwide deaths has risen.
"We really are in a critical situation today, with over 180,000 cases yesterday, hospitalizations up, mortality up," said Giroir, who serves as the Assistant Secretary for Health, on ABC News' This Week on Sunday. The Trump administration official noted that the latest news about a vaccine is very promising, but pointed to the importance of social distancing and wearing masks until one is widely available.
"We're going to have to do things like limit attendance or close bars, close in-door restaurants, because that's very important. If we do these things, combined with the testing that we have, we can flatten the curve. If we do not do these things, the cases will continue to go up," he said.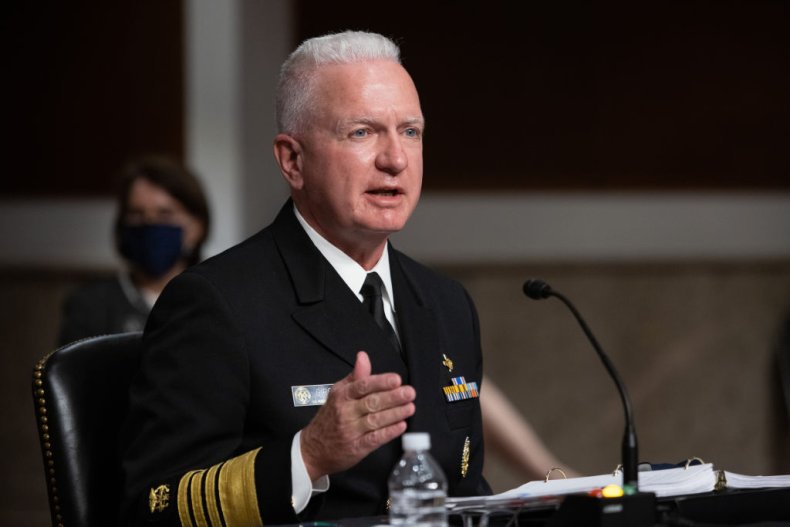 Giroir stressed the importance of wearing masks, explaining that the scientific evidence is conclusive. "We all have to communicate very clearly that the science is clear, the evidence is overwhelming, whether you want to look at microbiological data or you want to look at epidemiology, city by city, state by state, country by country, that masks do work," he said.
Newsweek reached out to the White House for further comment, but it did not immediately respond.
Throughout the pandemic, Trump has repeatedly downplayed the seriousness of the novel coronavirus. He has also cast doubt on mask wearing, and voiced public support for groups that have protested lockdown orders and mask mandates. "This administration will not be going to a lockdown," he asserted during a Friday press conference.
Meanwhile, cities and states across the country have issued new guidance and restrictions over the past couple weeks as infections have surged and many hospitals have become overwhelmed. The U.S. continues to have the highest number of infections and deaths due to COVID-19 of any country in the world.
As of Sunday, more than 11 million Americans have been infected and over 245,000 have died, according to a tracker by The New York Times. Over the past week, the U.S. has average more than 145,000 new infections and more than 1,1000 new deaths per day.
President-elect Joe Biden called on the Trump administration to take "urgent action," saying Friday, "This crisis demands a robust and immediate federal response, which has been woefully lacking. I am the president-elect, but I will not be president until next year."