White House to Create Second Coronavirus Task Force Focused on Economy: What We Know So Far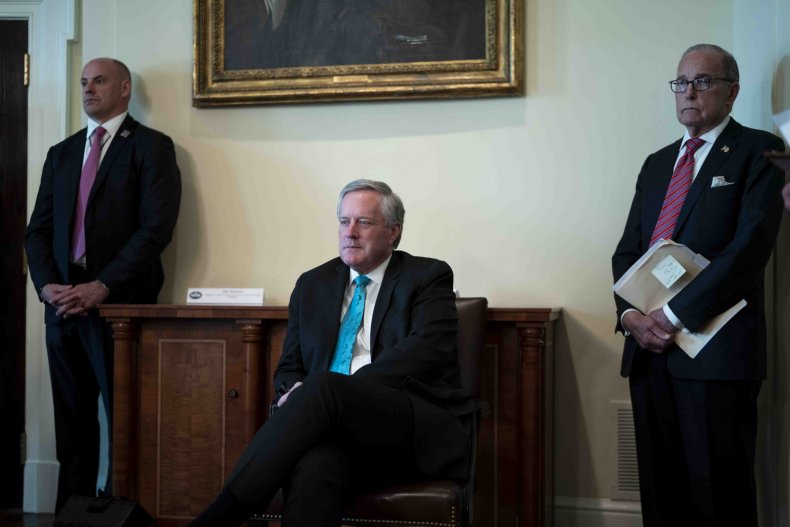 The Trump administration will soon announce the establishment of a task force to oversee efforts to restore an economy that has been devastated by weeks of social distancing measures meant to inhibit the spread of COVID-19.
The proposed task force will consist of a number of top administration officials, including Chief of Staff Mark Meadows, Treasury Secretary Steven Mnuchin, and National Economic Council Chairman Larry Kudlow, The Washington Post first reported Thursday. It will also include representatives of the private sector.
The new task force could be announced as early as Thursday, according to reports by ABC News and Reuters.
Meadows, who joined the administration last week after resigning from Congress, would lead the group's efforts, the Post reported.
The choice of Meadows as the task force's leader could send a signal to members of Congress who want the White House to support new rounds of generous stimulus programs. Meadows, a former leader of the House Freedom Caucus and a noted fiscal hawk, was opposed to many of the programs in that bill, including the $1,200 direct payments that most taxpayers are eligible for, The National Review reported. Meadows also opposed the emergency leave benefit approved in a separate relief bill which Trump signed into law last month.
Since a state-by-state push to mitigate the impact of COVID-19 by social distancing began last month, new unemployment claims have reached levels not seen since the start of the Great Depression.
The prospect of economic losses, which experts estimate could reach trillions of dollars, has weighed heavily on President Donald Trump, who faces reelection amid the turbulent time.
During his appearances in the White House briefing room, Trump has said that the U.S. "was not made to be closed," and he has reportedly expressed frustration at top public health officials who have advocated for a longer period of social distancing. As recently as two weeks ago, Trump said the American economy could re-open by Easter Sunday. Social distancing measures, however, were extended through the end of April.
White House Deputy Press Secretary Judd Deere told Newsweek that Trump "wants to see this economy open again so people can get back to work" after the "unforeseen, unprecedented crisis" has abated, but he stressed that "scientific data will drive the timeline on those decisions because his number one priority is to protect the safety and well-being of the American people."
Neither Meadows, Kudlow immediately responded to Newsweek's request for comment.

Updated April 9, 2:01 p.m. with a statement from White House Deputy Press Secretary Judd Deere.
Correction, April 9, 12:37 p.m. The article was corrected to reflect the correct source describing White House Chief of Staff Mark Meadows' fiscal background. It is The National Review.