White House Decision to Send Pro-fossil Fuel Speakers to Climate Change Summit 'Further Undermines U.S. Credibility'
As world leaders gather at the two-week United Nations Climate Change Conference in Katowice, Poland, President Donald Trump's administration has once again showed apparent antipathy toward multilateral climate-conscious policy.
The White House has been criticized by environmental groups and several representatives of other participating countries for its decision to stage a pro-fossil fuel side event as world leaders work to limit global carbon emissions.
Read More: David Attenborough: Humanity's Collapse Looming Amid Climate Change Failure
The two-week conference, known as COP24, has assembled representatives from nearly 200 countries to discuss the progress—or lack thereof—on pledges made as part of the 2015 Paris climate accords, from which Trump withdrew the U.S. in 2017.
According to Reuters, the U.S. event—called "Innovative Technologies Spur Economic Dynamism"—will be held Monday afternoon. It will promote the use of coal and other non-renewable energy sources, the BBC noted. Trump's energy adviser, Wells Griffith, is expected to take part in the event.
This is not the first time the Trump administration has attempted to undermine the summit. At last year's gathering in Bonn, Germany, American representatives ran a similar side meeting.
The State Department said its Katowice event would "showcase ways to use fossil fuels as cleanly and efficiently as possible, as well as the use of emission-free nuclear energy."
Lou Leonard, of the World Wide Fund for Nature, told the BBC that the American event "is going to further undermine the credibility of the U.S. as a party in these talks. It is going to have virtually no impact on the actual talks—it's a sideshow, it's a side event, it's not something related to what the parties are negotiating right now."
The chart below by Statista shows how global carbon dioxide emission levels have risen since 1990.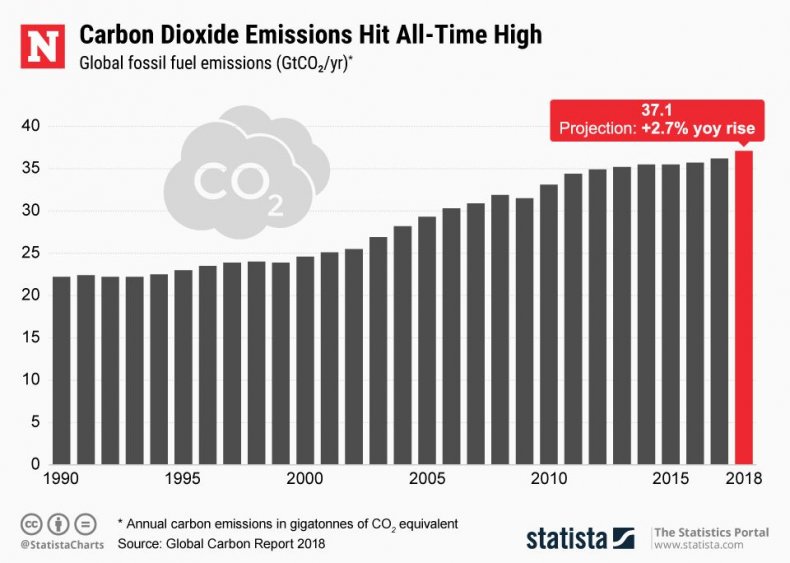 Dan Lashof, the director of World Resources Institute U.S., told Reuters the Trump administration "has proposed to roll back measures to cut methane leaks from oil and gas operations, made it easier for companies to dump coal ash into drinking water, and just days ago proposed easing carbon pollution rules for new coal-fired power plants. This sideshow in Poland would be laughable if the consequences of climate change weren't so deadly serious."
The Trump administration has made the U.S. one of the dwindling number of nations holding out against climate change action, at least so publicly This week, 415 investors with combined assets of around $32 trillion urged concrete steps to address the looming climate disaster, and specifically called for ending the use of coal as an energy source.
Thomas DiNapoli—who oversees the New York State Common Retirement Fund responsible for a $207 billion pension fund—said, "Despite the misguided policies of the Trump administration, global efforts to address the very real threat climate risk presents to the economy, financial markets and investment returns are ongoing."
The U.S. stood shoulder to shoulder with Saudi Arabia, Russia and Kuwait Saturday in refusing to "welcome" a landmark climate change report from the Intergovernmental Panel on Climate Change, drawing anger from other nations.
The report warned that the world may face catastrophic climate change if greenhouse gas emissions are not dramatically reduced by 2030. It urged nations to take steps to limit average warming to 1.5 degrees Celsius, as established by the Paris climate deal. Current levels of global emissions are on course to spur warming of between 3 and 5 degrees Celsius, the United Nations has said.
Representatives from the host nation have also drawn criticism from other COP24 attendees. In the opening week of the summit, Polish President Andrzej Duda lauded the impact of new coal technologies that have allowed the central European nation to cut carbon emissions while maintaining coal use, which accounts for around 80 percent of the country's energy production.
The conference is also being sponsored by Polish state-owned coal company JWS, an arrangement Friends of the Earth International called a "middle finger to the climate."