White House Declines to Participate in 'Charade' Impeachment Hearings, Labels Inquiry 'Completely Baseless'
Just minutes before a 5 p.m. deadline Friday, the White House sent a letter to the House Judiciary Committee declining the ability to participate in future impeachment hearings and accused House Democrats of making a predetermined decision on impeaching President Donald Trump.
"As you know, your impeachment inquiry is completely baseless and has violated basic principles of due process and fundamental fairness," White House counsel Pat Cipollone claimed to Judiciary Committee Chairman Jerrold Nadler (D-NY). "Nevertheless, the Speaker of the House yesterday ordered House Democrats to proceed with articles of impeachment before your Committee has heard a single shred of evidence."
In a Thursday announcement citing alleged abuse of power and election interference based on evidence from the Ukraine controversy, House Speaker Nancy Pelosi directed the House to begin drafting impeachment articles.
The White House's declination also said Democrats "have wasted enough of America's time with this charade" and to "not waste even more time with additional hearings." Adopting impeachment articles, Cipollone claimed, would "constitute the most unjust, highly partisan, and unconstitutional attempt at impeachment in our Nation's history."
The White House's decision comes amid repeated criticism from Trump and his allies that Democrats have failed to afford the president his due process rights to defend himself. Republicans defended the White House's refusal to take part and ask witnesses questions for a hearing on Wednesday featuring four constitutional law scholars.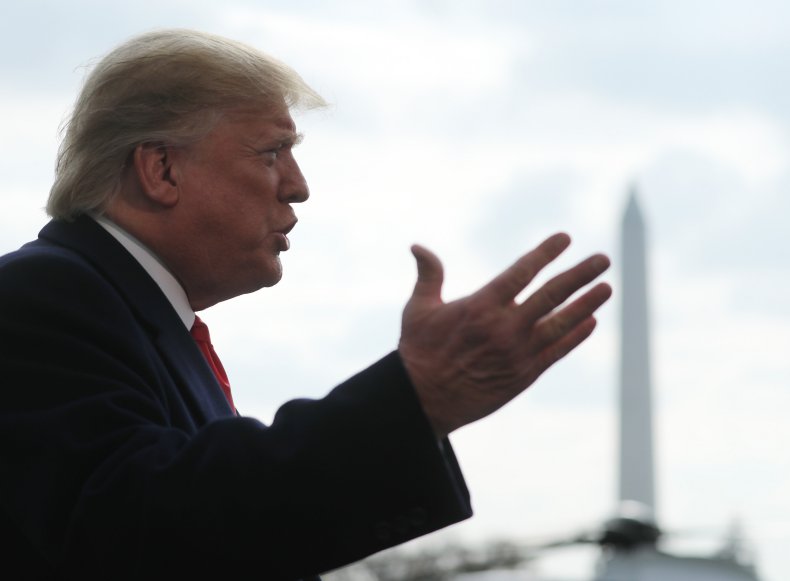 And Republicans made their view clear that it matters very little whether the White House participates in any future House hearings.
"We probably want to listen to [the White House's] point of view and work with them, to some degree," Rep. Steve Chabot (R-OH), a Judiciary member, told Newsweek. But he added: "Whether they participate, I wouldn't think it's going to make a major difference."
Rep. Jim Jordan, one of Trump's fiercest impeachment defenders walking the halls of Congress, said a decision one way or the other by the White House would not impact their strategy, given the "unfair" process.
"It's totally their call. The process has been totally unfair," he said to Newsweek. "First, [Democrats] set the rules that weren't consistent with precedent, and then change them when they want. You can't blame the White House for not wanting to participate."
In a statement, Nadler said that if Trump "has no good response to the allegations, then he would not want to appear before the Committee."
"Having declined this opportunity, he cannot claim that the process is unfair," the Democrat continued. "The President's failure will not prevent us from carrying out our solemn constitutional duty."
The next public Judiciary Committee impeachment hearing is slated for Monday morning, when Democratic and Republican counsels for the Judiciary and Intelligence committees will present their respective impeachment evidence. Democrats plan to work through the weekend to prepare by holding practice sessions and will begin to narrow which articles of impeachment they will draft, according to congressional aides.
Democrats have signaled they are likely to have at least three articles, based on Wednesday's hearing and public comments: abuse of power and bribery, obstruction of Congress and obstruction of justice. The obstruction of justice charge would stem from the Mueller report, something some Democrats have suggested should be left out in order to focus solely on alleged wrongdoing from the Ukraine controversy.
To impeach Trump before Congress skips town for Christmas recess, articles would likely need approval from the Judiciary Committee by end of next week to tee up a floor vote the week of December 16.
Trump wrote in a tweet this week he looks forward to a "fair trial in the Senate," where he's more likely to cooperate thanks to its Republican majority.
Judiciary Committee Republicans reiterated a demand Friday that Nadler allow them to have a minority hearing day, an event that Rep. Doug Collins (R-Ga.), the ranking member, said is required to occur under House rules before the panel votes on articles of impeachment. The minority hearing would feature one day of testimony from GOP-desired witnesses. Republicans want to hear from the following witnesses, according to a letter from Collins to Nadler on Friday, all of whom are certain to be denied by Nadler:
Adam Schiff (D-Calif.), Intelligence Committee chairman
The anonymous whistleblower
"All the individuals" referenced in the whistleblower's complaint, all of whom are unnamed
The Intelligence Community employee who spoke with Lieutenant Colonel Alexander Vindman about Trump's July 25 phone call with the Ukrainian president
Devon Archer, former board member of Burisma Holdings
Hunter Biden, former board member of Burisma Holdings and son of former Vice President Joe Biden
Nellie Ohr, former contractor for opposition research firm Fusion GPS
Alexandra Chalupa, former Democratic National Committee staffer
When it comes to repeated claims from the White House and Republicans over a lack of due process and inability to hear from certain witnesses, professor Jonathan Turley said they have legitimate complaints.
Turley, who teaches at George Washington University Law School and testified on behalf of Republicans at Wednesday's hearing, argued Trump and Republicans have a "valid objection over fairness from lack of information" and the restraint on their ability to hear from their desired witnesses.
"There is a solution," he told Newsweek in an email. "The White House should offer greatly cooperation in exchange for greater protections of due process and fairness. Neither side seems interested in perfecting this record. Both sides appear eager to get this to the Senate where it seems guaranteed to fail. Indeed, it seems designed to [fail]."
However, the White House's continued refusal to participate and Republicans' claims about the unfair process don't bode well for Trump's innocence, argued Nick Akerman, a former special assistant Watergate prosecutor.
"These are not the actions of an innocent person. People have the right to draw an adverse inference from the fact that they're refusing to say anything or cooperate or do anything," the attorney told Newsweek. "All the moaning they did about the fact that they were denied due process throughout this, and now they're given the opportunity to provide defense. That says volumes about the validity of any defense that they've got."
This story was updated to include a statement from Rep. Jerrold Nadler, Judiciary Committee chairman.