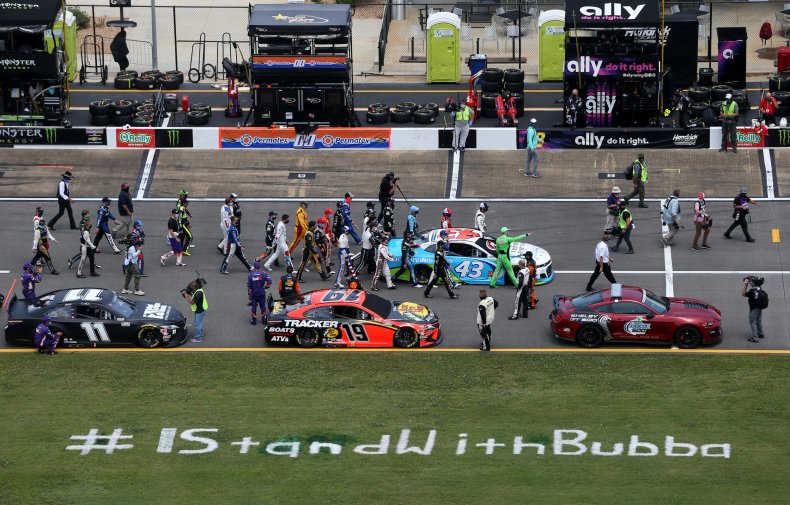 The White House is doubling down on President Donald Trump's call for a Black NASCAR driver to apologize after a noose, later determined to be a pull rope, was reported hanging in his garage stall at the Talladega Superspeedway in Alabama last month, even though the driver wasn't the person who reported it.
"In aggregate, what he was pointing out was this rush to judgment to immediately say there was a hate crime," Press Secretary Kayleigh McEnany told reporters Monday, just hours after Trump's tweet drew backlash. "The FBI concluded that this was not a hate crime, and he believes it would go a long way if Bubba came out and acknowledged this as well."
Darrell Wallace Jr., known by his nickname "Bubba," drew national headlines after racing officials reported that a noose was found in his assigned stall. The FBI later determined it was a garage pull rope that had been fashioned that way long before the stall was assigned to the lone Black full-time driver on NASCAR's premier circuit.
"Has @BubbaWallace apologized to all of those great NASCAR drivers & officials who came to his aid, stood by his side, & were willing to sacrifice everything for him only to find out the whole thing was just another HOAX?" Trump tweeted early Monday morning.
He added that Wallace's ordeal and NASCAR's decision to ban the Confederate flag, at Wallace's urging, had "caused lowest ratings EVER!."
Wallace tweeted two weeks ago after the FBI released its conclusion that it had been "an emotional few days" for him.
"First off, I want to say how relieved I am that the investigation revealed that this wasn't what we feared it was," he wrote. "I want to thank my team, NASCAR and the FBI for acting swiftly and treating this as a real threat. I think we'll gladly take a little embarassment over what the alternatives could have been." He also praised the unity and the outpouring of support "and the progress we've made as a sport to be a more welcoming environment for all."
After Trump's tweet Monday, Wallace again went on Twitter seeming to respond.
"Love over hate every day," he tweeted in the lengthy message. "Love should come naturally as people are TAUGHT to hate. Even when it's HATE from the POTUS.. Love wins."
A spokesperson for Wallace told Newsweek that there would be no direct comment on Trump's tweet at this time and referred to earlier statements that had been made.
"Wallace has extensively exhausted the topic via a multitude of interviews in recent weeks. It is clear there is nothing more to say," spokeswoman Courtney McGarry Weber told Newsweek in an email.
Fellow NASCAR driver Tyler Reddick tweeted, and later deleted, a response slamming Trump's tweet.
"We don't need an apology," the now-deleted tweet read. "We did what was right and we will do just fine without your support."
Fox Sports executive vice president Michael Mulvihill, meanwhile, disputed Trump's ratings claim.
"NASCAR viewership on Fox networks is up +8% since returning from its pandemic hiatus on May 17," he tweeted.
The statement from the Department of Justice described the pull rope as a "noose" and released photos that showed it was fashioned in a noose style.
During the press briefing, McEnany repeatedly defended the president's tweet and mentioned former Empire actor Jussie Smollett, who has been charged with allegedly staging a racist attack on himself and lying about it to law enforcement.
"The president takes great offense to when Americans are painted as racists," she said.
McEnany wouldn't directly address whether the president supports the flying of the Confederate flag, despite repeated questions from reporters, instead suggesting that it was only a small part of the tweet.
"The president has made clear he was not taking a position one way or another with that tweet," she said.