White House Denies Tension With Kamala Harris, Sidesteps Question on 2024, '28 Endorsement
The White House is calling Vice President Kamala Harris a "key partner" after a report detailed tension between her and the commander in chief.
Press secretary Jen Psaki on Monday shut down rumors that President Joe Biden and Harris's relationship is in disarray.
"The president selected the vice president to serve as his running mate because he felt she was exactly the person you wanted to have by his side to govern the country," Psaki told reporters. "She is a key partner. She's a bold leader. She is somebody who has taken on incredibly important assignments."
CNN reported Sunday that many people in Harris' inner circle are angry that she's been sidelined throughout Biden's first 10 months in office, or in some cases not adequately prepared. The vice president has reportedly told several people she "feels constrained in what she's able to do politically."
According to the news network, those who work for Biden and Harris have described their working relationship as "settling into an exhausted stalemate."
Psaki told reporters during Monday's briefing that "there's been a lot of reports out there, and they don't reflect his view or our experience with the vice president."
But the White House sidestepped a question about whether Biden would automatically endorse Harris in 2024 or 2028 if she chooses to run.
"I don't have any predictions of whether she will run, when she will run," Psaki said. "I will leave that to her."
Biden, who is 78, said earlier this year that he plans to run for a second term in 2024. The president also said at the time that he "would fully expect" that Harris would remain on the presidential ticket.
If Biden doesn't seek a second term (at the time of the election, he will be 81), it is typical for the vice president to run for the office. Harris has not detailed her political plans.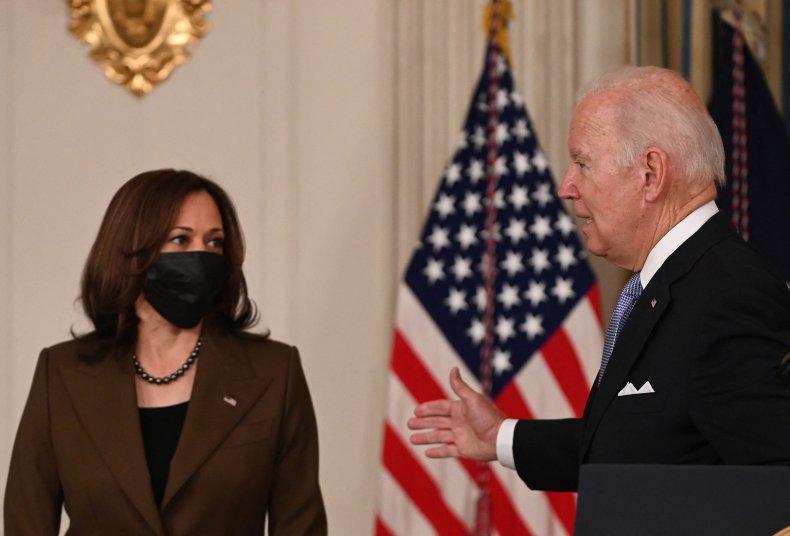 Right now, both Biden and Harris's approval ratings are underwater.
A recent survey from USA Today and Suffolk University found Biden's overall approval rating stands at 38 percent. Nearly 60 percent of respondents said they disapprove of his job performance.
Harris' numbers were even worse, as just 28 percent of registered voters approve of the job she's done as vice president. Fifty-one percent of respondents disapprove, and 21 percent said they are undecided.
Newsweek reached out to the vice president's office for comment but didn't receive a response before publication.
Symone Sanders, a senior adviser and spokesperson for Harris, said over the weekend that "some in the media are focused on gossip—not on the results that the president and vice president have delivered."