White House Distances Itself From Debunked Rumor About Kamala Harris Book in Migrant Welcome Packs
No taxpayer dollars are being used to supply migrant kids with care packages that included Vice President Kamala Harris' children's book and the White House has denied any knowledge of its inclusion, but that's not stopping some Republicans from hammering the Biden administration over the issue.
Misleading photos of the children's book, Superheroes Are Everywhere, in packets handed out at the Long Beach Convention & Entertainment Center in California have spread online, but the Washington Post has actually debunked the claim that the book is part of any so-called "welcome kit." Instead, just one copy of the book is known to have been given to a child. The entire controversy stemmed from a story published in the New York Post, which falsely reported that the book was being given out. Laura Italiano, the journalist who wrote the original article, has resigned from the Post and said that she was "ordered" to write the piece, and that she "failed to push back hard enough against." The Post story has since been corrected and updated.
Meanwhile, a White House official told Newsweek that the book was part of a city donation effort to collect books and toys. The effort is organized by the community, working with companies. Harris wasn't aware of the efforts or that her book would be included, the White House official said.
"The referenced book was one of an assortment of hundreds of titles donated to the Long Beach Emergency Intake Site as part of a City of Long Beach new books and toys drive. No taxpayer dollars were used to purchase Vice President Harris' book," the U.S. Department of Health and Human Services said in a statement to Newsweek.
Kevin Lee, chief public affairs officer for the city, further clarified that the city had no involvement in the book's curation.
"The City of Long Beach, in partnership with the Long Beach Convention and Visitors Bureau, has a citywide book and toy drive that is ongoing to support the migrant children who are temporarily staying in Long Beach at the U.S. Department of Health and Human Services shelter," he said. "The single book you reference is one of hundreds of various books that have already been donated. The book was not purchased by HHS or the City."
The Long Beach center has been designated as an influx facility as the Biden administration struggles to handle a surge of unaccompanied minors crossing the border.
Republican U.S. Representatives Lauren Boebert of Colorado and Madison Cawthorn of North Carolina both have criticized the Biden administration over the false reports that Harris' book was intentionally being included in donation-driven welcome packs, alongside basic hygiene items.
"Why is the Biden regime using taxpayer dollars to provide illegal immigrants entering the U.S. with a copy of Kamala's children's book?" Boebert wrote on Twitter.
Several Republicans have noted that Harris, who President Joe Biden has designated as a point person on handling the border crisis, hasn't traveled to the border, while scores of members of Congress have traveled to see the conditions firsthand.
"Kamala is now saying 'we're making progress' on Biden's border crisis," Cawthorn tweeted. "She must be referring to her progress on book sales.…"
Harris, then a U.S. senator, published the book in 2019. It's a New York Times bestseller that's described as being an "empowering and joyful picture book that speaks directly to kids."
In announcing the influx center's opening the HHS noted that "children will be welcomed by staff, receive a medical check, and be provided needed clothing, toiletries, food and snacks, as well as a safe place to rest."
"Providing unaccompanied children a safe, healthy place is both our legal and moral obligation," HHS Secretary Xavier Becerra said in a statement as the center was opened thanking community leaders for working with the federal government. "While the work has only begun, we're on the right path with reliable partners to get this done right."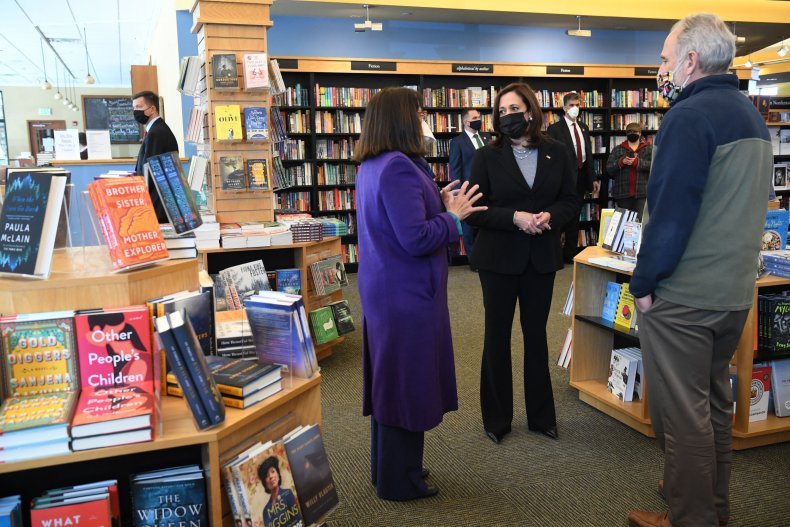 Updated 05/04/2021, 3:35 p.m. ET: This headline and story have been updated to reflect that the rumor about Harris' book being included in so-called "welcome kits" has been debunked. So far, only one copy of Harris' book is known to have been given to a child.