White House Doctor Says Trump Is No Longer Contagious Ahead of Florida Rally
A White House physician said President Donald Trump "is no longer considered a transmission risk to others" on Saturday evening, two days before the president's scheduled campaign rally in Florida.
In a memorandum, the president's physician Sean P. Conley announced that Trump had met the Centers for Disease Control and Prevention's (CDC) "criteria for the safe discontinuation of isolation."
"This morning's COVID PCR sample demonstrates, by currently recognized standards, he is no longer considered a transmission risk to others," Conley wrote, adding that the president is 10 days "from symptom onset, fever-free for well over 24 hours and all symptoms improved."
Additionally, advanced diagnostic tests reveal there is no longer evidence of actively replicating virus. The doctor said he will continue to monitor the president as he returns to an active schedule.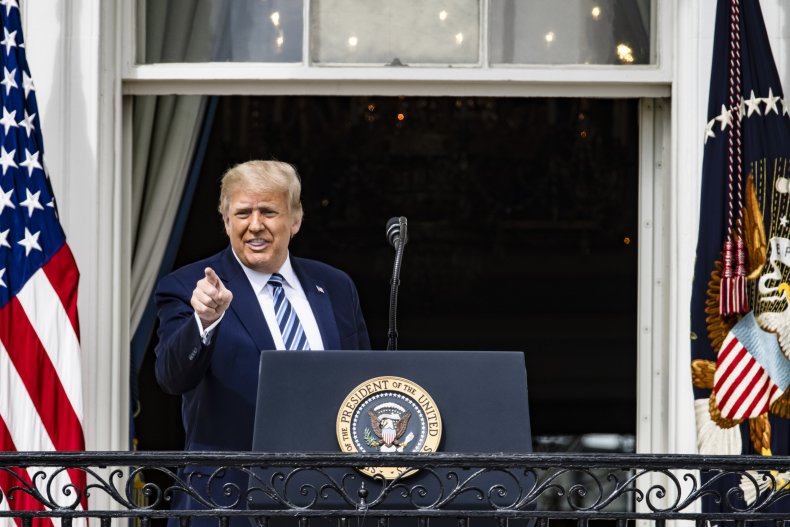 The health update comes as Trump prepares to resume in-person campaigning this coming week. On Monday, he is scheduled to travel to Florida for his first in-person campaign rally outside the White House since contracting the virus 10 days ago.
Trump returned to the White House on Tuesday after spending three days at the Walter Reed National Military Medical Center. He held his first official public event earlier today on the South Lawn, where he gave a "peaceful protest" campaign speech.
During the "Blexit" campaign rally, Trump called for "law and order" and accused his Democratic opponent Joe Biden of "betraying" Black and Hispanic Americans. He also claimed that manufacturing jobs in Pennsylvania, Oklahoma, Texas and other states would vanish from minority communities if Biden wins the presidential election next month.
"First off I'm feeling great, how is everybody doing? Thank you so much for all of your prayers," Trump told the hundreds of supporters gathered for the event, before claiming that the pandemic is "going to disappear" soon.
Conley and the White House have yet to provide any information on whether the president has tested negative. When asked by Fox News host Sean Hannity on Thursday, Trump ignored the question about testing negative and announced that he hopes to return to in-person campaign events soon.
Concerns about the true severity of Trump's health were amplified after he coughed repeatedly during the interview, one of which ended in a few seconds of silence before he said "excuse me." Newsweek reached out to the White House for information on the president's latest coronavirus tests, but did not receive a response in time for publication.
According to the CDC, most people are no longer infectious around 10 days after the onset of symptoms. Under these guidelines, Trump's illness would have needed to show from September 30.
In his first on-camera interview since testing positive, Trump told Fox News host Tucker Carlson on Friday that he "didn't have a problem with breathing, which a lot of people seem to have." However, Conley had revealed that the president was given supplemental oxygen early in his infection.