White House Blasted by Legal Experts for Blocking Don McGahn Testimony: 'This Is What Mob Bosses Do'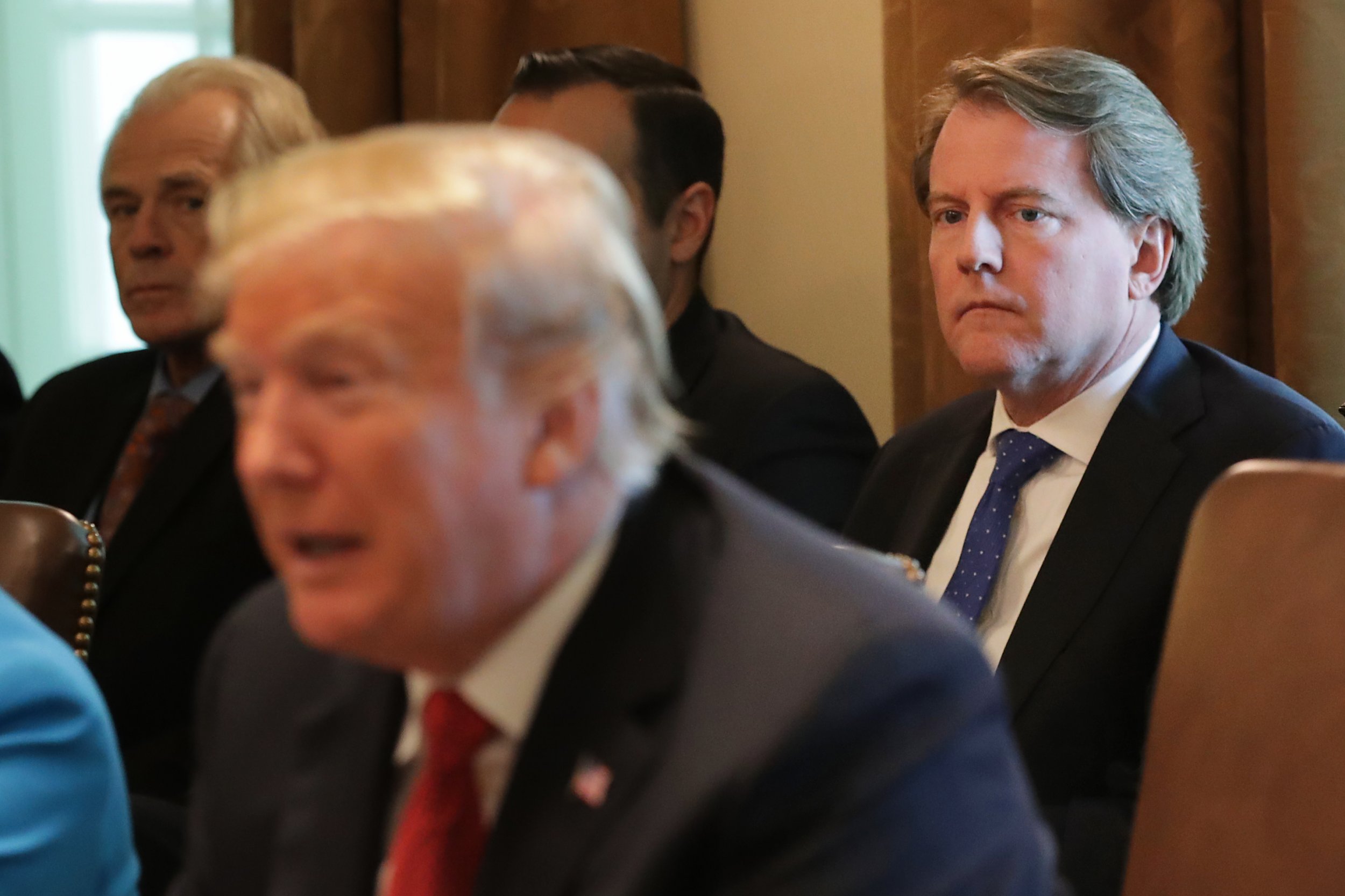 The White House directed former counsel Don McGahn Monday to defy a congressional subpoena to testify before a House committee on Tuesday, citing a legal opinion drafted by the Justice Department that stated the former Trump official was immune from being compelled to testify.
The legal assertions by the White House and Justice Department were swiftly characterized as incorrect by former federal prosecutors.
Joyce Vance, a former U.S. attorney for the Northern District of Alabama, labeled the move as something "mob bosses do, not presidents." Harvard Law School Professor Laurence Tribe said the White House's position "can't POSSIBLY be the law when the House is exercising its power to investigate whether the president has committed impeachable offenses."
McGahn was slated to appear before the House Judiciary Committee to provide testimony about key events detailed in the Mueller report that Democrats believe amount to obstruction of justice, some of which were based on McGahn's cooperation with the special counsel.
In the Justice Department's legal opinion provided to the White House, Assistant Attorney General Steven Engel said that due to immunity for a president's "immediate advisers," McGahn is "not legally required to appear and testify about matters related to his official duties."
White House counsel Pat Cipollone told Judiciary Chairman Jerrold Nadler that "because of this constitutional immunity, and in order to protect the prerogatives of the office of the presidency, the president has directed Mr. McGahn not to appear at the Committee's scheduled hearing on Tuesday."
McGahn's presumed absence at Tuesday's hearing will likely lead to contempt proceedings to be initiated by Nadler, who threatened contempt earlier this month if the former White House counsel did not comply with the subpoena and testify. The warning came after McGahn failed to hand over documents that were previously provided to Mueller that were also subpoenaed. Acting White House Chief of Staff Mick Mulvaney directed him to not comply because the White House said the information was subject to executive privilege.
In a statement, Nadler lambasted the president's decision to claim McGahn was immune, saying that he planned to have the committee convene as planned and that McGahn is "expected to appear as legally required."
"It is absurd for President Trump to claim privilege as to this witness's testimony when that testimony was already described publicly in the Mueller Report," the New York Democrat said. "Even more ridiculous is the extension of the privilege to cover events before and after Mr. McGahn's service in the White House."
The top Republican on Judiciary, Representative Doug Collins, continued to ridicule Nadler for subpoenaing McGahn in the first place.
"What better way to ensure we don't hear from McGahn this week than by subpoenaing a witness who's categorically immune from testifying?" he tweeted. "Thankfully, McGahn's testimony is in Vol 2 of the #MuellerReport, 99.9% of which is available to the chairman, should he ever choose to read it."
The White House's effort to stonewall House Democrats investigating the president have intensified in recent weeks. In response, several officials face the real possibility that they will be held in contempt of Congress. The Judiciary Committee voted to hold Attorney General William Barr in contempt for refusing to provide the unredacted Mueller report and its underlying evidence. In addition, Treasury Secretary Steve Mnuchin and IRS Commissioner Charles Rettig also defied a subpoena, refusing to turn over Trump's tax returns to the House Ways and Means Committee.
One option that's been floated by House Democrats to compel Trump officials to comply with their congressional probes and subpoenas is to bundle contempt citations into a single House floor vote where, if passed, it would then give Congress the power to issue fines and jail individuals through inherent contempt. A power afforded to Congress, inherent contempt has not been used in more than 80 years.
In its legal opinion, the Justice Department believed Congress "could not lawfully exercise any inherent contempt authority against Mr. McGahn for asserting immunity."
This story has been updated to include a statement from House Judiciary Chairman Jerrold Nadler.