White House Aides Say Donald Trump Should Have Done More to Deny Being a Russian Agent During Fox News Interview: Report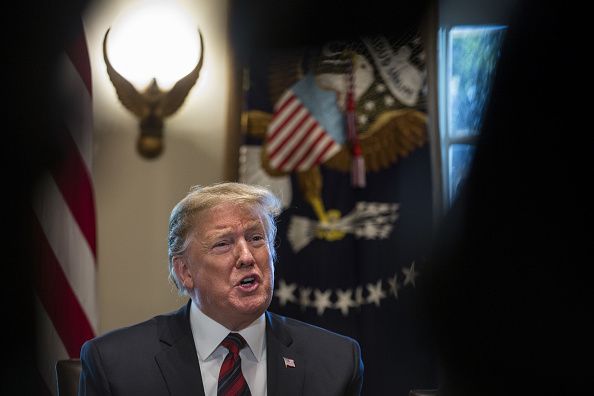 White House aides reportedly lamented Donald Trump's latest call in to Fox News, during which he combated negative news coverage of his presidency, saying that he could have done more to deny being a Russian agent.
Trump surprised his staff when at the last minute he called in to Jeanine Pirro's show on Fox News over the weekend, according to a report published Monday by The Associated Press. The interview came amid reports that the FBI had had been investigating whether the president had been working on behalf of Russia.
"I think it's the most insulting article I've ever had written, and if you read the article you'll see that they found absolutely nothing," Trump told Pirro in the Saturday evening phone call.
Trump also hit back at The New York Times, which published the original report detailing the investigation last week, calling the news outlet a "disaster of a newspaper."
But when Pirro asked the president directly if he had ever worked on behalf of Russia, Trump evaded the question, replying: "I think it's the most insulting thing I've ever been asked."
According to the report by The Times, federal investigators began looking into Trump's relationship with Russia after he fired former FBI Director James Comey in 2017. Federal agents assessed whether the president's actions constituted a national security threat. Investigators were also evaluating if Trump had intentionally been working for Russia or had unknowingly fallen under its influence.
Before calling Pirro's show, Trump tweeted on Saturday morning that the Times story showed that the "corrupt" FBI "opened up an investigation on me, for no reason & with no proof, after I fired Lyin' James Comey, a total sleaze!"
Trump also came under fire this weekend after a news report published by The Washington Post alleged that the president went to "extraordinary lengths" to hide details of a 2017 conversation with Russian leader Vladimir Putin that took place in Hamburg, Germany, from members of his own administration. Trump denied the allegation during his conversation with Pirro.
"Anybody could have listened to that meeting, that meeting is up for grabs," Trump said, adding that he has been tougher on Russia than "probably any other president."
But Democrats have vowed to take action following these most recent news reports. The House Foreign Affairs Committee plans to hold hearings on the claims, according to Chairman Eliot Engel. It would be the first major investigation launched against the president since Democrats took control of the House of Representatives in early January.
"Every time Trump meets with Putin, the country is told nothing. We will be holding hearings on the mysteries swirling around Trump's bizarre relationship with Putin," Engel told The Wall Street Journal over the weekend.