White House Claims Crowd Cheered After Pence Mentioned Trump in Munich Speech. It Didn't
The White House claimed that world leaders applauded Vice President Mike Pence when he dropped the name of President Donald Trump into a speech, but videos of the address show a different story.
Pence was speaking at the Munich Security Conference over the weekend when he passed along greetings from Trump to European and Asian government leaders. He paused for several seconds for cheers, but the crowd remained silent.
A video clip of the exchange went viral on social media platforms, such as Facebook and Twitter, on Saturday afternoon. Senator Sheldon Whitehouse tweeted that he was at the conference when Pence was speaking, and "the silence was defeaning."
But the White House claimed that the vice president received applause after mentioning Trump. The administration published a transcript of Pence's remarks in which it specifically wrote that the statement was followed by "(Applause)."
The White House's transcript also differs slightly from the speech Pence gave at the conference, which was recorded by news outlets.
In the televised address, Pence told the crowd: "I bring greetings from the 45th president of the United States of America, President Donald Trump."
But the White House account had Pence saying: "To them and to all of you, it's my great honor to speak to you today, on behalf of a champion of freedom and a champion of a strong national defense, the 45th President of the United States of America, President Donald Trump. (Applause)."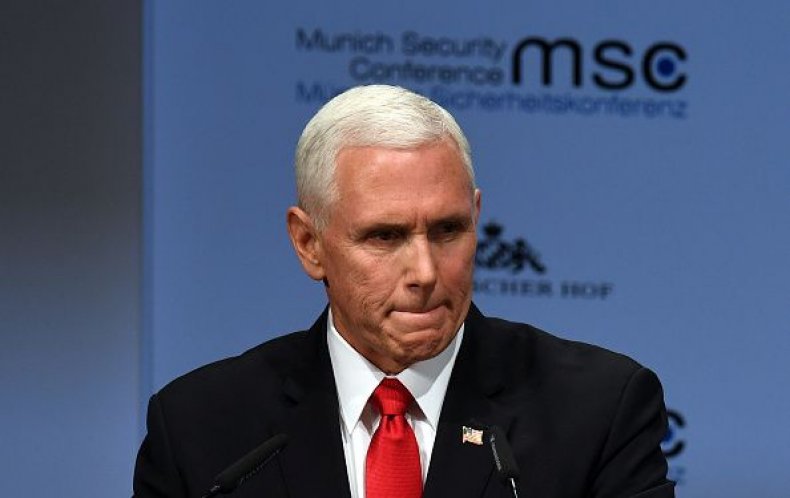 The vice president was at the conference to attend the inaugural John McCain Dissertation Award Ceremony, which paid tribute to the late senator who died in August 2018 after a year-long battle with brain cancer.
In his speech, Pence hit back at some of America's closest allies over their relationships with Iran and Venezuela, calling on foreign leaders to pull out of the Iran nuclear deal and requesting that they join the U.S. in recognizing Juan Guaidó as president of Venezuela instead of Nicolas Maduro.
Pence also took several opportunities to tout Trump's presidency as "remarkable" and his administration's foreign policies as "extraordinary."
"And so, under President Donald Trump's leadership, America is leading the free world once again," Pence said. "Thank you for the honor of participating in this important event. And thank you for this opportunity to reflect on the progress that we've made and the ties that unite freedom-loving people everywhere."