White House Drops Audio on Biden's Snide Response to Reporter About Afghanistan
A clip of President Joe Biden responding to a reporter's question regarding the extraction deadline for Americans in Afghanistan has raised some eyebrows.
On Wednesday, Biden met with members of his Cabinet, national security team and private sector leaders at the White House to discuss cybersecurity issues. At the end of the meeting, NBC News Chief White House Correspondent Peter Alexander asked Biden what would he do if Americans are still in Afghanistan after the August 31 deadline.
Biden's initial response to Alexander's question was a smirk, but as the audio feed cut off, Biden can be seen saying, "You'll be the first person I call." Biden didn't take any questions after the conclusion of the meeting which was captured on a live stream from the White House.
During a follow-up briefing, held by press secretary Jen Psaki, Fox News White House Correspondent Peter Doocy asked Psaki if she could elaborate on Biden's remarks to Alexander.
"Well, I think the question he was asked...was about when he will provide information about a decision on August 31," Psaki replied. "I think what he conveyed is that—well, what I can convey from here, I should say, is that as he stated yesterday...is we're on track to complete our mission by August 31."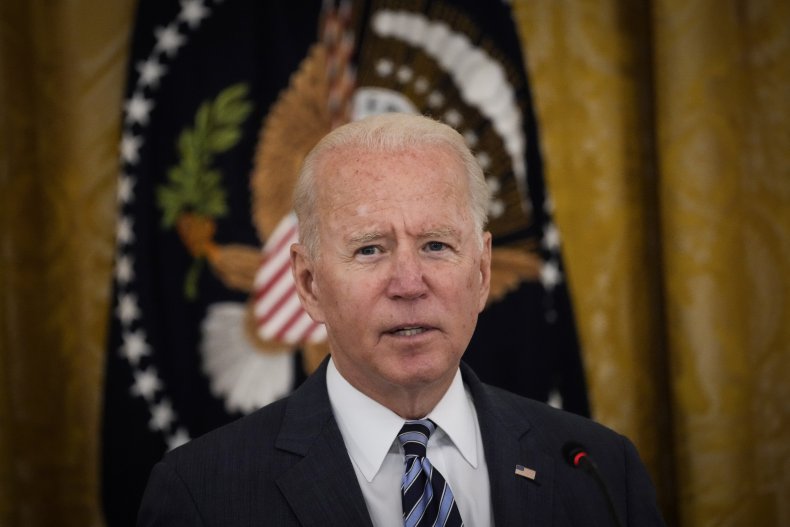 Obviously, there are discussions, and the president received a briefing just this morning," Psaki concluded.
Alexander took to Twitter to elaborate on the issue which prompted a number of varied responses from users under his tweet. "I asked President Biden what he will do if Americans are still in Afghanistan after the 8/31 deadline," Alexander tweeted. "His response: 'You'll be the first person I call.' Took no questions."
One Twitter user replied, "I'm confused. You asked him something and he answered—isn't that taking questions?"
Another person tweeted, "I'm with the president, he is on this thing! You all won't give him any grace until every single person alive is out! Millions and millions of people! This is so wrong!"
Currently, 4,500 out of 6,500 Americans have been evacuated from Afghanistan, according to Secretary of State Antony Blinken.
"Starting on August 14, when our evacuation operations began, there was then a population of as many as 6,000 American citizens in Afghanistan who wanted to leave," Blinken said during a press briefing.
"Over the last 10 days, roughly 4,500 of these Americans have been safely evacuated, along with immediate family members."
Blinken also stated that "over 82,300 people have been safely flown out of Kabul."
Biden has been under mounting criticism regarding his handling of the extraction of Americans since the initial Taliban takeover on August 15.
On August 16, Representative Marjorie Taylor Greene said that she's working on articles of impeachment over Biden's Afghanistan withdrawal strategy.
"I'm so disgusted with Joe Biden," the Republican from Georgia said during an appearance on Steve Bannon's War Room: Pandemic podcast. "You know I've already filed one set of articles of impeachment. But his failure as a president is unspeakable."
Professor Malcolm Chalmers, deputy director-general of the Royal United Services Institute (RUSI) think tank, also criticized Biden recently over his exit strategy.
"There had been a palpable sense of relief at President Biden's victory, and all his warm words about allies and international cooperation. The withdrawal has punctured common illusions on the extent of Britain's military dependence on the United States," Chalmers told Newsweek.
"One of the consequences could be that the UK government will take European defense cooperation more seriously than it has for many years. This could be one of the few positive side-effects from this sorry debacle," Chalmers said.