Where To Watch and Event Details: Trump Family Hosts 2018 White House Easter Egg Roll
As per tradition, America's First Family will hold the White House Easter Egg Roll on Monday. The 140th iteration is expected to draw more than 20,000 kids to the South Lawn at 7:30 a.m. for a bright and early start.
The celebration is not the type of event you can attend on the fly—an online ticket lottery ended in February. For those still hoping to watch the event, the White House YouTube channel is expected to host a live stream.
The Trump family, who seem so far to have escaped the kind of controversy that engulfed last year's celebration, said they were "honored" to host the 140th-anniversary event and looked forward to "weaving new traditions into the fabric of our nation."
This year's attendees are invited to participate in an egg hunt, the eponymous egg roll, cookie decorating, card-making for troops, a coloring wall, and—the newest activity— lawn bowling. Prominent members of the administration, including Melania Trump, Sarah Huckabee Sanders, and Betsy DeVos, will host story time in the reading nook, according to the White House. There's still no word on who will be donning the bunny suit, but you can feel safe betting that it won't be Sean Spicer.
To go along with tens of thousands of children, there will, of course, be tens of thousands of brightly-dyed eggs.
"This year, we will donate 30,000 hard-boiled and dyed eggs for attendees to use as a part of the egg roll, as well as for enjoying as hard-boiled EggPops," American Egg Board president & CEO Anne L. Alonzo told Newsweek. Alonzo will also be presenting the commemorative egg to the First Lady Melania Trump. The ornate egg, decorated by Master Egg Artist Deborah—who holds a master's degree in egg art from the very real International Egg Art Guild—is called "Wings of Prayer."
"Deborah was inspired by the First Lady of the United States, Melania Trump, whose elegance comes to life in the ornate nature of the design, which is adorned in rhinestones," a spokesperson said. "Beautiful angel wings open to expose an intricate scene with a handmade bridge, where if you look closely, you can see a Koi fish swimming in the water beneath."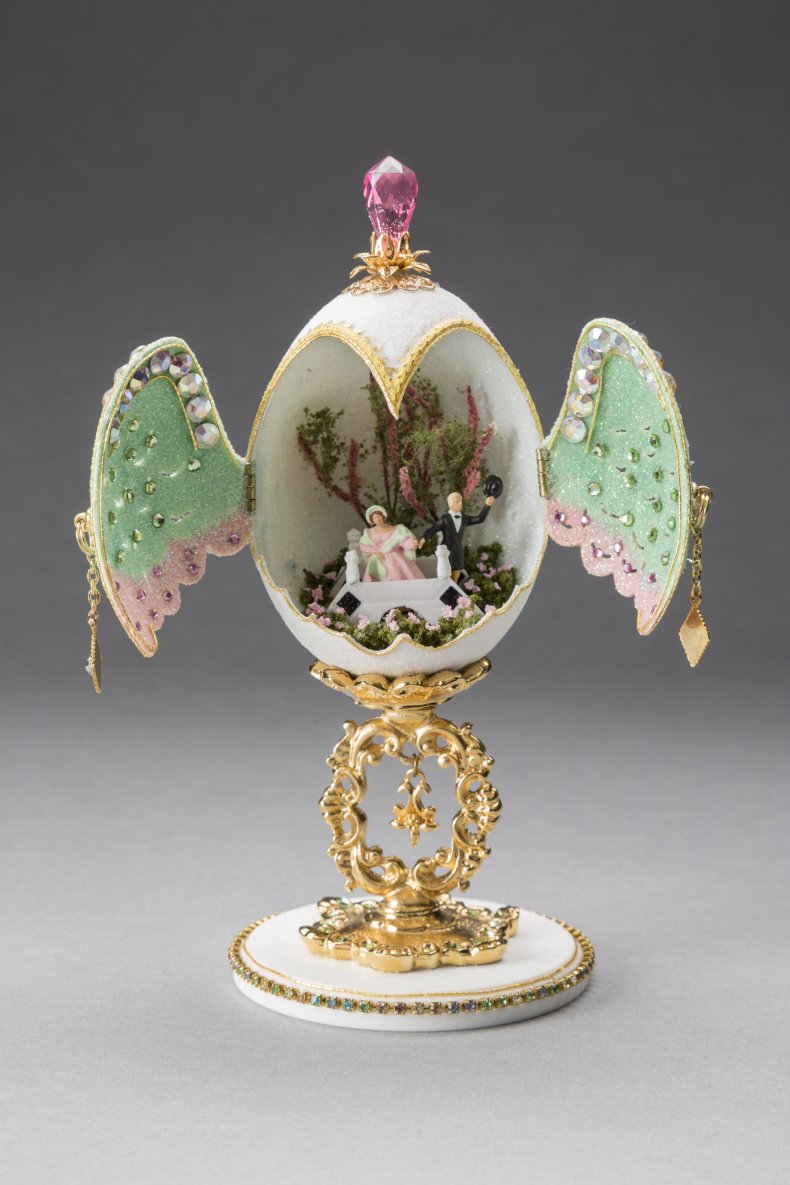 Traditionally hosted by the First Lady, the egg roll has been officially celebrated at the White House since 1878. The Hayes administration wound up hosting the inaugural affair after a preservation law banned egg rolling at the Capitol. Since then, it's become a spectacle —and a public relations boost for the family that occupies the historic house.
"As the presidency has grown in power and importance, the White House has become increasingly inaccessible, meaning the event is less a spontaneous public gathering and more of a controlled public relations event," said Justin Vaughn, a political science professor at Boise State University, told Newsweek. "As such, it has become quite the spectacle, much like the presidency itself, with new presidents adding their own wrinkles and high-profile entertainers from Robert DeNiro to Idina Menzel making appearances."
Given Hollywood's notorious dislike for Donald Trump, it's unlikely this year's event will feature any A-list entertainers (Menzel and DeNiro are definitely not attending.) Instead, the White House said military bands will perform on the "Bunny Hop" music stage.