White House Economic Adviser Calls Extra Unemployment Benefit From Stimulus Package 'a Disincentive' to Work
White House economic adviser Larry Kudlow on Sunday called the extra $600 a month the federal government has given to unemployed workers amid the novel coronavirus pandemic "a disincentive" to return to work.
"Unemployment benefits will not stop in August," Kudlow clarified in an interview with CNN, explaining that many lawmakers and business leaders are simply concerned about the extra $600 per week given out by the federal government through the end of July. "The $600 plus up, that's above the state unemployment benefits that they will continue to receive, is in effect a disincentive, or I mean we're paying people not to work," he said. "It's better than their salaries...."
Although the Trump administration does not support extending the $600, Kudlow said President Donald Trump is reviewing reform proposals that could provide additional funds to jobless workers. The economic adviser said Trump was considering "some kind of bonus" that would create an "incentive to work."
Democrats have pushed back against ending the extra $600 payments, which passed with bipartisan support when the CARES Act was passed in late March. In May, House Democrats introduced the HEROES Act, which seeks to continue expanded unemployment. However, now as the economy is reopening and many workers have begun returning to their jobs across the country, Republicans have called for ending or reforming the policy.
Newsweek reached out to Speaker of the House Nancy Pelosi, the top Democratic lawmaker who hails from California, for comment on the White House's position. Her office did not respond by the time of publication.
Some Republicans, like Kudlow, have complained that many workers will not want to return to work despite the end of lockdowns, because they are earning more money on unemployment benefits than they would at their jobs. When the CARES Act passed in March, a few GOP lawmakers raised these concerns at the time, but were strongly criticized over their opposition to providing additional funds to Americans during a national crisis.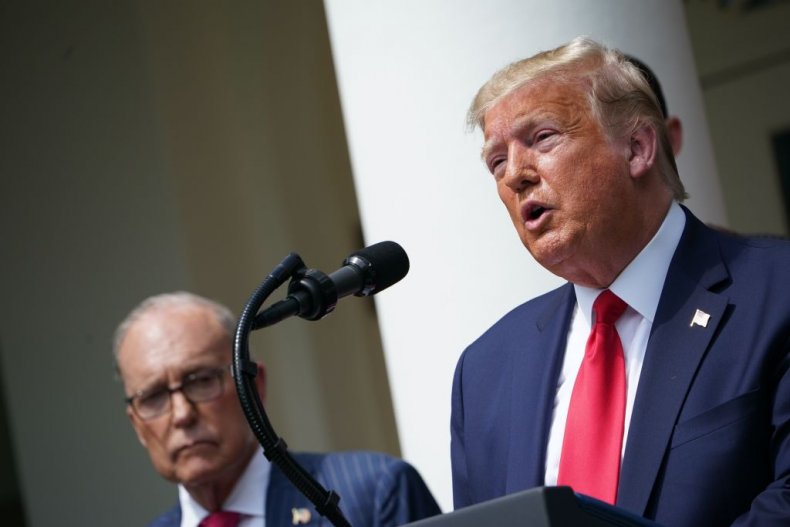 "We should never pay people not to work," Senator John Cornyn, a Republican from Texas, said last week, CNBC reported. "We should try to help people get back to work."
The $600 payment was calculated based on the income of an average American worker. However, many low wage workers have been unemployed due to the novel coronavirus pandemic. As a result, with the $600 added to the state unemployment benefits, many have been receiving significantly more than they would at their regular jobs. One reform proposal put forward by some Republicans is to pay people an extra sum of money per week if they return to work.
After two months of rapidly rising unemployment, jobless claims have begun to decline as all 50 states have eased lockdown restrictions. As of the week ending May 30, there were 20.9 million Americans claiming unemployment benefits. That was a decline of nearly 1.5 million from the 21.3 million claiming benefits the previous week.