Director of the National Economic Council Larry Kudlow said on Friday that unemployment numbers would continue to get worse as the U.S. reported its highest unemployment numbers since the Great Depression.
"The economic and jobs numbers are going to continue to deteriorate," Kudlow said during an interview with Fox Business.
Kudlow was addressing the latest unemployment numbers for April released Friday morning by the Bureau of Labor Statistics. About 20.5 million Americans lost their jobs last month, the BLS said in its report. The number stands in sharp contrast to the Great Recession of 2008, when from January 2008 to February 2010, 8.8 million people lost their jobs.
"I don't know if it's as bad as it gets," Kudlow said. "I don't think this pandemic contraction has yet fully run its course."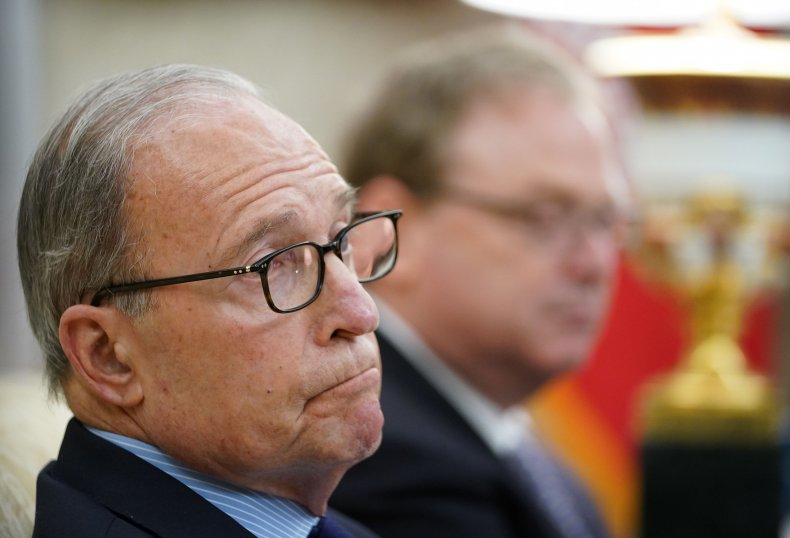 The April report has been widely anticipated as weekly unemployment rates have continued to hold steady, with the BLS reporting millions of job losses each Thursday. Also, the difficulties Americans have reported in filing for unemployment since the pandemic began have many economic experts concerned that the real number of job losses dwarf those already reported. "Regarding the next month or two, which are really going to transition into the reopening of the economy, who's to say the numbers will not get worse?" Kudlow said.
Even so, Kudlow said there was promise ahead as states that have successfully flattened the curve of the virus' spread begin to reopen their economies. For the employers able to return to work and rehire their workers, improvements from the current financial reality are possible. "If you take a look at what the Congressional Budget Office is saying and what most private forecasters are saying, you see a very significant transitional rebound in the third and fourth quarters—very significant growth rates coming off that low and difficult base," Kudlow said.
According to a Congressional Budget Office report on April 24, officials predicted the unemployment rate would continue to grow into the third quarter, reaching an estimated 16 percent before declining to an estimated 11.7 percent by the fourth quarter of 2020.
Despite the historic unemployment numbers reported thus far and predictions of further declines on the way, Kudlow credited President Donald Trump with providing a "rescue cushion" to workers during the early days of the shutdown and said Trump had plans involving tax cuts, lowered regulations and improved trade deals to help the economy rebound. "With appropriate policies, we can make 2021 an absolutely roaring recovery," Kudlow said. "We will see very positive numbers in the second half of this year."