White House Endorses D.C. Statehood as 'Long Overdue' Ahead of House Vote on Legislation
The White House on Monday said it "strongly supports" making the District of Columbia the 51st state.
"For far too long, the more than 700,000 people of Washington, D.C., have been deprived of full representation in the U.S. Congress," the Office of Management and Budget said in a press release.
The statement continued: "This taxation without representation and denial of self-governance is an affront to the democratic values on which our Nation was founded. H.R. 51 rights this wrong by making Washington, D.C., a state and providing its residents with long overdue full representation in Congress, while maintaining a Federal District that will continue to serve as our Nation's seat of government."
The House of Representatives is poised to hold a full floor vote on HR 51 this week. The legislation advanced from the House Committee on Oversight and Reform on April 14.
The administration also said Monday it will work with Congress on getting the bill passed and calls on lawmakers to "provide for a swift and orderly transition to statehood for the people of Washington, D.C."
The Democrat-controlled House passed HR 51 last year, but it stalled in the Republican-controlled Senate. Even though Democrats now control both chambers—they have the slimmest advantage in the 50-50 split Senate—passing D.C. statehood remains an uphill battle. The Democrats need 10 Republicans to sign on to the plan without getting rid of the filibuster.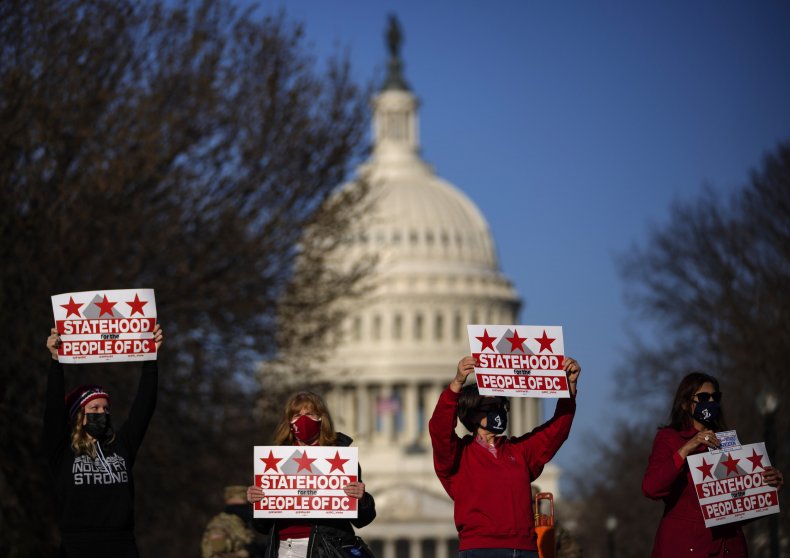 Advocates have largely framed D.C. statehood as a voting rights and racial justice issue. D.C. Mayor Muriel Bowser, a Democrat, told lawmakers during a hearing in March that it is "one of the remaining glaring civil rights issues of our time."
"This is anti-democratic, and it's un-American, and it has to be fixed now," Bowser said.
Republicans argue that statehood is a Democratic "power grab" to further cement the party's control in Congress.
"This bill is about two new Senate seats," GOP Representative James Comer said during the hearing. "There's not a single Republican in Congress, in the House or the Senate that supports this bill."
Last week, more than 20 Republican attorneys general threatened legal action if Congress passed, and President Joe Biden, signed HR 51. The group said in a letter sent to the president, House Speaker Nancy Pelosi and Senate Majority Leader Chuck Schumer that making Washington, D.C., a state is "unconstitutional" and "bad policy."
This story was updated with additional information on the administration's support for D.C. statehood and where HR 51 stands in Congress.