A former director of the Office for Government Ethics has questioned whether Ivanka Trump has really "shut down" her brand and revealed his interest in seeing her next financial disclosure.
Walter Shaub yesterday tweeted that it was "funny" the brand owned by the president's daughter and adviser did not cease making trademark applications after it was apparently shuttered in July last year.
The former government ethics boss also questioned whether the Ivanka Trump brand had stopped making money from licensing deals.
Trump revealed on Tuesday 24 July that she was closing down her fashion brand IT Collection LLC to focus on her work as a White House adviser "for the foreseeable future" in a move she called "the only fair outcome" for her team.
But reports of her brand winning several trademark approvals from China following its "closure" have since raised eyebrows.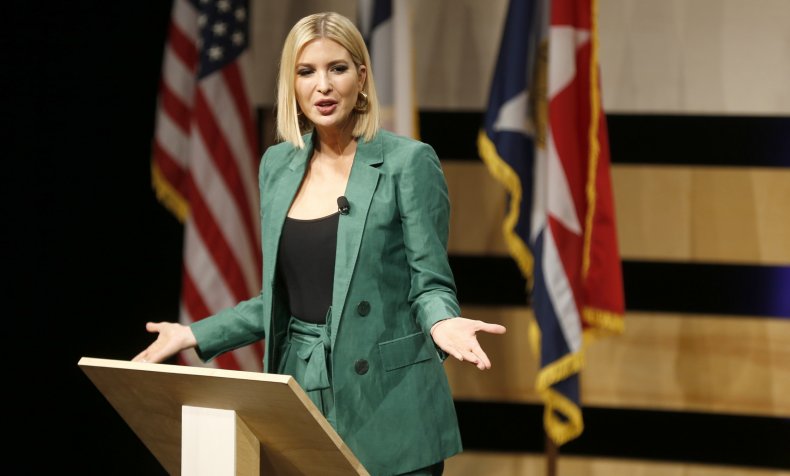 In November last year, four months after the business had supposedly shut down, The Associated Press reported that Chinese authorities had awarded 18 trademarks to companies connected to Ivanka Trump and her father President Donald Trump. Ivanka Trump Marks LLC received approval for 16 of those trademarks, which covered fashion items such as sunglasses and handbags.
Fortune also reported in January this year that Ivanka Trump's brand has won preliminary approval for a further five Chinese trademarks on sunglasses, wedding dresses and other services.
"I, for one, look forward to seeing Ivanka Trump's financial disclosure for calendar year 2019 in May 2020," Shaub said yesterday. "Funny how they didn't abandon the trademark applications after "shutting down" the brand. Did they abandon the income from licensing deals? If not, what's 'shut down' mean?"
Newsweek has contacted representatives of Ivanka Trump for comment, but did not receive a response by time of publication.
Previous public financial disclosure reports for the president's adviser show she made between $1 million and $5 million from IT Collection LLC alone last year, and more than $5 million from the same business in 2017.
Ivanka Trump's next public financial disclosure is due to be signed in May 2020, and will detail her income from assets and businesses in 2019.
Former OGE director Shaub has prior form when it comes to criticizing Trump family business dealings.
Earlier this month, he accused President Trump of reaching a new low of "corruption" for giving the contract to host the 2020 G7 summit to his own Miami resort.
"There is no level of corruption greater than a President participating in the award of a contract to himself," Shaub tweeted at the time. "We have reached the bottom."
Donald Trump eventually backtracked on his plan to host the meeting of world leaders at Trump National Doral after both Republicans and Democrats said it constituted a conflict of interest.