White House Excludes Gay First Spouse of Luxembourg From Photo Caption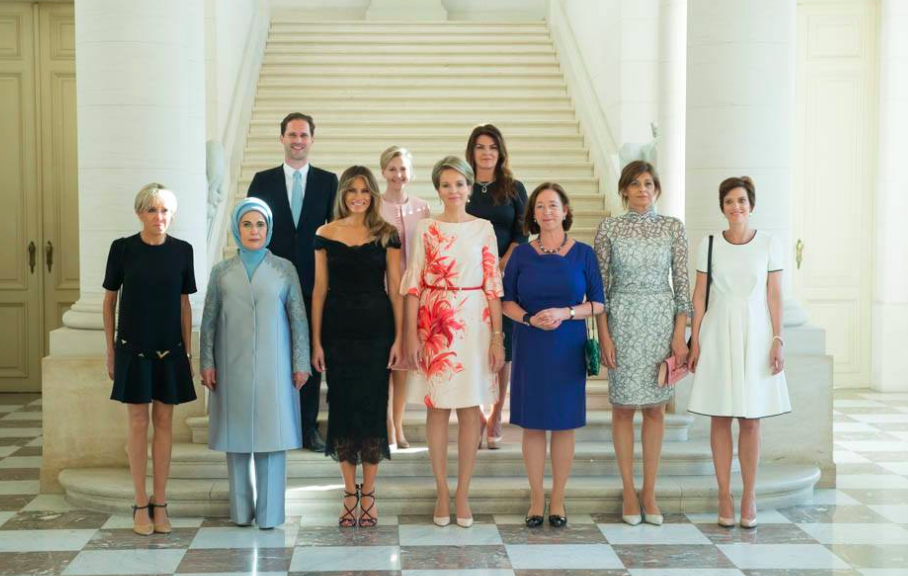 Updated | The White House Facebook page failed to acknowledge First Gentleman of Luxembourg Gauthier Destenay, married to Prime Minister Xavier Bettel, in a post featuring the spouses of world leaders attending this week's G7 summit in Sicily. The photo caption included the names of every other spouse, all of them wives, beginning with: "First Lady Melania Trump poses with Belgium's Queen Mathilde, center, and other spouses of NATO leaders."
The omission of Destenay's name in the official White House post remained for at least six hours on Saturday before Daily Beast editor Scott Bixby shared a screenshot on Twitter, writing: "Is there a reason the White House didn't include the First Gentleman of Luxembourg in this photo caption? Like, a non-homophobic one?"
Related: Experts Upgrade Donald Trump's Impeachment Odds
Late Saturday night, nearly twelve hours after the uproar over the photo started, the caption was updated to include the first gentleman of Luxembourg, the only homosexual spouse included in the photo. The White House did not immediately respond to request for comment.
The photo, taken by White House photographer Andrea Hanks, shows Melania Trump front and center with Queen Mathilde, surrounded by First Gentleman Gauthier Destnary of Luxembourg, First Lady Emine Erdoğan of Turkey, Iceland's Thora Margret Baldvinsdottir, First Lady of France Brigitte Macron, Slovenia's Mojca Stropnik, Bulgaria's Desislava Radeva, Belgium's Amélie Derbaudrenghien and Norway's Ingrid Schulerud.
The photo caption's omission was immediately noticed by countless users from around the world, who denounced the glaring absence as a sign of either incompetency or anti-LGBT attitudes.
"The omission of the the First Gentleman of Luxembourg name is blatantly disrespectful and just goes to show the level of idiotacy of this White House staff," one user named Nick Jackman wrote. "Wow. No mention of the Luxembourg spouse? He still exists even if you try to ignore the fact he is a homosexual you dimwit," wrote another.