White House Funds Far-Right Fundamentalists to Lie, China Ambassador Claims
The "U.S. and other foreign powers are responsible for the spreading of misinformation" and a "far-right fundamentalist is being funded by the U.S." to spread "lies," the Chinese ambassador to the U.K. Liu Xiaoming said.
The ambassador said that Adrian Zenz, a senior fellow in China Studies at Victims of Communism who claimed that as many as 1 million Uighur Muslims were being unlawfully detained, made an "absurd conclusion" and is being funded by the U.S. government.
In a video shared widely online, hundreds of Uighur Muslims were seen being detained, blindfolded, and handcuffed.
Xiaoming said that this was not the case and it was actually mainly police officers transferring prisoners between locations, they were not blindfolded and this was "normal legal practice."
"It is a claim, including the 'far-right', that they repeat every time when I publish new research on Xinjiang," Zenz told Newsweek.
"This is a fabricated allegation, made by Beijing out of desperation over increasing revelations about their atrocities in Xinjiang. This constitutes a cheap ad-hominem attack. I receive neither funding nor direction from the White House, and claims that I am 'far-right' are part of attempting to discredit my person, and hence somehow my research.
The White House has been approached for comment.
In a long press briefing and Q&A, in which he played a number of videos, some with action movie music, Xiamoning said he provided evidence to "refute" and "disprove" allegations made by the media and both British and U.S. governments.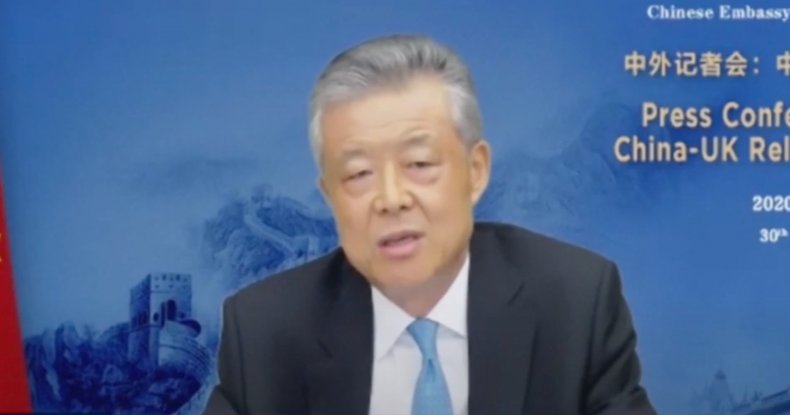 On allegations made about China destroying mosques and persecuting Uighur Muslims, Xiaoming said these were false and all came from people within China "trained by the U.S. to spread misinformation."
He said that the mosques were actually undergoing renovation and were not destroyed as was previously claimed. Pictures were shown of the mosques that Newsweek cannot independently verify.
"The destruction of mosques, in part or in whole, is well documented from satellite images, as well as some photos taken by visitors," Zenz tells Newsweek.
"Numerous mosques have effectively been converted from religious to tourist sites."
Despite warnings seen as threats to the West on removing trading agreements, Xiaoming said that no threats were made and China wanted to be friends.
"U.S. wants to scapegoat China in an election year," he said. "U.S. politicians will say anything to get elected.
"They think they need a Cold War but we have no interest. China is not your enemy, it is your friend. The virus is your enemy. I hope the U.S. focus on saving lives."
He said that there were "unlimited opportunities" to co-operate with China and that "decoupling from China means decoupling from opportunities, decoupling from growth, from the future" from both the U.K. and the U.S.
Xiaoming said that Britain's criticism of his country has "seriously poisoned the atmosphere of China-UK relationships", that the dealings between the two countries are at a "critical historical juncture" and Britain should let go of its "Cold War mentality".
Britain has come out strongly to criticize China's actions in Hong Kong, with the U.K. offering citizenship for millions of foreign nationals living in the region.
It has also promised to remove the communication company Huawei from its communications infrastructure by 2027.
Update 11:50 EDT 07/30/20: This piece has been updated to include the response from Adrian Zenz provided after publication