White House Hammered on At-Home Testing After Biden Wishes He Thought of Idea Earlier
The White House on Thursday was hammered on the timing of their purchase of 500 million at-home coronavirus tests as the Omicron variant surges across the country.
Biden announced earlier this week that the government will send out half a billion tests to Americans for free. The administration expects the first batch of tests from manufacturers to be ready in January and will roll out a website for ordering tests once the shipment arrives.
The news came as communities experienced shortages of over-the-counter tests, as well as public testing sites plagued with long lines and wait times, ahead of the holiday weekend.
In an interview Wednesday with ABC News' David Muir, Biden was asked if there was a "failure" when it came to testing.
"You could argue that we should have known a year ago, six months ago, two months ago, one month ago. I've ordered...500 million test kits that are going to be available to be sent to every home in America for anybody who wants them," he replied.
"But the answer is, yeah, I wish I had thought about ordering a half a billion [tests] two months ago before COVID hit here," Biden continued.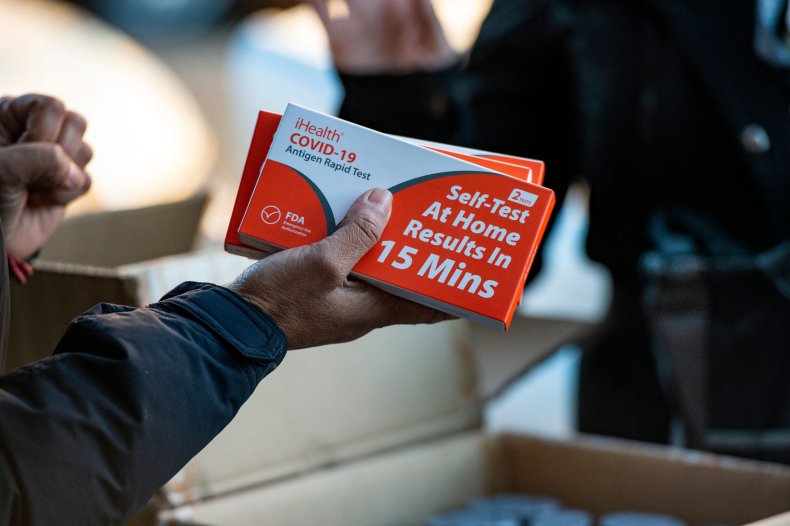 Press secretary Jen Psaki was hit with questions about Biden's remarks during Thursday's press briefing, as several reporters inquired why the move wasn't made earlier to have the tests before Christmas instead of January.
Psaki responded that amid the summer Delta surge, the administration took steps to expand the at-home testing market such as using the Defense Production Act to ramp up manufacturing.
"Otherwise we wouldn't have had the capacity to do what we're doing for January," she said.
Psaki also argued that there wasn't adequate supply a few months ago for the administration to purchase 500 million testing kits, highlighting that the U.S. Food and Drug Administration (FDA) has approved more over-the-counter tests in the past few months.
"This is not just happening in the United States," she told reporters. "This is happening all around the world where there is not enough testing capacity and we have taken steps that are more significant than any country in the world so that we could have the testing needed to meet what people are looking for."
The administration was widely criticized just weeks ago for not providing free tests to households as other countries like the United Kingdom and Germany have been doing.
Further details on the administration's 500 million at-home testing kit plan have not been released. The White House has declined to share more information for now on how many tests Americans will be able to order and when exactly the website for ordering them will be available.
The Quidel Corporation, which makes the QuickVue at-home rapid COVID-19 tests, told Newsweek they're anticipating a "continued strong demand approaching the Holidays based on the recent rise in infection rates and our discussions with employers, institutions and the federal government."
"Our people are working tirelessly to increase our manufacturing capacity to a run-rate of 70 million tests per month by the end of the year to provide our communities with access to affordable COVID-19 testing. Part of that production is dedicated to fulfilling a 12-month federal government contract estimated at approximately 100 million QuickVue® At-Home OTC COVID-19 Tests," said Quidel CEO and President Douglas Bryant.