Trump's White House to Give Medals to ICE 'Heroes' as 500 Children Remain Separated From Families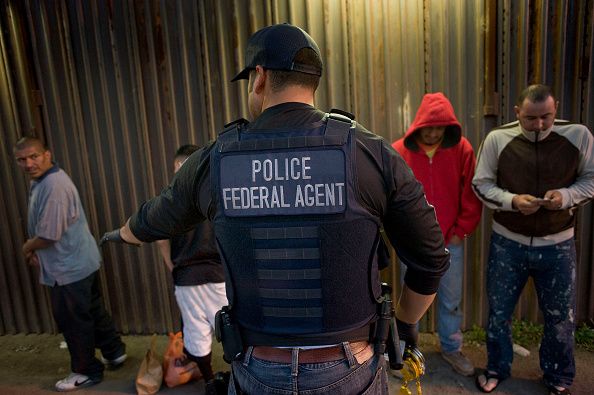 The Trump administration will honor the "heroes" of the Immigration and Customs Enforcement Agency on Monday at the White House.
The celebration, called the "Salute to the Heroes of the Immigration and Customs Enforcement and Customs [and] Border Protection," will take place on August 20 in the East Room of the White House, according to a report by Politico.
The event comes after Donald Trump has repeatedly expressed his belief that immigration policy will be a winning political issue in the upcoming midterm elections. The president said in Thursday's Cabinet meeting that if Democrats refuse to support the hardline policies it may "hurt them very badly at the polls."
Trump also recently slammed Democratic lawmakers in a tweet earlier this month, claiming that they want nothing but "open borders" and to "abolish ICE."
The ceremony also comes as the Trump administration has continually failed to meet a court ordered deadline for family reunifications. The "zero tolerance" immigration policy at the southern border has caused thousands of children to be forcibly removed from their parents. A federal judge had ruled in late June that the administration must reunite all families by July 26.
But as of August 10, over 550 immigrant children still remain separated from their parents. But in the president's cabinet meeting on Thursday, Secretary of Homeland Security Kirstjen Nielsen made no mention of the still separated children.
At the meeting Trump provided an abundance of praise for ICE officials for their handling of the controversial policy.
"They are tremendous people. They're brave. They're strong. They're tough. And they're good. They're good people. And you think you're going to send just regular people in to take care of MS-13 and these gangs? Not going to happen.So I just want to thank ICE and everybody in law enforcement for the incredible job they've done and are doing," the president said.
But ICE is not viewed too favorably among the general public. A poll conducted in late June showed that over 60 percent of American voters opposed the immigration practice of separating children from their families. Even among conservative voters the policy was not too popular, as only 55 percent of Republican voters said they supported family separations.