Michelle Obama to Native American Youth: The Country Needs You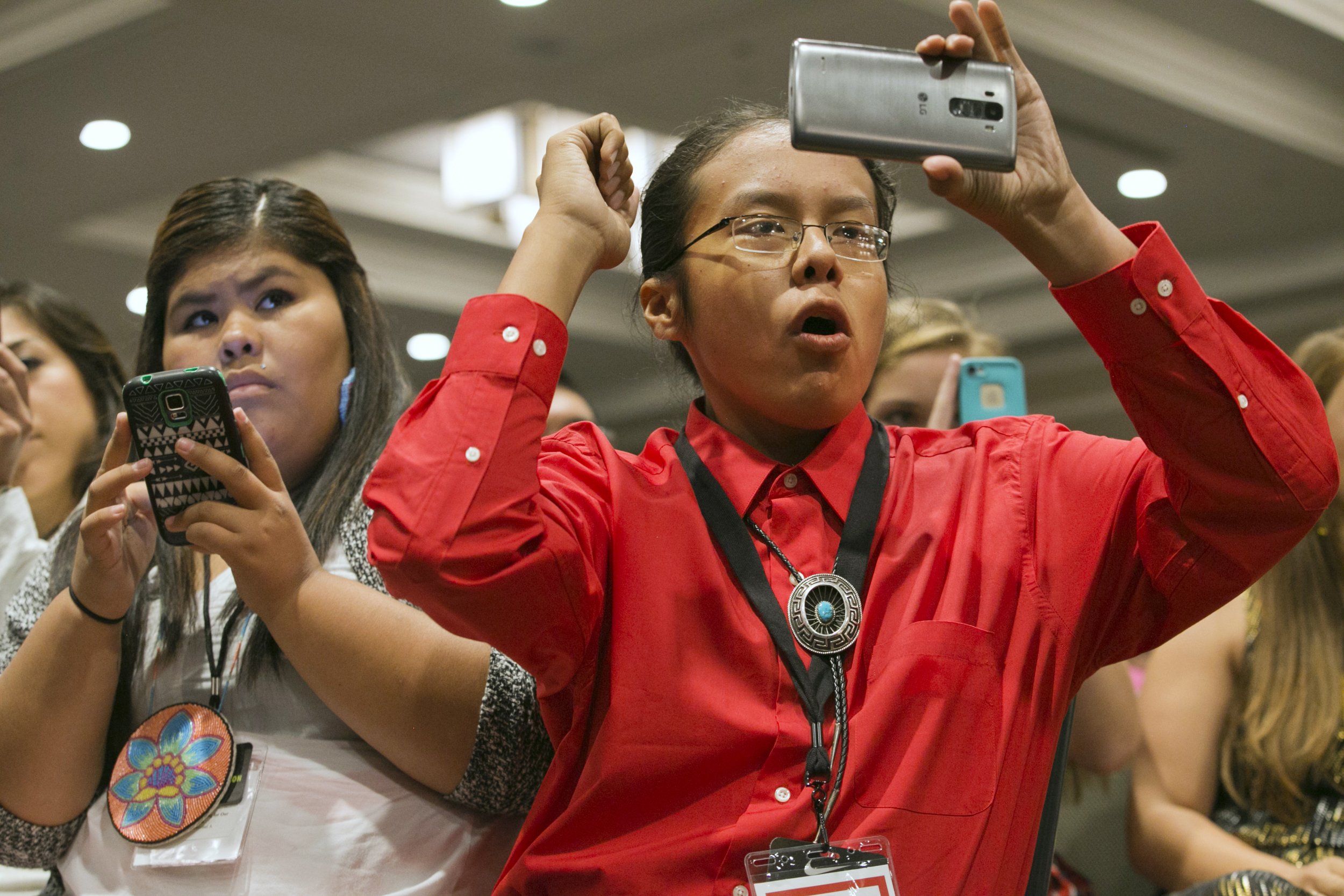 More than 1,000 Native American children gathered Thursday for the first-ever Tribal Youth Gathering at the White House, where first lady Michelle Obama called them precious and sacred members of society.
"Each of you was put on this Earth for a reason. Each of you has something that you're destined to do, whether that's raising a beautiful family, whether that's succeeding in a profession or leading your community into a better future," she said. "You all have a role to play and we need you."
The meeting was part of President Barack Obama's vow to remove barriers that make it hard for Native American children to succeed. The children came from 230 tribes in 42 states to attend the inaugural summit and meet with the first lady, cabinet officials and members of the White House Council on Native American Affairs. They planned to discuss issues ranging from cultural protection and revitalization, to tribal justice and economic opportunity.
The first lady touched upon the historical struggles of Native Americans: being forced from lands they had lived on for generations, requiring young people to attend boarding schools designed to strip them of their cultural traditions and outlawing their religions and traditional ceremonies. She urged the individuals to learn about their elected officials, and run for local, state or federal office if they aren't satisfied with their current efforts.
"Make no mistake about it, your customs, your values, your discoveries are at the heart of the American story," she told the crowd. "And yet, as we all know, America hasn't always treated your people and your heritage with dignity and respect."
The gathering came seven months after the president initiated Generation Indigenous (Gen-I), which aims to improve the youths' lives and cultivate the next generation of tribal leaders. Gen-I came after the president and first lady last summer visited the Standing Rock Sioux Reservation, which is located in between the borders of North Dakota and South Dakota.
"Let's put our minds together to build more economic opportunity in Indian country," Obama said last year at the reservation. "Every American, including every Native American, deserves the chance to work hard and get ahead."
There currently are 566 federally recognized tribes in the country, along with an unknown number of tribes that aren't distinguished by the government, according to the U.S. Department of the Interior (DOI). Each tribe has its own culture, beliefs and practices.
In 2013, there were about 5.2 million Native Americans and Alaska Natives, representing 2 percent of the total U.S. population, according to the Census Bureau. The five states with the highest percentage of Native Americans and Alaska Natives that year were Alaska, Oklahoma, New Mexico, South Dakota and Montana.
Along with the meeting on Thursday, the White House announced several commitments aimed at ensuring Native children can thrive. DOI will issue $995,000 to be distributed to 20 tribal colleges and universities, and will award seven tribal applicants a total of $1.45 million in new funding to build their tribal education departments. And in September, there will be a second Native Languages Summit to identify ways to preserve and revitalize Native languages.
"We have to invest in them, and believe in them and love them," the president said at the White House Tribal Nations Conference in December. "And if we do, there's no question of the great things they can achieve—not just for their own families, but for their nation and for the United States."