White House Indicates Second Stimulus Check Could Be Smaller Than $1,200—Here's Why
It's possible Americans could see a second round of economic relief payments, but the amount may not be the same as the first time around, according to White House economic adviser Larry Kudlow.
Kudlow told Fox Business this past Friday that the new payments would be less than $1,200, the amount eligible individuals received under the Coronavirus Aid, Relief and Economic Security (CARES) Act. Payments will also be more targeted than they were the first time around and are intended to help people who lost their jobs and are in lower-income brackets.
The purpose is to keep a relief package under the $1 trillion mark, according to Fox Business. Marc Short, Vice President Mike Pence's chief of staff, told Bloomberg Radio last Tuesday that the Trump administration is eyeing a $1 trillion spending cap because there's been "a lot of stimulus" pumped into the economy and businesses are reopening.
"I think we want to make sure that people that are still unemployed or hurting are protected, but at the same time we want to take into consideration the fact the economy is bouncing back and want to try to contain the amount of spending," Short said.
Estimates put the cost of the first round of payments at about $290 billion, so a similar measure could eat up about one-third of the money in a $1 trillion package. In June, Kudlow speculated that another round of stimulus checks would target those who were bearing the financial brunt of the pandemic. He told Fox Business that payments would likely go to people who were "most in need," and Senate Majority Leader Mitch McConnell made a similar suggestion during a July 6 event in his home state of Kentucky.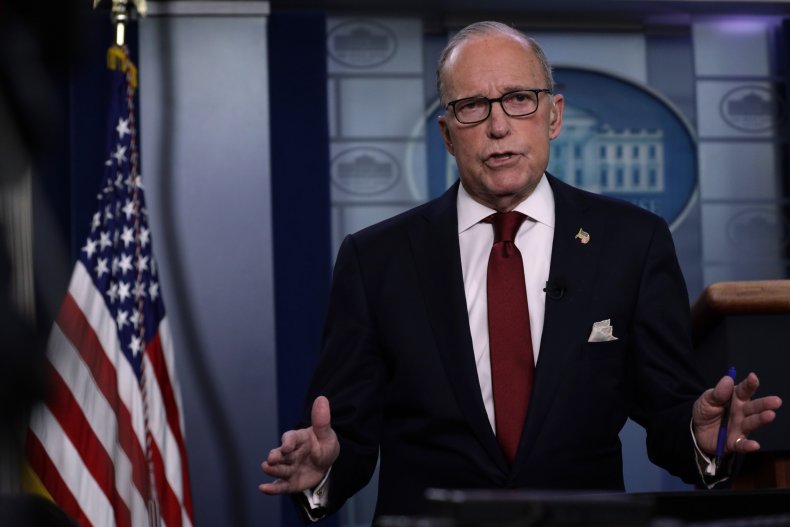 McConnell expects Congress to take up a new relief package when lawmakers return to Washington on July 20. He said stimulus checks "could well be" part of what he hopes will be the final package and could go to those earning $40,000 or less.
White House deputy press secretary Judd Deere told Newsweek an economic package must "prioritize pro-growth measures" that incentivize employers and America's "great" workforce.
President Donald Trump first floated the idea of another round of stimulus checks to individuals in April, shortly after he signed the CARES Act. He reiterated his support for the new payments and told Fox Business on July 1 he supports "larger numbers" than the Democrats.
Trump said previous legislation incentivized people not to work, a possible reference to the CARES Act's expanded unemployment insurance. That measure is set to expire July 31, and legislators have been critical of providing unemployed people with an extra $600 a week, as it's allowed some to earn more than they did while working.
When Fox Business' Blake Burman asked for clarification on whether Trump supported larger unemployment payments or stimulus checks, the president said, "I want the money getting to people to be larger so they can spend it. I want the money to get there quickly and in a non-complicated fashion."
Under the Health and Economic Recovery Omnibus Emergency Solutions Act, which the House passed in May, individuals earning up to $75,000 or joint filers earning up to $150,000 receive a $1,200 or $2,400 payment, respectively. Those base payments mirror those included in the CARES Act, but the HEROES Act expanded eligibility to certain undocumented immigrants who were left out of the CARES Act. And instead of an additional $500 payment for each dependent child, as was the case in the CARES Act, the HEROES Act provided an additional $1,200 for up to three dependents each.
An eligible family of five with joint filers earning up to $150,000 would receive $2,100 more under the HEROES Act than they did under the CARES Act.
However, McConnell and Trump called the HEROES Act "dead on arrival," and the Senate majority leader said he was likely to introduce a bill that focuses on liability reform, jobs and health care when the Senate returns.
If Congress is able to come to an agreement on a package that includes stimulus checks by August 3, when the White House wants a bill on Trump's desk, people might not have to wait long to receive the money. Last Thursday, Treasury Secretary Steve Mnuchin told CNBC his department has the ability to get payments "into hardworking Americans' bank accounts very, very quickly."