White House: 'Ironic' That GOP Condemns Members for Infrastructure Vote but Not Paul Gosar
The White House responded Wednesday to the House of Representatives' consideration of a motion to censure Republican Paul Gosar.
"The president believes that there's no place in our political system and our institutions for violence," deputy press secretary Chris Meagher told reporters aboard Air Force One.
House Democrats are bringing the measure up for a vote Wednesday after Gosar posted on social media a Photoshopped anime video that showed him killing Representative Alexandria Ocasio-Cortez before jumping into the air to attack President Joe Biden.
Gosar took down the video but made it clear he has not apologized.
"It's ironic that people on the other side of the aisle are willing to step up and give their colleagues a hard time for voting for the bipartisan infrastructure bill and unwilling to say anything when he promotes violence on social media," Meagher said.
House Minority Leader Kevin McCarthy, the top Republican in the chamber, has not made any public statement condemning Gosar's post. McCarthy addressed the matter for the first time on Tuesday, telling CNN, "I called him when I heard about the video, and he made a statement that he doesn't support violence, and he took the video down."
McCarthy also told reporters that Gosar didn't see the video before it was posted and that "it was not his intent to show any harm."
Most of the Republican caucus has remained tight-lipped on Gosar's actions. Florida's Matt Gaetz took to the floor on Wednesday to defend his actions.
But over the past week, several Republicans have criticized their GOP colleagues for supporting the new infrastructure law. Colorado's Lauren Boebert called the few who backed the bill "RINOs" (Republicans in name only), and Representative Madison Cawthorn went so far as to call for them to be primaried during their next election race.
House Speaker Nancy Pelosi called out her colleagues on the other side for not moving to condemn Gosar first. "It's outrageous on the part of the Republican leadership not to act on this," she said during a news conference.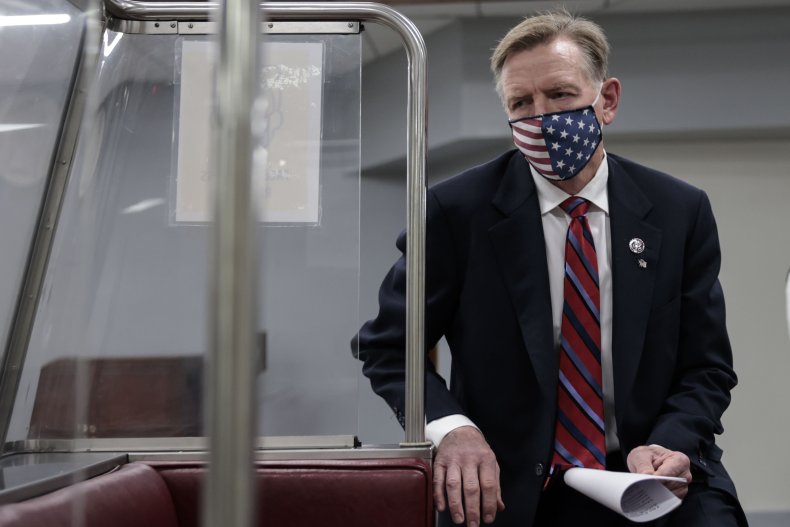 When discussing the Gosar situation, Meagher emphasized the need for "more bipartisanship" in Congress. "That's what the president sought to do in this bipartisan infrastructure law. That's what is going to continue to push in our political system," he said.
In addition to the motion to censure Gosar—which, if passed, would be the first time in a decade that a sitting member of Congress has been censured—the House will consider removing him from the Oversight Committee, where he serves along with Ocasio-Cortez, as well as the Committee on Natural Resources.
Ahead of the vote, Ocasio-Cortez pleaded with her colleagues to censure Gosar.
"What is so hard? What is so hard about saying, 'This is wrong?'" Ocasio-Cortez said. "This is not about me, this is not about Representative Gosar, but this is about what we are willing to accept."
Newsweek reached out to McCarthy's office for comment but didn't receive a response before publication.