White House Denies Joe Biden Offered to Give Ukrainian Territory to Putin
The White House has denied a report that CIA Director William Burns offered Russian President Vladimir Putin one-fifth of Ukraine's territory to end the ongoing war as part of a peace plan drawn up on behalf of President Joe Biden.
Sean Savett, the deputy spokesperson at the White House's National Security Council, told Newsweek that a report from the Swiss-German newspaper Neue Zürcher Zeitung (NZZ) is "not accurate," and that the CIA would say the same.
NZZ reported on Thursday, citing high-ranking German foreign politicians, that in mid-January, Burns presented Kyiv and Moscow with a peace plan that would put an end to the war, which began when Putin invaded Ukraine on February 24, 2022.
According to the newspaper, the proposal offered "around 20 percent of Ukraine's territory"—about the size of Ukraine's eastern Donbas region.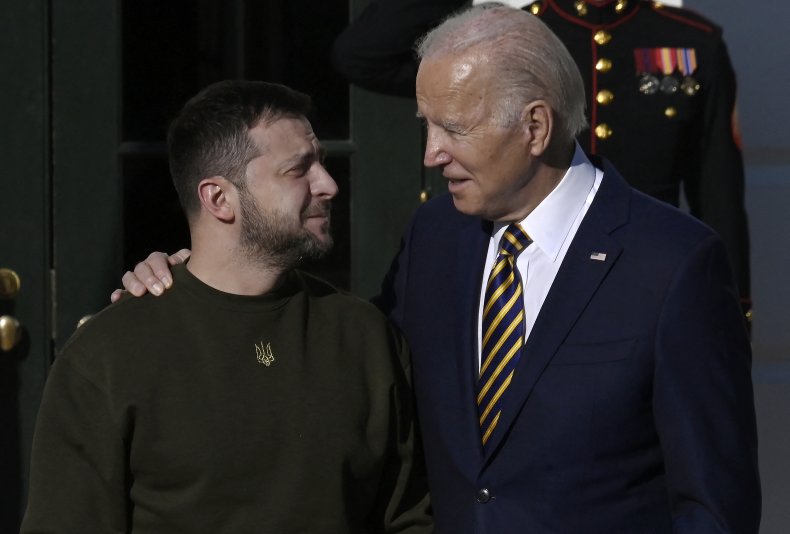 A CIA official told Newsweek that claims in the NZZ report that Burns took a secret trip to Moscow in January and that there was a peace proposal put forward by the director on behalf of the White House were "completely false."
Last month, Burns traveled in secret to meet and brief Ukrainian President Volodymyr Zelensky in Kyiv, the Washington Post reported.
Dmitry Polyanskiy, Russia's first deputy permanent representative to the United Nations, told Newsweek that the report was "interesting," but that he couldn't "comment [on] speculation."
Kyiv and Moscow reportedly rejected the proposal. Ukraine shut down the proposal "because they are not willing to have their territory divided" while Russian officials said they "will win the war in the long run anyway," NZZ reported.
German politicians said Biden wanted to avoid a protracted war in Ukraine and offered the territory as part of the peace plan. And when Ukraine and Russia rejected the proposal, the Biden administration pledged to provide Kyiv with Abrams tanks, according to the news outlet.
The U.S. announced on January 25 that it would send Ukraine up to 31 M1 Abrams tanks. Germany has also said it would provide Ukraine with 14 of its Leopard 2A6 tanks, and allow partner countries to re-export other tanks to assist Kyiv.
Nearly a year into the war, Ukraine and Russia are no closer to peace. Ukraine is demanding that Russia fully withdraw its troops from Ukrainian territory per its 1991 borders, reparations, war crimes prosecutions for Russian leaders and NATO membership.
Russia is demanding international recognition for the four partially occupied Ukrainian territories that Putin illegally annexed in September, and the Russian leader is still vowing to "demilitarize" and "de-Nazify" Ukraine.
Putin's spokesman Dmitry Peskov told reporters on Monday that negotiations between Russia and Ukraine "are now impossible since there are no conditions for them either de facto or de jure."
Polyanskiy told Newsweek that peace talks between Kyiv and Moscow "will happen inevitably. But it's rather between Russia and the West, Ukraine has shown full lack of sovereignty. The more the West waits, the worse the outcome will be for Kyiv."
Newsweek reached out to the foreign ministries of Ukraine and Russia for comment.
Correction, 2/3/23, 12:35 p.m. ET: This article was updated to correct the spelling of Sean Savett's name.
Update 2/2/23, 4:30 p.m. ET: This article was updated to clarify the CIA's statement.
Update 2/2/23, 12:55 p.m. ET: This story was updated with a statement from the CIA.
Do you have a tip on a world news story that Newsweek should be covering? Do you have a question about the Russia-Ukraine war? Let us know via worldnews@newsweek.com.