Medal of Honor Awarded to 300th U.S. Marine, John L. Canley, Who Was 'Fearless' in Battle During Vietnam War
It was clear almost as soon as the Times Square Ball dropped in New York City in 1968 that American sentiment toward the Vietnam War had grown angry.
Americans were still three years away from learning the presidential lies about the war that spanned four different administrations in classified and painstaking detail from the leaked Pentagon Papers.
But, for a group of U.S. Marines on the brink of entering one of the bloodiest battles of the Vietnam War in January 1968, politics, public perceptions or even the question of why soldiers were sent to a war built on shoddy foreign policy were cast aside. For these Marines, in the hours and moments before the battle of Huế city, it was up to them to fight as a family—for each other.
"The foundation of Vietnam was ground troopers," retired U.S. Marine Sergeant Major John L. Canley told Newsweek last month. "We didn't have the best field gear or what I call 'storage rot,' you know, from the Second World War. I can remember canteens falling off the cartridge belt.
"All we had was each other, we were family and I love them. I was inspired every day by their accomplishments and we're talking 18-year-olds," Canley added.
On Wednesday, 50 years after the battle, Canley, 80, stood in the East Room of the White House as so many other service members have before him, and was recognized with the nation's highest military decoration for combat valor, the Medal of Honor.
Canley is credited with saving scores of his fellow Marines between January 31 and February 6, 1968, as he assumed command of the Marines after their company commander was seriously wounded at the Battle of Huế city. His heroics came despite sustaining injuries himself in two separate battles over the course of a week, which earned him the Purple Heart.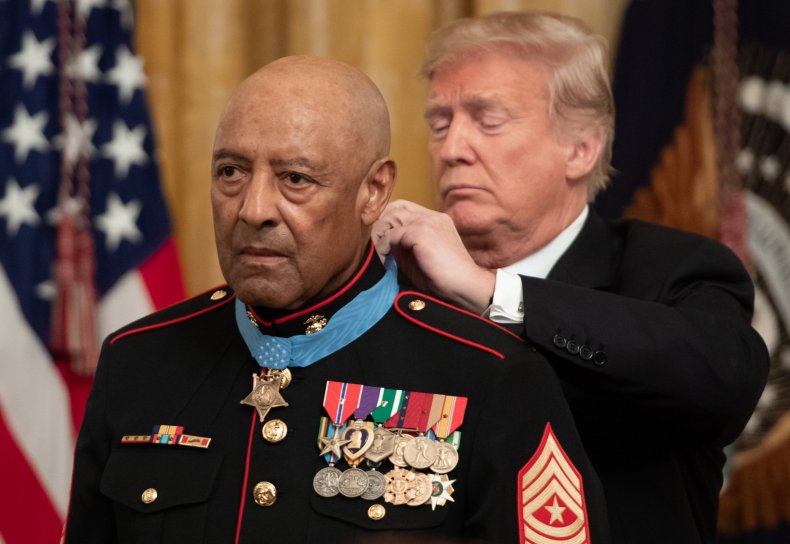 The sergeant major received a roaring standing ovation from the roughly 250 people in attendance after President Donald Trump introduced Canley, who characterized the Marine as having "unmatched bravery."
"You don't look 80 years old to me," Trump joked as he turned to Marine General Joesph Dunford, the chairman of the joint chiefs of staff, saying, "Joe, we could put him back in today."
Democratic Congresswoman Julia Brownley of California introduced a resolution, later signed by Trump, that bypassed the five-year deadline to award the medal, paving the way for Canley to receive recognition.
"If you read through all the testimonials from Marines who served with him, it's abundantly clear to me that he displayed heroic acts not just in Huế or Tet, but throughout his entire service in the Marine Corps," Brownley told Newsweek on Wednesday.
"What has always struck me about his character is that he served five tours in Vietnam and after the first one, they wanted to give him a desk job and he said no, my place is on the battlefield with my Marines," said Brownley, who is also the daughter of a U.S. Marine.
Canley becomes the 300th Marine in the service's 243-year history to receive the country's highest award. The ceremony at the White House was the culmination of a nearly 15-year journey for John Ligato, one of Canley's former Marines, who has pushed for Canley's Medal of Honor over that time.
"He literally could've gotten two or three Medals of Honor," Ligato said in a Newsweek interview last month. "We all have similar stories about him. There are 30 other guys that can talk about other times."
When they flew by helicopter from Quảng Trị province, located just north of Huế, to Phu Bai Combat Base, a joint U.S. Army, and Marine Corps base just south of the city back in 1968, the Marines of Alpha Company, First Battalion, First Marines lacked the manpower and resources to face off against 10 thousand North Vietnamese and Vietcong troops that had turned the ancient imperial capital city into a defensive stronghold.
The small company of around 300 infantry Marines was planning on having two days off the night before what would become the Battle of Huế city, but rest and relaxation were not meant to be.
Instead, the Marines were tasked with retaking the city, located on the banks of the Perfume River. Only 147 Marines of Alpha Company were airlifted in the middle of the night, which meant they would be fighting with half their company strength, but were told they would be back by noon on January 30.
"The intelligence was so bad that four days later, even though there were 10 thousand NVA and you could see hundreds of them across the river, Task Force X-Ray back in Phu Bai refused to believe the on-site intelligence," Ligato told Newsweek.
"They said there were a couple undersized NVA companies (80-150 soldiers) and that we would be back later that day. So the intelligence was bad, we had no packs. I had no socks on," Ligato said.
Unlike most Marine non-commissioned officers shouting commands or berating their troops for a poorly executed tactical maneuver in the heat of battle, Canley, who at the time was the company gunnery sergeant, was composed as he led his troops by personal example rather than chaotic words.
"He never ran and he never ducked," said Ligato, chuckling at how calm Canley could be as rounds whizzed past him while returning from saving the lives of Marines pinned down by a barrage of enemy fire.
"You know, it's just amazing. I don't know if he had some sort of death wish or what—Gunny says that he just gets into a zone and does what he has to do...I don't know how the bullets didn't hit him," said Ligato, who has written a book about Canley's time in Vietnam.
Alpha company fought off multiple enemy attacks as they cleared the area of enemy combantants—one house, one street at a time. On several occasions, he carried wounded comrades to safety while exposing himself to enemy fire. All the while, he continued to encourage the spirits of his Marines when morale among his men was low after many of their comrades had been killed during intense fighting within the city.
"I just happened to be their leader at the time, and it was an honor to be a leader of Marines in Vietnam," Canley told Newsweek. "As a leader, if you take care of the troops, you really don't have to worry about the mission."