White House: Kellyanne Conway 'Counseled' on Pitching Ivanka Trump's Line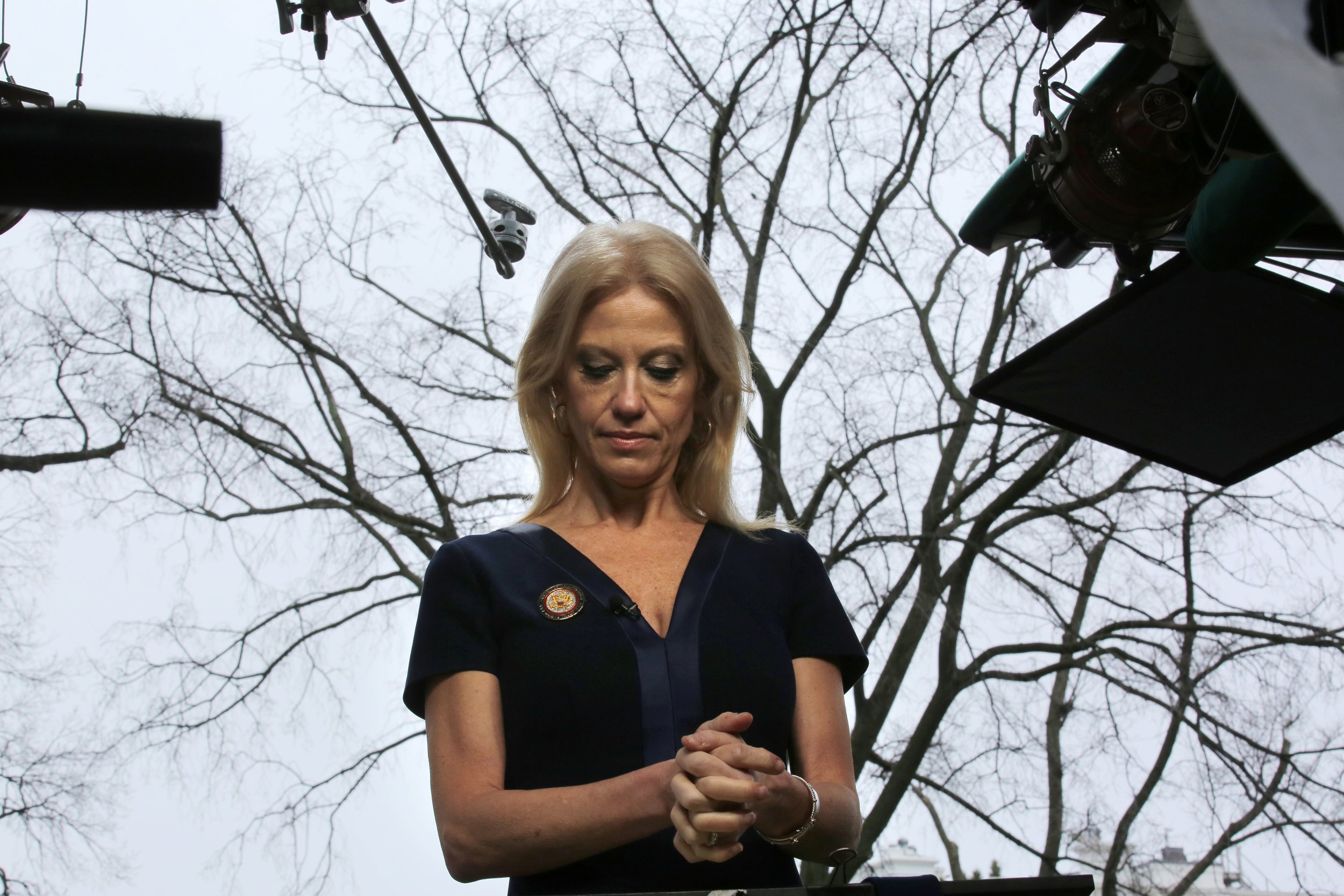 White House aide Kellyanne Conway apparently has been rebuked by government officials after she pitched products from the brand of President Donald Trump's eldest daughter, Ivanka, during a nationally televised interview.
Related: Trump's family business is once more a major concern
During his daily press briefing Thursday, White House Press Secretary Sean Spicer said: "She's been counseled on that subject and that's it." Also Thursday, the Republican chairman of the House Committee on Oversight and Government Reform, Jason Chaffetz, said Conway's promotion of the brand was "clearly over the line" and "unacceptable," the Associated Press reported.
During an interview with Fox & Friends earlier in the day, Conway said from the briefing room of the White House that Americans should "go buy Ivanka's stuff.... It's a wonderful line. I own some of it. I'm going to just give a free commercial here. Go buy it today."
It is unclear who "counseled" Conway and what punishment, if any, she might face.
Also Thursday, ethics experts were highly critical of Conway for using her position as a federal employee to endorse a product. And Representative Elijah Cummings (D-Md.), ranking member of the House Committee on Oversight and Government Reform, requested that the committee refer Conway to the Office of Government Ethics for potential disciplinary action. In a letter he sent Thursday to Chaffetz, Cummings called her remarks "a textbook violation of government ethics laws and regulations enacted to prevent the abuse of an employee's government position."
Noah Bookbinder, executive director of Citizens for Responsibility and Ethics in Washington, said, "It's hard to find a clearer case of that kind of misuse of office than we saw today."
Conway's comments came after Nordstrom last week decided to drop Ivanka Trump's clothing line from its department stores. Other retailers, including Neiman Marcus and T.J. Maxx, also have removed her products. Meanwhile, an ongoing campaign called #GrabYourWallet encourages American shoppers to boycott products with ties to Trump.
The Trump family business has been a major concern since he won the November election. Instead of selling off his business, Trump turned it over to his two adult sons.
The commander in chief again raised concerns about his using his White House platform to benefit his family's business when he took on the American retail chain in a tweet Tuesday, saying that it "unfairly" dropped his daughter's line from its stores. Nordstrom responded by saying the decision was based on the sales performance of the items.
Conway also has been under fire in recent days for citing a nonexistent "Bowling Green massacre" to defend Trump's controversial travel ban, during an interview with MSNBC on February 2. She since has apologized for the statement, saying she meant "Bowling Green terrorists." But she also used the phrase in at least two other earlier interviews.